When the Mercedes office in Pune got a call two months ago from Aurangabad, a city better known for the nearby seventh century Ajanta-Ellora caves than for its industrial growth, the salesman at the receiving end was not impressed. Not even when the caller told him that they wanted to book at least a 100 Mercedes cars, the largest-ever bulk booking of the luxury car in India. "We'll call you back," he said, but never did.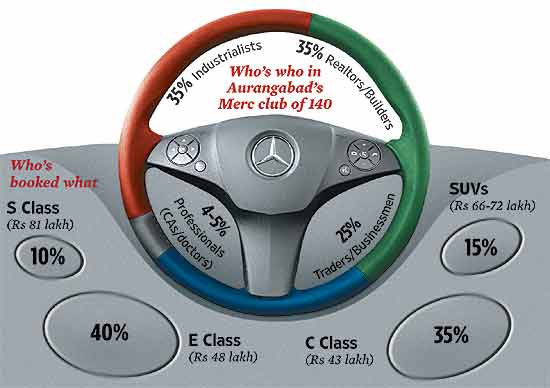 It's an attitude that raises the hackles of Aurangabad's mushrooming new billionaires. It's an uphill task, they say, to convince anyone outside Aurangabad that there's big money in this small town, once touted as Asia's fastest growing city but better known for the 'industrialists' from outside who milked the state government dry of subsidies and vanished overnight. "We resent being called a backward town," explains Sachin Nagori, a builder who, like many of the city's rich, has made his fortune from scratch in the last 10 years. "Even MacDonald's and Pizza Hut haven't set up shop here as yet," Nagori says, adding that a few years ago when Aurangabad's entrepreneurs wanted Skoda to open shop here, they had to make a trip to the parent office with a Czech interpreter to persuade them. Fed up with the patronising tone they get from metros and multinationals alike, Nagori persuaded his friends and business associates to book their Mercs in bulk—140 of them at last count. "It was time to tell people outside that Aurangabad, far from being backward, has the potential to be another Pune."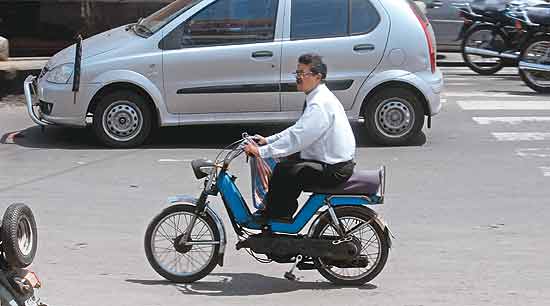 The moped is still seen in the city
It was easier to convince Aurangabad's rich to buy their first—or second and third, in some cases—Mercs than to persuade the luxury car company to take them seriously, according to Nagori. "We realised it wasn't going to work with a simple call, so a few of us went to Pune and gave a PowerPoint presentation about us and Aurangabad in general." The dealer then organised a road show in Aurangabad, and agreed to take bookings. "They gave us only three days to make the bookings, otherwise the number would have easily gone up to 250-300," Nagori says, adding that he's still receiving cheques from those he couldn't get in touch with on time.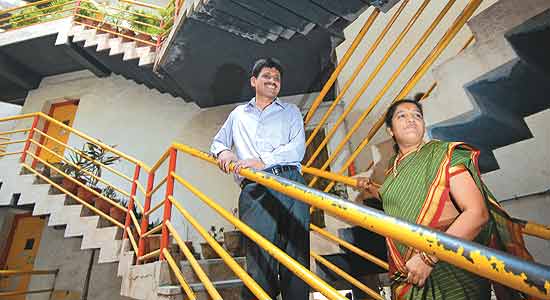 Kiran Wadhi, 41, Builder/Contractor
"At least 25 per cent of the people living in our apartment complex can afford to buy a Mercedes," says Wadhi. It takes courage to own one, according to him, because while it's every businessman's dream to drive in a Mercedes, "we put it off, saying not now, maybe next year."
It's not hard to understand why the Mercedes Benz dealer, Chandravadan Bhandari, took so long to recognise their true worth: Aurangabad's new rich seem unlike any you've seen before. They don't smoke or drink, don't flaunt labels, nobody's ever heard of a child going astray and their idea of a good time is getting together with other families for a potluck dinner. And many of them continue to live in 400 sq ft apartments with peeling walls and stained stairways, the only concession to their new status being the two big cars parked among the neighbours' scooters and Marutis. Like Kiran Wadhi, a builder who moved into his modestly furnished two-bedroom apartment in 1993, when he was still working for a construction company on a salary of Rs 5,000. For Wadhi, who rode a bike for many years before he could afford his first Maruti car, the Merc is less a status symbol than a sign of achievement: he and his family of five (mother, wife, two school-going sons) have spent 14 of their happiest years in this tiny flat, as Mona, his wife, tells us. So why spend a fortune acquiring a Mercedes? "Because it's always been my dream to own one—for a businessman, it's a sign of ultimate achievement." Mona interjects: "Our son always used to ask, 'When will Papa get a Mercedes car?'" But the Wadhis are clear about one thing: "Just because we're buying a Mercedes, we're not going to change our lifestyle. We are old-fashioned people who believe in old values."
Even the concept of a steel-and-glass office is quite new: until Nagori built his swank business centre a year ago, most of Aurangabad's multi-billion businesses were conducted in 300 sq ft rooms, with an old desk and a few chairs and a mudpot of drinking water. It's the kind of office even Sitaram Agrawal, chairman of one of Aurangabad's biggest real estate companies, had until he shifted to his new office four years ago. In fact, Agrawal's first Mercedes—gifted to him by his son for his 25th wedding anniversary—was parked for years outside their little office and flat. Was it an embarrassment, considering the neighbours probably owned, at best, a scooter or a bike? "It was a gift and I had to honour my son's feelings," explains Agrawal, whose father ran a grocery store and who started his own career on a scooter, running small contracts.
As in Agrawal's case, the Merc is sometimes a tribute by sons to fathers who have built their business empires out of nothing. Virendrasingh Pawar has booked a top-class Mercedes for precisely that reason: his father made a fortune from scratch by supplying private security to Aurangabad's industries and hotels. And now that Virendrasingh has taken over the business, diversifying into electronic security, growing in the last few years into the country's leading firm, he wants to celebrate by gifting his father his dream car. For himself, young Pawar would prefer a BMW but feels that can wait. At first, Pawar senior, who has seen hard times, resisted, but like Agrawal, succumbed for reasons of sentiment that had nothing to do with a desire to flaunt a status symbol.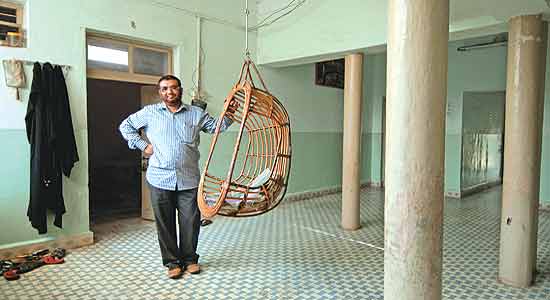 Manzoor Khan, 49, Silk mill owner
Khan's grandfather started the first Himroo powerloom factory. He went to work in a tonga. With business growing fast, Khan is about to demolish his old home and build a new mansion instead. "In the last three years, owning a Merc here is no longer seen as flaunting your wealth," he says.
Aurangabad's rich are also bending the hierarchy of Merc models to suit their own notion of family ranking. As Agrawal explains, the Merc he booked with the group of 140 was going to be of the top class, costing Rs 81 lakh. Since he already owns a Merc, he wanted to buy one for his son instead. But the son refused to accept the top class, saying that if his father drove a E-class Merc, he'd only drive a lower model—so they ended up getting the C-class one.

For Santosh Muthiyan too, the Merc is more a matter of family prestige. Some twenty years ago, his father, who owned a cloth shop, threw him out of the house because he failed his tenth class exam. Muthiyan began as a door-to-door salesman. Today, he and his partners own the biggest infrastructure company in Aurangabad, building luxury homes and a mall that is expected to be one of Asia's biggest. At 37, Muthiyan believes it's time he started living: in a few months he'll be moving from his 1,000 sq ft apartment into a 51,000 sq ft mansion with a swimming pool and gym that he's building for himself. Left to himself, he'd probably like to go on living in his present apartment which he shows us around with great pride. But Muthiyan sees an upward lifestyle almost as a challenge. "I promised myself that I'd take my father to live with me when I have a big house and a big car, and I'm now fulfilling that pledge." Muthiyan has, of course, booked the top-class car for his father.
Muthiyan believes that money must "rotate"; that it's the obligation of every rich man to spend so that the city can grow. But there are those who scoff at this "Mercedes Benz patriotism". As Ram Bhogale, chairman of Umasons Auto Components, one of the leading auto parts manufacturers here, says: "I can certainly afford to buy a Merc, but why would I spend Rs 50-80 lakh on a car? I'd rather invest it in a machine for the factory." This Merc gang, according to Bhogale, is attracting the wrong kind of attention to Aurangabad. "You'll end up attracting scamsters and real estate mafia here by these sort of gimmicks," he says, adding: "Don't build bridges to wrong destinations."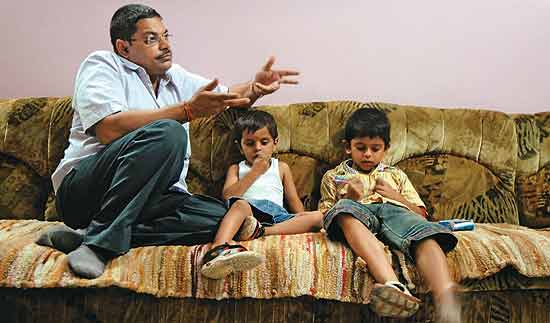 Sanjeevkumar Kankariya, 49, Kankariya Group Chief
Starting his career selling cherries, Kankariya took a loan to start a printing press when he was 21. A multibillionaire today, he says: "I started off on a bicycle, and will always think of myself like that. But there's no harm spending when you've earned it and pay your taxes."
Agrees A.N. Kadam, secretary of the Mahatma Gandhi mission, which runs several private colleges with an annual turnover of Rs 32 crore: "There's a cultural difference between the old and new generations in Aurangabad. The latter want fast money and development, not caring if it's sustainable or not. They call it development, I call it a mess."
"But it's in the nature of entrepreneurs to be impatient," argues Nandkishore Kagliwal, another self-made billionaire who now heads the region's biggest seed companies. Kagliwal says he'd be just as happy to drive in his old ambassador car. But he's booked a Merc as well just in solidarity with the group.
As Mansingh Pawaar, vice-chief of the Maharashtra Chamber of Commerce, Industry and Agriculture puts it: "The idea was to make the world sit up and take note of Aurangabad's rapid growth, and it worked." What an idea, Sirji!