To-do lists for the big sleuths
New RAW chief Sanjeev Tripathi has been asked to prepare a new personnel policy to end intra-organisation turf wars
Tripathi will also focus on RAW generating human intelligence, which has virtually dried up
New IB chief Nehchal Sandhu will focus on expanding his human intelligence network after the government approved 4,000 new recruits
Sandhu, considered one of the finest counter-terrorism experts, will also look at upgrading the technical intelligence capabilities of the IB
Sandhu will also look at building up a network of databases that can help track terrorist outfits of all colours
lIntelligence-gathering operations of the IB are likely to increase under Sandhu
****
Intelligence chiefs prefer to be neither seen nor heard. On December 31, India's intelligence community saw two men, with some 60 years of experience between them—Nehchal Sandhu and Sanjeev Tripathi—take over as the chiefs of India's external and internal intelligence agencies—the Research & Analysis Wing (RAW) and the Intelligence Bureau (IB).
Succession in the IB is usually a smooth affair and this time it was no different. As a senior government official who was part of the search committee told Outlook, "The search for the next IB chief was simple: it was a one-horse race." The man the government chose to head the IB for the next two years is Nehchal Sandhu, a 1973-batch ips officer of the Bihar cadre. But Sandhu is no ordinary intelligence officer. If former IB director Ajit Doval's career is the stuff legends are made of, Sandhu's is no less impressive. Posted briefly as an SP in the Biharsharief district of Bihar, Sandhu decided early on that he would spend the rest of his career as an intelligence officer. Years later, he would become a core member of Doval's team which took on Sikh separatism in the 1980s.
Sandhu, as a close associate describes him, pays phenomenal attention to detail. He'd generate actionable intelligence and develop it into a major operation. During his early postings in Punjab and Jammu and Kashmir, Sandhu was involved in several operations that shaped India's war against terrorism. In his last major posting, as an additional director, IB, in Srinagar, he was personally responsible for neutralising as many as 65 'divisional commanders' of the Lashkar-e-Toiba in Kashmir.
The new RAW and IB chiefs have taken very different paths to the top. But both will set sights on human intel.

"The advantage with Sandhu is that he also understands technology very well," another close associate told Outlook. "He would spend hours poring over intercepts, records and connecting the dots." This meticulousness led to several major successes in Punjab as well as Kashmir, where he played a key role in the peace process. He also arranged for talks in Delhi between Mirwaiz Umer Farooq of the Hurriyat Conference and Union home minister P. Chidambaram. The talks failed eventually, but it was Sandhu who pressed for the peace initiative after playing a leading role in weakening the terrorist network in the state. He also played a key role in weaning two sons of a major separatist leader away from the path of terror after evidence emerged during investigations of them getting money from Pakistan's ISI.
A recipient of the Indian police medal in 1988 and the President's police medal in 1998, Sandhu accompanied Doval to Kandahar during the hijacking of the Indian Airlines IC-814 flight by terrorists. Earlier, Sandhu served in a foreign posting—in Canada, where he played a key role in tracking leaders of the Sikh separatist movement, convincing them to participate in the peace process.
Sandhu's counterpart in RAW, Tripathi, however, did not have as smooth a rise to the top as him. A batch senior to Sandhu in the IPS, Tripathi has had to face a flurry of unproven allegations and would have retired from service on December 31 but for the premature resignation of then RAW chief K.C. Verma, the second RAW chief to have resigned before his term came to an end.
Tripathi is the son-in-law of a respected former RAW chief, G.S. Bajpai, and comes from a humble family of Bareilly, Uttar Pradesh. A keen sportsman, he topped the IPS exam in 1972, and joined the Uttar Pradesh cadre. A few years later, he switched to RAW, resigning from the ips, and was absorbed in the Research & Analysis Service (RAS), which feeds the ranks of RAW.
Later, Tripathi would play a significant role in tracking down Sikh separatists operating abroad and get them to India to participate in talks with the Indian government. He also served on several key desks, including the Pakistan desk, and also headed RAW's most sensitive special operations division, as special secretary. Earlier, he helped arrive at a peace accord with insurgents in the northeastern states. He also served as commissioner at RAW's Calcutta station, which looks at Bangladesh.

Two years ago, Tripathi was moved to the Aviation Research Centre (ARC), which is in charge of the agency's aircraft and technical intelligence. While it seemed that Tripathi had been sidelined, the file notings on his appointment recorded that Tripathi would be considered for the top post after then chief Ashok Chaturvedi retired. But that was not to be, as the government decided to bring in an outsider, K.C. Verma, as chief, with a two-year tenure that would have ended on January 31.
But as the succession race gathered momentum, the government was faced with a major dilemma. The two top contenders were A.B. Mathur, a 1974-batch IPS officer who as an intelligence officer had the unique distinction of having served both in the IB and RAW, and A.K. Arni, an RAS officer. Mathur had already been credited with a number of successes in India's neighbourhood. But the appointment of either, the government reasoned, would lead to a sharp divide between officers of the IPS and those of the RAS. This, it was reasoned, would split the organisation and do it irreparable harm.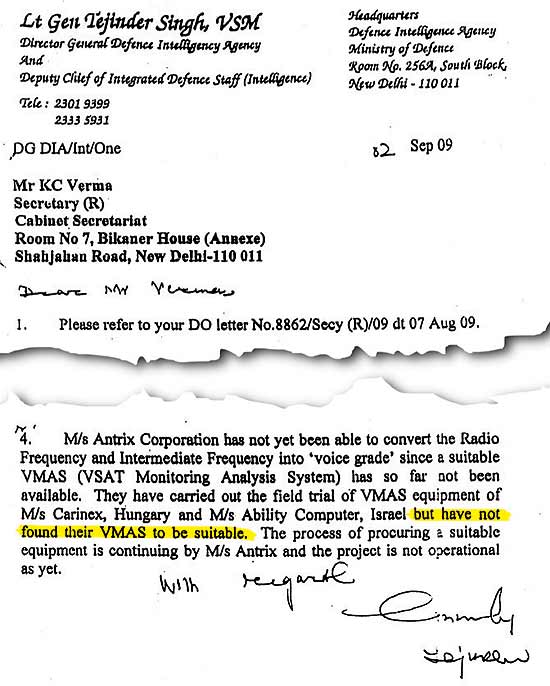 Red flag The letter from defence intelligence chief Lt Gen Tejinder Singh to K.C. Verma, when he was RAW chief, saying the equipment RAW was looking to buy was not found suitable.
Meanwhile, Verma was embroiled in a controversy that was partly generated when the organisation went about trying to purchase a system for intercepting VSAT communications. Earlier, the director general of the defence intelligence agency, Lt Gen Tejinder Singh, had written to Verma that the system he was looking at had failed. It is also a fact that RAW failed to test the system before seeking its purchase. But the government didn't find any merit in the allegations and opted for Tripathi and is keen to send Verma to head the troubled NTRO, where the current leadership of P.V. Kumar, a former RAW hand, has been found to be extremely "weak".
Tripathi, who has extensive experience in intelligence, has his task cut out. As the ARC chief he managed to ensure that the secretive Tibetan force, Special Frontier Force (SFF), gets pension and retirement benefits. The force has not had these benefits since its creation after the 1962 war with China.
Tripathi has been asked by the NSA, Shiv Shankar Menon, to prepare a comprehensive report on personnel policies by January 15 to ensure that the age-old turf wars between RAS and non-RAS cadre officers is laid to rest forever. RAW has also been suffering from a shortage of recruits; morale is at an all-time low. So Tripathi will have to quickly focus on finding a solution to these squabbles and also focus on India's restive neighbourhood.
Ten years ago, a Group of Ministers, aided by a special task force on intelligence, had gone about trying to reform India's intelligence community, which seems mired in controversies and lacking in infrastructure, resources and parliamentary oversight. Now, it is up to the two new chiefs to take forward their inheritance and leave behind a productive legacy.