Exhausted and out of whack? Why not recharge yourself with TriVortex technology. It's much simpler than it sounds. All you need to do is clasp on a Tiranga copper bangle, sit back and let its 'healing properties' rest­ore your body's natural energy flow.
Congress politician Nav­een Jindal's Flag Foundation of India came up with the idea. Working to foster pride in the national flag and raise awareness, the foundation recently launched the Tir­a­nga bangle at a ceremony attended by junior human resources developm­ent minister Shashi Tharoor. The idea is to think of it as a sym­bol of pride to wear around your wrist round the clock. You are both "fully energised" and spo­rting your patriotism—two birds on one hand.
"I was introduced to the Tiranga Ban­gle by a close friend during my visit to South Africa two years ago," Jindal told Outlook. "He introd­uced me to a few products that were energised by Tri­Vo­rtex technology. I was curious to learn more about this and met Dr Anton Ungerer in South Africa, who has done scientific research on it." He goes on to add, "I tried the bangle myself and so did some of my family members and close friends. I found it to be beneficial and the feedback from my family members was positive too. It was then that we decided to align the bangle with our initiative to promote the Indian national flag, calling it the 'Tiranga' bangle."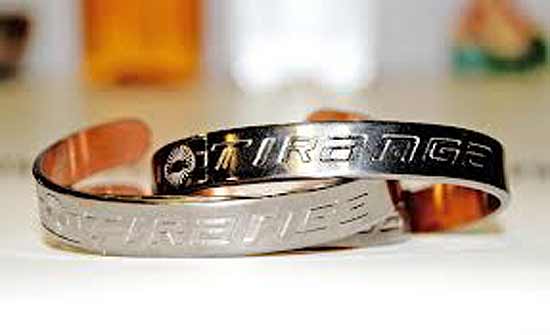 The Tiranga bangle purports to restore the body's natural flow of energy. Its naysayers claim it's based on pseudo-science.
"Tests" on plants and animals have produced wondrous results too, claims Sha­y­amal Vallabhjee, a sports scientist and a former business partner of Naveen Jindal in South Africa. If it helps plants bloom better, cows yield richer milk, and even revitalises athletes, is it time you tried TriVortex technology? Maybe you would—if you knew what that is.
It involves an electrical chamber, a churner of complex energy. Put a necklace, water bottle or wristband in it, and hey presto, it is a fully "energised" pro­duct. "Radioactive waves from electrical gadgets often disturb the body's calm. This sound frequency-based technology nullifies the effect and allows the energy to circulate more evenly. Professional athletes feel charged up, the injured recover faster and food even tastes better," Vallabhjee says. "You can even charge wood or leather, but a copper bangle retains the effects much longer."
Its naysayers say the technology hasn't so much to do with science as witchcraft and voodoo. Sanal Edamaruku, president of Rationalist International, says, "Such pseudo-scientific claims are bas­eless. In our Constitution, we have a fundamental duty to promote a scienti­fic temper. If ministers promote magical charms, they have no right to remain in power. They should be booked under the Magical Remedies (Objectionable Advertisement) Act for not verifying the veracity of their claims." Vallabhjee defends Jindal as a "well-wisher" of the people for having decided to popularise the product—taking his cue from South Africa's 46664 bangle, the proce­eds of which go to the Nelson Mandela Fund.
And Tharoor has been quick to qualify his presence at the function. "There are ina­cc­urate versions being circulated of my remarks at the launch. For instance, one report claims I lauded the 'therap­e­utic' benefits of the bangles. Not only did I not do so, I never used the word 'therapeutic'. I spoke mainly about the Flag Foundation's good work and added that I'm given to understand the bangle 'would be good for health also'," he says.
With the bangle soon to hit the Indian market, questions about whether minis­ters ought to be endorsing such products aren't likely to go away. But perhaps the more immediate concern is our ability, as the potential consumers, to act in the interest of our own constitutions.