In its 19 years of existence, the mobile phone has given me endless trouble. I came to the gadget late hoping I could avoid it. But alas, it soon became both ubiquitous and indispensable. And although I carry it even to the loo, its operation and functioning remain a mystery to me.
Mysteries should not be solved, they should be allowed to fester and acquire added mystery. This was the theory on which the great Alfred Hitchcock made films. On October 18, I read an advertisement for the latest version of Blackberry (a primitive version of which I own) that possesses the following 'mysterious' features.
2500 mAh batteries, providing up to 15.5 hours of talk time
5" LCD display
Supports English and Hinglish flick typing
Blackberry hub and smart sharing
BBM video calling and smart sharing
Gobbledygook? I am sure some folk out there will be salivating at the prospect of purchasing such a technological wonder. For me, a 5" LCD display is no incentive to bin my current Blackberry.
I remember that Ian Fle­ming gifted his hero, James Bond 007, a cigarette lighter which could do 47 things besides the purpose for which it was built. One line from a Bond film, in which 007 explains the versatility of his appliance, still rings in my ears: "It does everything except make love." The same, unfortunately, cannot be claimed for the mobile phone. Of course, at some future date, it might develop all or some of the 47 attributes Mr Bond's lighter boasted.
If you detect a note of levity in my attitude to the 'greatest invention since sliced bread', it is deliberate. After 19 years of handling, I remain a complete novice at the art of mobile telephoning. Art? That is what it seems to me! Sitting at an airport or at a restaurant, I watch with awe young and old, male and female, educated and semi-literate bang away exquisitely at their mobiles, texting furiously. The speed and ease with which they perform puts me to shame.
Besides lighting a cig, Bond's lighter was designed to do 47 things. Can the same be said of the mobile phone?
I spend close to six minutes composing a single sentence of uncomplicated banality: "Are you free for lunch", or "are you busy" makes me stretch all my intellectual and physical abilities to their limit. I am aware a question mark is required after 'busy'. However, one has to press so many different keys to find this punctuation mark that I end up making a mess of the message. If I insist on inserting it, I usually press the wrong key and the entire message vanishes.
Then there is the huge conundrum of text composing. I type each letter with my fingernails—which I understand is anathema to the professionals. The maestros actually use the tip of their finger, composing at the speed of a Boeing 707 in full flight. And their composing is amazingly flawless.
Besides worrying about becoming a mobile whiz, I have other anxieties and priorities in life, like saving the planet from global warming, which seem to me more pressing and important. So, instead of wasting precious hours and days trying to become mobile-perfect, I am satisfied with limited expertise. By which I mean the bare minimum. Here is a list of what I can do and not do:
I find it difficult to punch in the mobile number. Say, 9889754351. God knows how long it would take me if I tried. Therefore, I have made a 'contact list' of people I usually need to speak to. Their numbers are on my list and I just have to press one key to reach them.
I write an SMS in the manner of a telegram. No more than 10 or 12 words. This task takes me close to six minutes.
I am just learning to send e-mail on my mobile. I have already sent three and hope to improve.
When someone sends me an 'attachment' or a photograph I have to request my loyal Sashi, or if I am at home, summon my wife Sumita, who happens to be a wizard in these matters, for help. If there was a Nobel for mobile telephony, Sumita would be a strong contender.
I attempted to use the 'calendar' provided, but got into a hopeless tangle and abandoned the project.
However, further complications and hazards await me. The first is language. Since I am a garrulous sort of person, my thoughts are verbose. Moreover, I am ignorant of the ingenious abbreviations most people employ while texting (2day = today; AND= any day now; b4 = before; DWBH= Don't worry, be happy; GR8= great; H&K= hugs and kisses). Naturally, the entire lexicon of texting is out of this world.
My literary agent, Shruti Debi, once sent me an SMS saying: "This is to bring you up to speed." Up to speed? I was completely at a loss. I checked with my wife, who was quick to explain the expression: "Bring you up to date."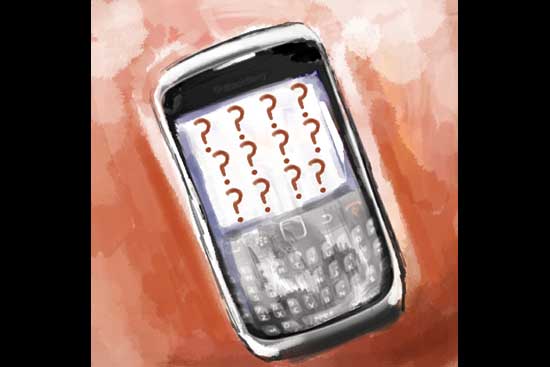 Illustration by Saahil
A fortnight ago, the well-known restaurateur A.D. Singh invited me to the opening of his new Parsi restaurant in Khan Market. I accepted the invitation but could not make it. When I told him I was not coming, he sent me a one-word SMS: "Bummer".
Even though this is a family magazine, I now address the delicate subject of sexting and associated matters. Statistics reveal that sexting in the West contributes to 60 per cent of all SMS traffic. Married couples and adulterous couples are known to interrupt carnal activity to check if a previous husband or girlfriend has been in touch or desires to get in touch. Once they have checked up, they calmly go back to what they were doing.
One way Narendra Modi can change the face of India is by banning the use of cellphones at airports and similar places.
I am too old for sexting, but in my days of romancing in Lucknow (even if mobiles had existed), communications concerning matters of the heart were transmitted directly or through a reliable emissary. There were not many such emissaries around in the Lucknow of the 1960s, except probably one. His name was Safdar, an unemployed, penniless Shia with oodles of charm to spare. He carried delicate and indelicate love messages from hopefuls with aplomb, frequently adding his own recommendation to the beloved. I remember he told one persistent suitor, "She told me to tell you, 'Please don't bore me.'"
Another aberration the device is implicated in: mortals of both sexes in the range of 25 to 60 send intimate 'selfies' of themselves to their lovers or potential lovers. A minister in David Cameron's cabinet had to resign some time ago because he sent a selfie of his genitals to a lady. She promptly went to the press with the image of those jewels.
I have observed a new tendency: People flaunting mobiles the size of paperbacks. It is quite hilarious to see them struggling with their gigantic appliance, since it does not fit into the conventional space assigned for these instruments.
Finally, there is the mobile pest. I usually meet him at airports. He has an overloud, irritating voice. This is the kind of creature who will alight from his car, mobile sticking to his ear, check in without removing the gadget, walk to security in a similar pose, cross the air-bridge and take his seat on the aircraft still glued to his instrument. Eventually, he has to be told by the airhostess that the plane is about to take off. Passengers like him should be barred from travelling. My request to Prime Minister Narendra Modi, who seems determined to change the face of India, is that he should ban the use of mobiles at airports.
In the past few years, I have met several mobile sufferers. I am thinking of forming a group like Alcoholics Anonymous, which could meet once a month for people like me to come together and share their mobile woes with other unfortunates. I have a feeling the idea will be a huge success.