T20 to 420: How IPL-6 Got Caught In The Crosshairs Of The Delhi And Bombay Police
Thursday, May 16 Delhi police arrests three players on charges of spot-fixing from Mumbai. They also arrest seven bookies. The BCCI suspends the players, pending investigations.
Friday, May 17: Sreesanth's lawyer says he is innocent.
Saturday, May 18: Mumbai police seize laptop from his city hotel room. RR lose to Deccan Sunrisers.
Sunday, May 19: Rajasthan Royals franchisees decide to file complaint against the three tainted players. At the BCCI meeting in Chennai, Ravi Sawani is appointed to probe allegations; N. Srinivasan says they will act ruthlessly if players found guilty.
Monday, May 20: Rajasthan Royals susp­ends contracts of the tainted players.
Tuesday, May 21: Mumbai police arrest Vindoo Dara Singh and two others for betting offences. Large amount of cash allegedly recovered from the bookies. In Delhi, the SC refuses to ban the IPL but comes down on BCCI and asks for an inquiry report.
Wednesday, May 22: Police say Vindoo was in touch with CSK owner G. Meiyappan. The scandal now goes beyond RR to CSK. RR win play-off match against Deccan Sunrisers.
Thursday, May 23: So far 15 bookies plus 3 players in Delhi police custody. Nine in Mumbai. Nine in Calcutta. Mumbai police teams in Chennai to question CSK bossman N. Srinivasan's son-in-law Gurunath Meiyappan.
Friday, May 24: -- Gurunath Meiyappan, son-in-law of CSK bossman and BCCI President N. Srinivasan, arrested [--Added by Web Editor]
***
Fast, furious, frenetic, frenzied. The 'F' words are the calling cards of 20-over cricket. Yet, a week after the IPL 'spot-fixing scam' hit the airwaves, and for all the hoo-hah over the arrest of Sreesanth & co, the pace of investigation, as Ravi Shastri might say, has been slow and low. No new players, Indian or foreign, have been named. No new matches or teams have been exposed. No new tactic of conceding "14 runs per over" has been unveiled. The monies being bandied about have been pitiable. The scam's going nowhere. Fast.
That said, a lot of side-shows have been blowing up on various tangents. Bol­lywood, bookies, team owner...there have been arrests and alleged charges aplenty. Calcutta, Indore, Jaipur, the police have been digging bookies out of the woodwork from all sorts of places. Indeed, the spot-fixing has been snowed under by the hectic 'revelations', fuelled by an unabashed and most untimely tug-of-war between the Delhi and Mumbai police. One is after the Raj­asthan Royals; the other is catching up with the Chennai Super Kings. One is probing spot-fixing, the other betting. And in this sly war by inn­uendo and guilt by insinuation, litte­red with trivia about actresses, escort girls, cellphones and jeans, the only str­and common to the parallel narratives are two characters out of Bigg Boss: Shi­lpa Shetty because she co-owns RR, and Vindoo Dara Singh because he is close to the one who owns CSK and to the one who captains it: Mahendra Singh Dhoni.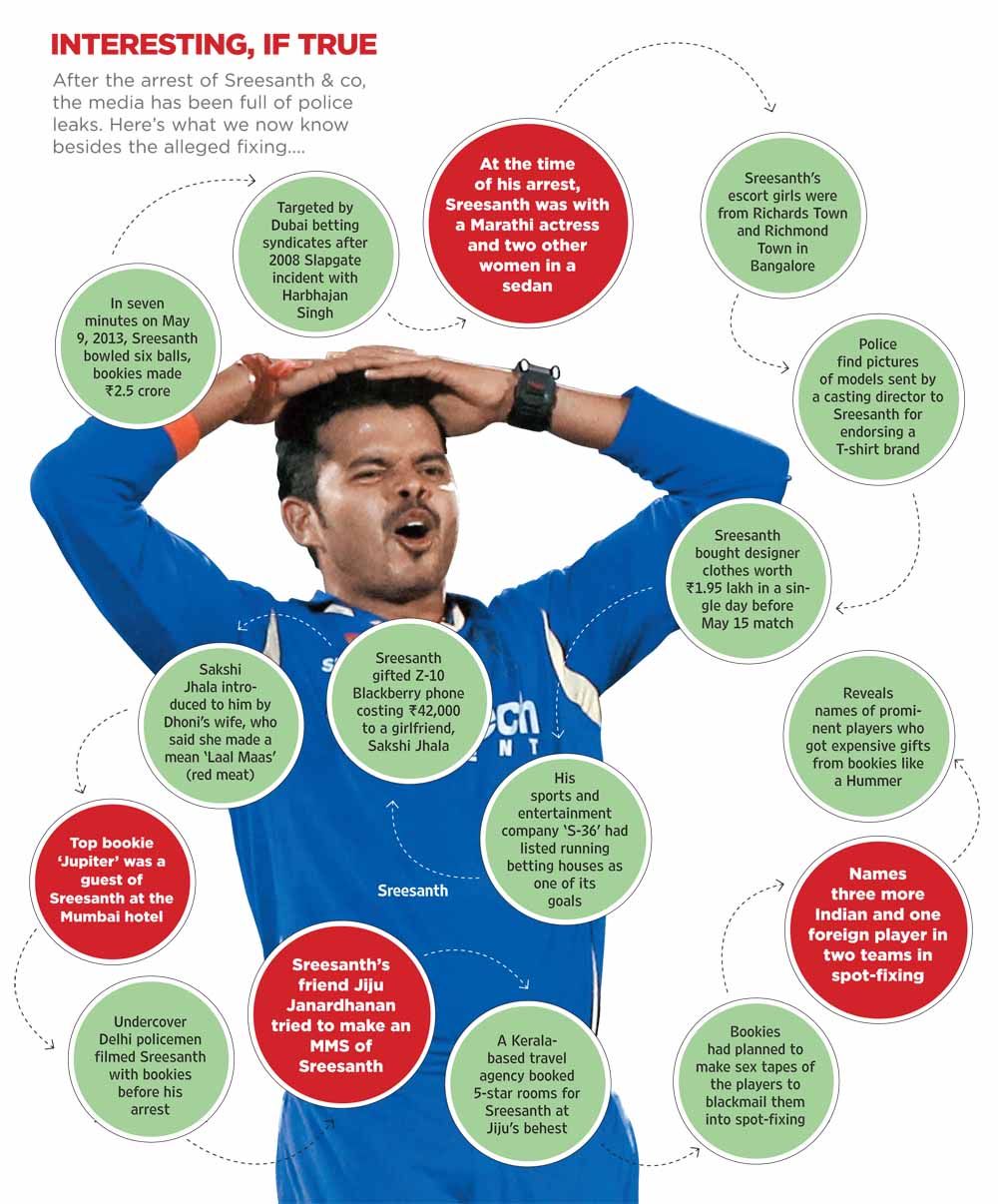 In the background of all this shadow boxing lurks the familiar figure of suspended IPL chairman Lalit Modi, whose co-brother Suresh Chellaram is a co-owner of RR. Ranged against him at the CSK end is Gurunath Meiyappan, whose father-in-law just so happens to be BCCI president N. Srinivasan, with whom Modi has been involved in a long and noisy tussle. (Incidentally, Meiya­ppan, as we go to press late on Thursday, was under risk of being declared a fugitive by the Mumbai police).
Little wonder, as the RR fixing scandal morphed into a CSK betting one, the signals from London, where Modi is holed up, were the most eagerly anticipated. "@LalitKModi" didn't disappoint, distilling his insight in a torrent of 140 characters. "This spot fixing mess is get­ting even worse. Srinivasan and family should immediately resign....be ban­ned with immediate effect."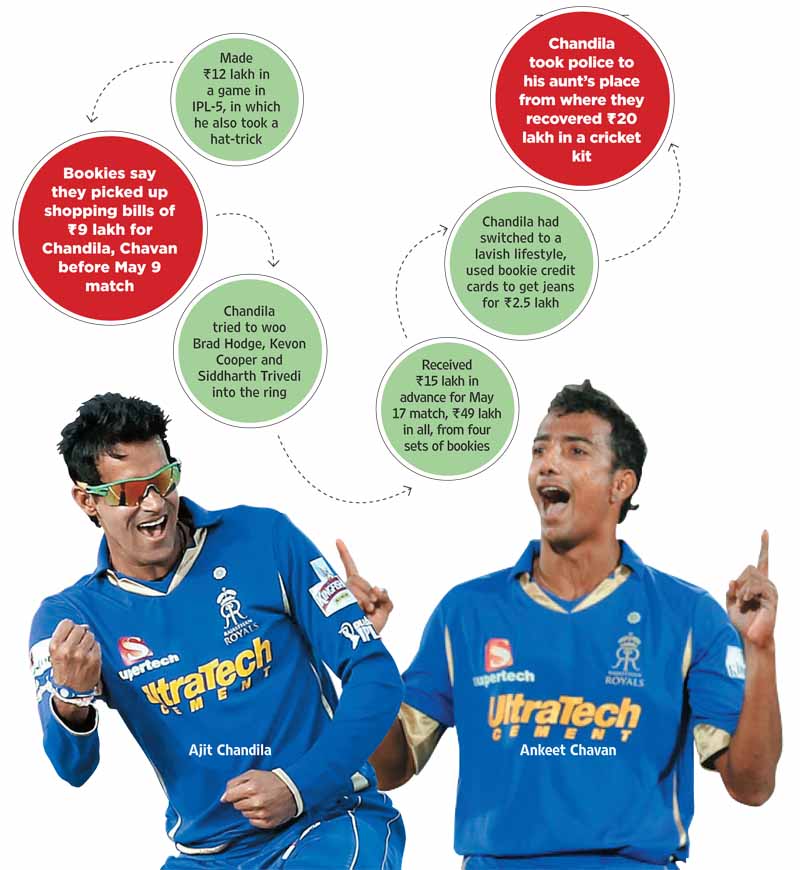 Easier tweeted than done. Despite a grand total of six cricketers—Sreesanth, Ajit Chandila, Ankeet Chavan, and three ex-players Amit Singh, Baburao Yadav and Monish Guddewar—and 11 bookies and their friends being behind bars, despite the video evidence the police say they have, despite the daily media leaks, and despite even an international umpire, Pakistan's Asad Rauf, falling by the wayside, no one knows where all this anecdotal and circumstantial evidence will lead.
At the moment, in the fog of breaking news, the distinction has been lost between fixing and betting, fact and slur. Says former Mumbai police commissioner D. Sivanandan: "People are lapping up juicy details about where players went, shopped, the girls they were with etc, but we need to examine what is illegal in those actions. Perhaps nothing. There is in fact not even a specific law to define the match-fixing crime. It boils down to section 420 (cheating) read with section 120-b (criminal conspiracy). That they cheated the public is not legally sound. Tomorrow, a member of the public could say Sachin Tendulkar cheated because he got out. The crime needs to be proven beyond a shadow of doubt."
That will not be easy. "Cricket falls under the category of 'game of skill', like rummy or bridge. So betting or gambling charges won't apply as they apply for a game of flush, which is pure luck-based," says Ravi Mandrekar of the Maharashtra Cricket Association. "So the section applied is cheating, but who exactly is being cheated? Also, it will be very hard to prove if a player's actions were by default or deliberate," he adds. Delhi police have charged the players under Section 409 of the Indian Penal Code (criminal breach of trust by agent), which carries a maximum punishment of life imprisonment.
While Sreesanth's towel indicator may seem like a piece of evidence, all the call detail records are of another accused, Jiju Janardhanan. Besides, all these CDRs (after they match with voice samples of the accused) need to be verified and accepted by the court. Cash has only been recovered from Chandila's aunt's house.
Dhoni is a director in India Cements. CSK boss Meiyappan is son-in-law of BCCI chief and industrialist N. Srinivasan.
Former Ranji player Naresh Churi, who coached Ankeet Chavan many years ago and is a family friend, defends his ward: "I still can't believe Ankeet is capable of doing something like this. I may not be sure about all my students but I am confident about Ankeet. In the past one week, has anyone given any murky details about Ankeet?"
Those murky details have all been about 'bad boy' Sreesanth. Since his arrest, scores of details have emerged of the medium pacer's lavish and licentious lifestyle. His lawyer, Rebecca John, told a newspaper that these leaks are being planted: "We will not respond outside of the court."
The fuzziness over the evidence is perhaps the reason why the RR franchisee was asked by the BCCI to file a separate police complaint—amounting to the charge that the players cheated and breached the contract with the franchisee. The confessions, if any, may be retracted in court, weakening the case.
And then there are the predictable underworld links, added to the simmering broth. Indeed, there was even an unverified Chhota Shakeel call to a major newspaper offering clarification on the role of D-Company boss Dawood Ibrahim. It seems he didn't have anything to do with it, Bhai being averse to match-fixing and betting because he considers it "haraam".
Well, whoever it is pulling the str­ings, there had been no lack of wannabe, willing puppets. An agent who handles the accounts of several top cricketers described it as the IPL "wine, women and wealth" show. And it's the fringe domestic players who found themselves cutting slightly sorry figures here. "Fri­nge players are vulnerable, so bookies target them first. A league like the IPL doesn't demand any accountability from anyone, it's made to order," says a betting expert.
The temptation is so great even domestic cricket discards were trying out tricks to join the league. Says the aforementioned top agent, "A player who represented India at the international level and is considered a close friend of Chennai captain Dhoni 'convinced' the team owners and got in for Rs 35 lakh. He had only one condition—that they announce that the sig­n­ing amount was Rs 2 crore. This is a reg­ular practice. This helps the non-performing players up their value in the market. It helps the bookies too, for they get their man in the team. Sometimes, the bookies themselves negotiate and fix it for them with the owners."
Pak umpire Asad Rauf earlier in a muddle over model Leena Kapoor. ICC drops him for CL over Mumbai police probe.
If the history of betting and fixing is any indication, then prosecution and conviction in the spot-fixing case will be a tad difficult. In 1999-2000, when the Azhar-Cronje-Prabhakar controversy broke out, it didn't result in a criminal case but a ban on playing cricket, slapped by the BCCI. And rec­e­ntly when Azharuddin, now a Congress MP, got a court verdict in his favour saying the ban was not valid, the BCCI did not challenge it. Why didn't they? Well, says cricket writer Ayaz Memon, "The ban was reversed on a technical point. The board pursued it for 12 years." So then, the inquiry must be 'technically' perfect too.
The bookies arrested by the Mumbai police have been remanded to judicial custody but the court has categorically told the latter that they had no fresh evidence to require further custody. Bail applications have been filed too. Is it just a matter of time before they are released?
The BCCI has suggested scrubbing Sre­e­santh's international record if he is found guilty. Former cricketer Lalch­and Rajput agrees, saying "we need to send a strong message, so loud and clear that no player will dare to indulge in fixing anymore." How­e­ver, there are also some who believe that a ban is bad eno­ugh punishment. It's any­way the most the Board can do in its capacity. "For a genuine pla­yer, even if he does not go to jail, taking away the game from him can be devastating," says Churi. "Unfortu­n­a­tely it's our society's fault that we glorify criminals. Look at the halo around Sanjay Dutt or even Azhar."
Meanwhile, the Centre says it is looking at ano­ther law in view of non-spec­ific sections to deal with match-fixing. Lawyers tho­ugh say the lesser-known section 130 of the Bombay Police Act may suffice. Ex-additional solicitor general of India S.B. Jaisinghani says "the bookies in question are wagering and the players are guilty of conspiring and abetting, which attracts the same punishment. So this section should suffice", adding that a central law may be difficult to bring in as sports seems to be a state subject.
Also, there are debates over legalising betting but most people haven't warmed up to that idea. Instead, they have started reacting. A senior citizen sent a notice to the BCCI demanding a Rs 20,000 refund (cost of his tickets) for the match, where Chavan allegedly spot-fixed. There's been a PIL in the SC demanding banning of the tournament, which led to the apex court asking the BCCI to complete its probe in two weeks. "If the action initiated by the BCCI after their inquiry is not good enough, we will seek further act­ion," says lawyer Vishnu Jain. (A caveat: as per the BCCI constitution, if action is taken without completing a trial period of one month, the player can appeal against the action.) Cases have been filed in the high courts in Chennai and Delhi demanding independent inquiries.
Meanwhile, jokes about the scandal and Sreesanth abound. Like him being nominated for "Booker 2013" or the "temperature in Delhi is 45 degrees, the fielders are sweating but they're still not using towels". Among all this, exactly a week after the spot-fixing scandal broke out, the Ferozeshah Kotla stadium in Delhi was packed for the RR vs Deccan Sunrisers playoff. Will it soon be fun, games, and charming anecdotes again?
---
By Prachi Pinglay-Plumber in Mumbai with Chandrani Banerjee in New Delhi