Sikkim's Journey
1970: The last Chogyal of Sikkim, Palden Thondup Namgyal, commissions the documentary
1971: Satyajit Ray shoots, finishes it
1973: CBFC certifies it as "U"
1975: Sikkim merges with India. Hope Cooke move to America with a print.
The film gets banned in India; original negative goes missing
1994: Hope Cooke print found in the Heffenreffer Museum of Anthropology, Rhode Island
2000: A damaged print is found in Gangtok. Rights handed over to Art and Culture Trust of Sikkim.
2002: Print sent for restoration to the Academy of Motion Pictures, Arts & Sciences
CBFC grants it "U" certificate; technically ban ceases to exist
September 22, 2010: Restored print arrives in Gangtok after eight years
***
Ugyen Chopel, the managing trustee of Gangtok-based Art and Culture Trust of Sikkim, will never forget September 11, 2010, the day when a restored print of Satyajit Ray's elusive 1971 documentary, Sikkim, arrived from the Academy of Motion Pictures, Arts and Sciences in the US. The date has significance, not just for him, but for Indian cinema, as the day the country finally acquired a 35 mm print of a rare film made by its most famous filmmaker. "The film, considered lost for the longest time, has finally come back home in a good condition," an exultant Chopel told Outlook earlier this week. And it has been a fascinating journey, its existence and absence marked by anecdotes, myths and hearsay—a subject itself worthy of a film.
The 55-minute-long, five-reel documentary was commissioned by the last Chogyal (king) of Sikkim, Palden Thondup Namgyal, at the behest of his American wife, Hope Cooke, aka Gyalmo, to showcase his kingdom, its history, culture and natural beauty to the world. When Sikkim merged with India in 1975 to become its 22nd state, Cooke moved to New York and took one print with her. Meanwhile, the original negative could never be traced and everyone, including Ray, assumed the film had somehow gone missing from the country.
When Sikkim was shown to the king and queen, they weren't entirely thrilled. So they got some scenes deleted.
Subsequently, many attempts were made to trace the film, especially at the time Ray was awarded a lifetime achievement Oscar, and at the time of his death. Leading these efforts was Dilip K. Basu, founding director of the Satyajit Ray Film and Study Center at the University of California in Santa Cruz. And it is destiny he would thank for his eventual success. Years ago, on a stopover in Frankfurt on his way to India, Basu bumped into a group of "loud" American college students. They were on their way to Sikkim with their Sikkimese-American friend, who turned out to be the Chogyal's daughter. It was through her that Basu was able to reach the reclusive Cooke and trace the print she had donated to the Heffenreffer Museum of Anthropology, Rhode Island. Unfortunately though, that print's original colour had faded.
Then, in 2002, during a stock-taking exercise, another print was unearthed in Chogyal Palace, Gangtok. Its condition was so shocking that it was considered as good as non-existent. Around the same time, yet another print popped up; it was with a private collector in London. "It was a good print but the colours had turned orange," says Basu. The Academy then began the arduous task of restoration with the help of these three available prints, and which involved constant consultation with the film's cinematographer, Soumendu Roy. That restoration stretched over eight long years. "We lost patience in between, thought we were never going to get the film back, but it's been a big victory eventually," says Chopel.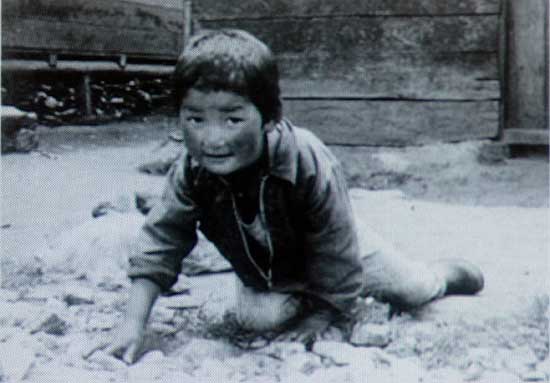 A still from the documentary
The story of the missing prints is only one of the tales woven around Sikkim. Ray was not too keen on taking up the assignment, but did so on the request of Cooke, a friend and admirer. When he visited, he was taken, recalls Basu, "with the beauty and splendour of the place and its people, their culture, the Buddhist religion and the rich music."
The result, says Chopel, was a film about "an idyllic kingdom, a benevolent king, and the flora and fauna". "It ends on a happy note," recalls Basu, "with children laughing, playing, singing and smoking cigarettes." He does not rate it as one of Ray's best documentaries, but considers it significant because it's about a place, while his others have been about people (Balasaraswati, Binode Bihari Mukherjee). Basu says the standout aspects of Sikkim are its background music, composed by Ray himself, and the narration. "It's in Ray's own wonderful baritone and the English is impeccable."
Ray's son Sandip Ray remembers how the shooting took place over three seasons, at times in the remotest places, without electricity. "It was a hectic and adventurous shoot," he recollects. Once completed, the film was shown to the Chogyal and Cooke at a private screening in Calcutta. They were not entirely thrilled with it, and managed to get some scenes deleted—like that of a royal feast at which the Chogyal is shown eating noodles! (Cooke apparently found the scene 'wicked'.) Then, the film found itself on the wrong side of history. It had been certified 'U', or 'unrestricted', by the Central Board of Film Certification in 1973. However, with the Chogyal deposed, and India taking over Sikkim, the government was in no mood to appreciate the film's portrayal of the monarchy and the distinctiveness of Sikkimese culture, and banned it in 1975 on the advice of the ministry of external affairs. Samik Bandopadhyay, arts and media scholar, thinks Ray knew what was coming. "He told me that while shooting he was aware of the political developments that were going to take place," he says.
There is an interesting story about the extent of official Indian paranoia about the film. Historian Chandak Sengoopta, who is working on a new biography of Ray, found rare documents showing that in 1981, the Indian government strongly objected to a screening of the film (Cooke's print) in New York at a festival of Indian films organised by Asia Society and the Museum of Modern Art. Indeed, Ray himself wrote to MoMA, suggesting they drop the film. MoMA went ahead with the screening, but did not put it on the official programme. It was the first public screening of Sikkim.
Contrary to media reports, the ban on the film was lifted, not recently, but eight years ago. There just were no prints. "We had been trying since the early '90s to try and locate a print and recertify the film," explains Subrato Mukherjee, regional officer, CBFC, Calcutta. Eventually, the damaged Gangtok print was certified in 2002 before being sent off to the Academy for restoration. "But the fact got hidden in all the files and the paper work," says CBFC chairperson Sharmila Tagore.
Sikkim will now be screened at the Singapore Museum on October 16 as part of a month-long retrospective of Ray films. Meanwhile, Chopel is planning to bring out 1,000 limited-edition dvds, and organise a screening in Gangtok soon. "We want it to be a grand international event," he says. A rare Ray deserves nothing less.