Alex von Tunzelmann, author of Indian Summer: The Secret History of the End of an Empire, published by Simon & Schuster India, speaks on Nehru's persona and his intimate relationships
Priyadarshini Sen: Is it right to say that there were two pleasures Nehru could not resist: the vitality of mountain scenery and the company of an interesting woman?
Alex von Tunzelmann: Well, in Indian Summer I wrote that he found both of those things when staying with the Mountbattens in Mashobra. I do think Nehru was generally happy to be among either mountains or interesting women. Perfectly understandable on both counts.
Is it true that in their romantic lives, Nehru and Edwina Mountbatten had always sought intimacy without suffocation
That was my reading of their romantic lives. From their own writings and letters, and those of their friends, I formed the impression that both of them were free spirits. Edwina Mountbatten often travelled, lived and worked away from her husband, Lord Mountbatten, and this was the case for many years before she even met Nehru. For Nehru, of course, the women in his life had to compete for attention against his preoccupation with the freedom struggle and, later, the governing of India.

Jawaharlal Nehru with Edwina Mountbatten
Even Padmaja Naidu shared a very intimate relationship with Nehru. Did it not spark jealousy?
There is some evidence that Padmaja Naidu was jealous of Edwina Mountbatten, including a story that she once smashed a framed picture of her in Nehru's house. But the two women later became good friends.
Nehru's sister Betty [Krishna Nehru Hutheesing, from beti for daughter] remembered Edwina as one of the few people who could break his sombre mood. Is it true that despite Nehru's strong relationship with Edwina, even she could not always lift his despair
Obviously, 1947-48, the time Edwina was in India, was one of the most stressful periods of Nehru's life. He was utterly horrified by the violence around partition. It's hard to believe in retrospect, because we know it was so terrible, but almost everyone in power at the time, of every political and religious persuasion, underestimated how bad things would get. Edwina, like Nehru, was closely and personally involved in the relief effort, and this brought them much closer together. But yes, I think he went through a dark time. In December 1947, he wrote to a friend that "I think rather longingly sometimes of the quiet days I had in prison."
It seems Lord Mountbatten was remarkable tolerant of their relationship.
The Mountbattens had never had an easy marriage. Both of them had had affairs before. The question of divorce had come up: Edwina often wanted to be free, but Dickie—Lord Mountbatten—wanted to keep the family together. He made allowances, because if he let her have her freedom there was less chance she would leave him. I got the impression that the setup with Nehru and Edwina was perfect for Mountbatten. He liked Nehru personally, so he felt comfortable having him around. I think it also felt safe for him because Edwina could not leave him for Nehru without causing perhaps the biggest scandal in the whole of history. So, really, this was a way of keeping his marriage together. You can see his attitude in a letter he sent to his daughter Patricia in 1948, in which he wrote that Edwina and Nehru were "so sweet together... They really dote on each other in the nicest way and Pammy [his other daughter] and I are doing everything we can to be tactful and help."
So, Edwina and Nehru walked together among the wild strawberry bushes along the winding roads to Simla often while Mountbatten stayed back?
This was during their trip to Mashobra in May 1948. There are some very charming photographs of Edwina and Nehru together in the hills around there, which are held in the Nehru Memorial Museum and Library in New Delhi.

Sarojini Naidu and Padmaja Naidu
Even Pamela Mountbatten agreed that the two were 'undoubtedly in love'.
Yes. Both of the Mountbattens' daughters have spoken kindly about the relationship between their mother and Nehru.
Even a decade later Nehru would reminisce to her about his sudden realisation at Mashobra "that there was a deeper attachment between us, that some uncontrollable force of which I was only dimly aware, drew us to each other".
There you have it in his own words! I've heard some people suggest the relationship was a political move by Nehru to get close to Mountbatten. This is obviously not true, for the relationship between them continued until Edwina's death. They always wrote to each other and visited whenever possible. You can see the affection in many of the photos of the two of them together, even many years after independence.
Is it true that they both understood that it was not possible for them to have a long-term relationship? Nehru was inconsolable at Edwina's eventual speech of thanks
They did have a long-term relationship, but of course it would have been incredibly scandalous if this had been reported in the press as a romance, or if they got married. Fortunately for them, the press was a lot more discreet in those days, and even though a lot of people knew about the relationship it was not reported. You can see in the photos of Nehru at the Mountbattens' leaving dinner how sad he was. He wrote to Edwina: "A feeling of acute malaise is creeping over me, and horror seizes me when I look at a picture in my mind of your... saying your final goodbye'. So we know the separation was hard for him.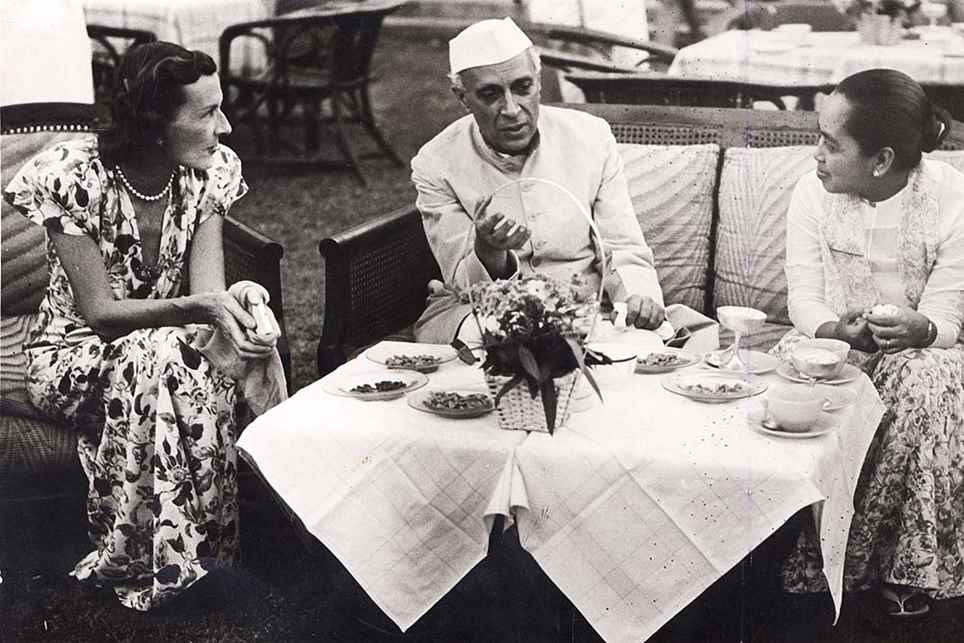 Jawaharlal Nehru with Edwina Mountbatten
Gandhi and Nehru's views on sex were completely contrarian...
Gandhi was against birth control, for instance, because he said it allowed a person "to indulge his animal passions and escape the consequences of his acts." Nehru wrote in response: "Personally I find this attitude unnatural and shocking, and if he is right, then I am a criminal on the verge of imbecility and nervous prostration." But the two men had a very deep respect for each other. They didn't have to agree on everything.
Is it true that Nehru always went for unusual, interesting women?
Nehru always had many female friends—but of course, this doesn't mean he had romantic relationships with all of them! From his correspondence with the women closest to him, like Padmaja Naidu and Edwina Mountbatten, I think it's very clear that he valued the company of intelligent women. He was close to his clever and unconventional sisters, Krishna (Betty) Hutheesing and Vijayalakshmi Pandit. His own marriage to Kamala had not always been happy, and he had been reluctant as a youth to go into an arranged marriage. But Motilal Nehru was determined to marry his son to Kamala, and Motilal Nehru was a force that was difficult to resist. When Kamala was inspired by Gandhi to become politically active herself, Nehru developed a much deeper admiration for her. You can see this in his autobiography—published just after she died in 1936 and dedicated fondly to her.
---
This web exclusive interview does not appear in print