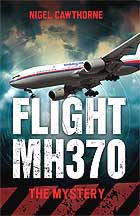 It's an eerie coincidence, two Malay­sian Airlines flights going down within a span of five months. MH370, the plane that vanished without a trace, may never be found, while inve­stigations into last week's shooting down of the second one, MH17, are still on. Incredibly, a book, Flight MH370: The Mystery, is out already about the March incident. Nabanita Sircar spoke to its author, Nigel Cawthorne, at the British Library in London. Excerpts:
How did you write the book so soon after the incident?
From the day it disappeared, it seemed to me that it was going to be an intriguing story and it certainly is, as they haven't found it. It took me three weeks to persuade the publishers to do it and then I did it in just over two weeks.
Did you allow yourself enough...