At one level, the life of Madhu Koda and the Rs 4,000-crore scam he allegedly scripted is a meteoric rags-to-riches story. At another, it is a complex web of intrigue involving mining contracts, hawala transactions and property deals. How did the 38-year-old Koda pull it off? Outlook brings you the man, his method and the politics behind Jharkhand's biggest scam....
From Labourer To Chief Minister: In the early '90s, the son of Rasika Koda was nothing more than a labourer in the iron ore mines of Chaibasa, 160 km from Ranchi. By 2000, he was contesting the Bihar assembly elections on a BJP ticket. In 2005, he was denied a BJP ticket, forcing him to contest as an independent. He won, and wrested the mines portfolio in return for supporting the Arjun Munda-led BJP government. A year later, he and a few other independents withdrew that support, reducing the BJP government to a minority. Subsequently, he became the state's first independent chief minister with the support of the Congress, Laloo Prasad Yadav's Rashtriya Janata Dal, Shibu Soren's Jharkhand Mukti Morcha and independents.
Significantly, Koda continued to retain the mines portfolio even after becoming CM. Everyone, it seems, was happy under him. If he made money, as the allegations and the evidence now indicate, he also shared his wealth generously with friends, key aides, national and state political leaders as well as state government officials loyal to him.
High office in Jharkhand opened up several opportunities for Koda. With nearly 18 per cent of the country's mineral wealth in his state and with enough discretionary powers to help companies get mining leases there, Koda made full use of his position till he had to resign as CM in 2008 ahead of a trust vote because he did not have the numbers.
How The Money Was Made: The mines portfolio in Jharkhand has always been a lucrative one for any government in power. Since Koda held charge of the ministry under the BJP government and retained it as CM, he had the power to clear mining deals. Every recommendation for a mining lease, say I-T, ED and state government officials, brings in anything between Rs 10 and Rs 12 crore as bribe. And state mines secretary Jayashankar Tiwari is said to have cleared 47 mining leases on a single day during Koda's tenure.
The scam broke when a local daily owned by the Usha Martin group—whose proposal Koda rejected—began a series of exposes.

The second lucrative source of illegal funds was in the 25 per cent cut of the total turnover that a few powerful politicians demanded from the existing mine leases. Companies had to pay for the state's continued patronage. Officials in the government point out that key Koda aides such as brothers Binod and Vikash Sinha, Sanjay and Dhananjay Chowdhury and Arun Kumar Shrivastava also began partnerships to invest in existing mine leases or in transporting ore to ports such as Haldia in West Bengal. Hundreds of tonnes would be lifted out of mines overnight in trucks belonging to Koda's key aides. But the amount of ore extracted would be undervalued to enable mining companies to pay the state a lesser percentage of royalty. So, if 30 truckloads were dispatched, only two truckloads would be shown on record.
The final cash cow was the transfer-of-bureaucrats business. Anything between Rs 50 lakh and Rs 1 crore is said to have been the going rate for a lucrative posting during Koda's time.
How Koda Got Exposed: A series of investigative reports from 2007 onwards in local Hindi daily Prabhat Khabar apparently blew the lid off the scam. Strange, one might think, as the newspaper is owned by Neutral Publishing House, whose majority shareholders, the Jawahar family, are also the promoters of Usha Martin Group: among the state's oldest and biggest mining companies.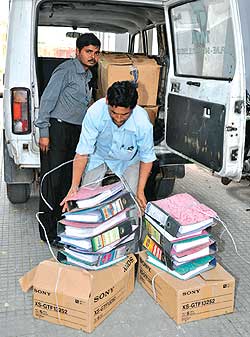 Paper haul: I-T officials cart away documents from Koda's house
This group had been trying to set up a joint venture with the state-owned Jharkhand State Mineral Development Corporation even before Koda became mining minister. This JV, it was proposed, would have Usha Martin holding 76 per cent stake. But Koda opposed the proposal, and redrew the contract when he became CM, reducing Usha Martin's proposed stake to 49 per cent. Finally, after several deliberations, he rejected the proposal. This, many now say, proved to be his undoing, as a series of exposes began appearing in Prabhat Khabar.
Prabhat Khabar has a long and enviable history of investigative journalism, but questions began surfacing about how the documents on Koda were sourced. The rumour mill in Ranchi has it that private detective firms were hired and hackers employed to dig out information that was later also furnished to the I-T department. Neither the I-T department nor the ED denies any of these rumours. When contacted by Outlook, representatives of the Usha Martin Group refused to comment. Also, advocate Ritu Kumar had filed a PIL in August 2008, but the I-T and ED investigations have been stepped up only this year, perhaps to mar the Koda camp's chances in the assembly elections in November-December.
The Money Trail: So, what was Koda doing with the huge cuts he made from the mining lobbies? An army of aides, led by Binod Sinha, his brother Vikash, and the Chowdhury brothers, Sanjay and Dhananjay, invested the slush money in several national and international ventures. Money was also being routed through Mumbai-based businessmen Arvind Vyas and Manoj Punamiya. Documents now available with the ED show that Punamiya's Mumbai-based import-export firms under the Balaji Group had invested in mine leases in places such as Liberia and South Africa.
Binod Sinha and Sanjay Chowdhury also created several companies—including Camtech Manufacturing and Blue Techno—that would invest in infrastructure projects in Dubai and also help route over Rs 1,450 crore to shell companies abroad. Blue Techno also entered into various MoUs and agreements with companies in Thailand and South Africa for purchase of land for development of ports and mines. The company is reported to have offices, functioning as fronts for money transfer, in Mumbai, Singapore, Nigeria and Indonesia, besides a central Asian country.
Punamiya's Balaji Group—basically Balaji Universal Trade and Balaji Bullion—was central to Koda's operations to siphon off the money he made by issuing mining licences post-September 2006. Based in Mumbai's Zaveri Bazaar with a small office at Nariman Point, Punamiya helped Koda & Co launder money by providing them the import-export cover they needed. Investigators say Koda zeroed in on Punamiya through his political connections. In fact, Koda's associates Binod Sinha and Sanjay Chowdhury are directors of Balaji Bullion.
Punamiya, through his companies, made cash deposits of Rs 650 crore in the Zaveri Bazaar branch of the Union Bank of India between late 2006 and 2008. The total transactions are worth Rs 990 crore in these accounts. Investigators say they are yet to open some almirahs and lockers on various premises of the Balaji Group, which could add to the volume of cash that has been discovered.
Is It The End For Koda?: In Ranchi, they say he'll win the elections and that the case will drag on and be forgotten.
---
By Saikat Datta in Ranchi and Smruti Koppikar in Mumbai