Man-To-Man Marking
Economy: The second UPA term has seen an unravelling, marked by 6-7% growth, persistent high food inflation, stalled projects, and a high current account deficit. With job growth still inadequate, the prevailing mood is sombre.
Crony capitalism: Behind the high growth during UPA-I's tenure were murky dealings—it ensured select corporates cornered valuable natural resources, from spectrum to coal to oil & gas
Governance: Lack of governance and dilution of regulatory bodies has led to scams galore which seem to spill out wherever social or performance audit is being done
Social legislations: From RTI and RTE to NREGA and the Forest Rights Act, implementation has been poor and several attempts have been made to dilute provisions
Nuclear deal: Five years after Manmohan's big victory, India is still to see investments flow into new nuclear power plants—rules to safeguard the nation's interest are still awaited
***
Let's face it, government interference in the functioning of the Central Bureau of Investigation (CBI) has been an oft talked about subject. But now, in an astonishing development, the UPA government has been caught out changing a CBI report on irregularities in coal blocks allocation. The coal ministry is among several which were dir­­ectly under PM Manmohan Singh's charge in UPA-I. The sector is now in the spotlight for wrongs that have robbed the nation of resources and the exchequer of much-needed revenues.
Unfortunately, there is a pattern here. The PMO and many cabinet ministers have gone to great lengths over the last couple of years to defend Manmohan every time fingers have been pointed in his direction. And it's happened many times—whether it was the controversial Antrix-Devas deal in 2005 or the scores of coal, lignite, iron ore and other mines allocated without an auction system. Even in the 2G spectrum allocation case, the PM is alleged to have been in the know of rules being changed to the infamous 'first-come-first-serve' basis.
All these multi-crore scams were brought to the fore by the Comptroller and Auditor General's reports. Yet, our 'clean and honest' PM did not get into the act and punish the wrongdoers or even cancel the allotments. He instead chose to shoot the messenger (the CAG) and let the judiciary take action while shielding himself and his ministers. All this has been in complete contrast to Manmohan's reputation when he took charge in 2004—a clean image with high credentials as an economist, the key member of the late P.V. Narasimha Rao's team who had pulled the country through after the great economic crisis in 1991. Is it time then to revisit that legacy of this technocrat-turned-politician?
Veteran political commentator Kalyani Shankar says Manmohan has only one thing to his credit—being the prime minister to have served the third longest term after Jawaharlal Nehru and Indira Gandhi. India's first prime minister fortunately did not have a political master who wields all the power sans responsibility. "People want an honest PM, but they also want an efficient one. Corruption was always there, but the issue is how much of it there is and how far do you go. Unfortunately, Manmohan has never been able to lead. He has always played second fiddle," says Shankar.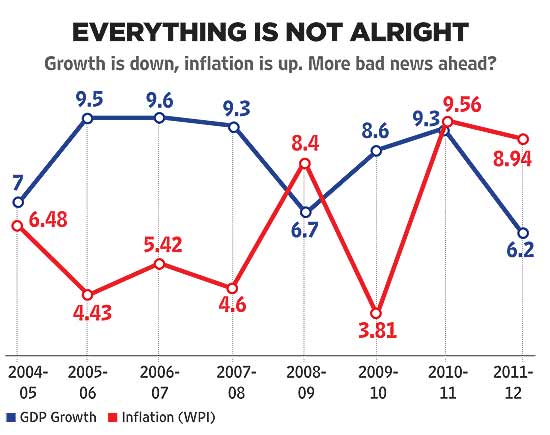 It's not as if Manmohan has not asserted himself in the last nine years. He was able to overrule multiple pressures to get his choice of key advisors, like Planning Commission deputy chairman Montek S. Ahluwalia and economic advisory council chief Dr C. Rangarajan and law minister Ashwani Kumar (who again he has defended). But despite all this, his stewardship of the economy has left much to be desired. With economic growth dipping to 6-7 per cent, and a government striving to control inflation, fiscal deficit and a higher current account deficit than in 1991, India is indeed facing challenging times. "If we were to rate the PM on the economic yardstick, UPA-II does not permit any kind of high rating," says S.L. Rao, ex-NCAER director-general. "Manmohan leaves an economic and political legacy which will need a lot of hard work if it is to be restored to what it was earlier."
Of course, there are wider problems with the economy than just growth numbers: the increasing role of big business and charges of crony capitalism under Manmohan's watch—from handouts to corporate India, lax legislation, and dilution of laws meant to empower the common man—have perpetuated the image of a distorted economic vision. India has also lost an opportunity to generate revenues through royalty and profit- sharing from its natural resources and also create jobs in the country. Of course, Manmohan still gets sympathy in some quarters. "The way the media has handled the situation is gro­tesquely unfair. It has been very partial to Sonia Gandhi and grotesquely unfair to Manmohan Singh," avers Surjit S. Bhalla, Oxus Research, who says they are both equally to blame for the nightmare of the past five years. "No matter how you slice the data (economic), I challenge you to find any yardstick that can throw up anything good about the last five years."
Take the vexed issue of diminishing gas reserves in Reliance Industries' D6 block in KG Basin. There's no government eff­ort—barring from the CAG—to find the reasons for the steep drop in gas production. At the same time, there's no laxity in debating the gas price mechanism (the formula suggested by the Rangarajan panel will almost double the price). This has prompted Business Standard's T.N. Ninan to point out in a rec­ent signed article: "...the deal to double the well-head gas price to be paid to Reliance to a rate that is justified only by bringing into the calculation the world's most expensive gas market (Japan). Why Japan? Because it is the costliest, stupid!" The impact of such a move will not only be felt in user industries like fertiliser and power but will mean a fatter subsidy bill for government and more expensive city gas for consumers. "Under Manmohan's stewardship, the government and its agencies have failed to act as a fair and transparent trustee or custodian of natural resources that belong to the people of the country," says commentator Paranjoy Guha Thakurta.
The PM's ability to bend to the flow of pressure is well illustrated by the fact that while his book, India's Export Trends and Prospects for Self-Sustained Growth, is a blistering attack on the World Bank and IMF policies, most of his policy decisions— from privatisation of power distribution, water and resource management to poverty alleviation—bear the distinct stamp of the multilateral agencies.
On the positive side, the UPA government may not have earned any credibility in governance but several key legislations­—gui­ded by the NAC chaired by Sonia Gandhi—has left an indelible mark that hopefully will improve bureaucratic and political accountability. Most of these rights-based legislations, like RTI, NREGA, Forest Rights Act, RTE have yielded encouraging results including making the common man aware of the corruption pervading the system. Yet again, all these socio-economic legislations seem under threat, whether due to lack of proper implementation (NREGA and RTE) or by attempts to dilute their provisions (RTI and FRA).
Now, with elections fast approaching, we have the direct ben­efits transfer scheme being implemented in haste without having the infrastructure in place. The government will soon launch a massive publicity campaign to highlight the achievements of Manmohan Singh's tenure—apparently, 42 economic decisions taken by the government are "bearing fruit". This has led NAC member Aruna Roy to say, "The UPA gov­e­r­nment which came to power to contradict the notion of India Shining has really forgotten the nation. The poor are not its focus." Worryingly, the UPA seems to have given in to the false sense of "glitter and progress". Ahh, when did we last hear that?