In cricket, 2011 mirrors 1971—India toured West Indies and England that year too. There are wild divergences, though. India are the No. 1 Test team now, they were no-hopers then. India are the one-day world champions; 1971 was the year odi cricket was accidentally invented, and it wasn't until three years later that India played its first international in the short format. But in 1971 India defied wisdom, convention and their own sense of inferiority that had bedevilled them until then. They upset both West Indies and England 1-0, winning series abroad for only the second and third time. Their first triumph was only three years before that, against New Zealand. Beating their old colonial masters, and the West Indians, caused an enduring marriage between Indian fans and hyperbole. They proclaimed India the world champions.
India's 'world champions' of 40 years ago were a bunch of mavericks. The captain, Ajit Wadekar, was shocked at getting the job, through a 3-2 vote of the selectors. The man he replaced, the charismatic M.A.K. Pataudi, declined to be part of the team (he entered politics instead) and Wadekar was left with a young and interesting bunch, most of them still under 30.
| | |
| --- | --- |
| | |
Among the seniors was Dilip Sardesai, who ate like a giant and always demanded room No. 8 in hotels; an abrasive and religious S. Venkataraghavan, who mouthed shlokas on the field and did not think twice before declining a gift of cigars from a personage no less than Gary Sobers; Abid Ali, who could bowl all day, bat with determination and gusto, and then ask the debutant to get the winning runs; four different types of spinners—B.S. Bedi, E.A.S. Prasanna, Venkat and B.S. Chandrashekhar—all unbelievably good, a group an English newspaper called "the most dangerous attack in contemporary cricket"; Eknath Solkar, who batted with courage, and fielded with even greater courage at forward short leg, holding 53 catches in 27 Tests, 50 of those coming off the four spinners; the enterprising Farokh Engineer and the magical Salim Durrani; and the hugely promising G. Vishwanath. Then there was Sunil Gavaskar, 21 and unproven, the man who'd set standards for batting for years to come.
Beating West Indies was epochal, for India hadn't beaten them—or even led in an innings against them—before. But then West Indies were caught between two eras of extreme pace. Hall and Griffith had retired, Holding and Roberts were yet to debut at the top level. Barely freed of colonialism, West Indies were seen as "calypso cricketers", good entertainers but fragile in the mind. They'd not won a series after December 1966, and had lost twice to England and once to Australia.
Engineer, who missed the West Indies tour because the Indian board made it mandatory for players to have played domestic cricket, says that their attack was laughable. "Holder used to play county cricket, and I used to stand up to him—can't be all that quick!" he chuckles. "Uton Dowe tried to bowl short all the time. Lloyd asked him why, and Dowe said: 'I've seen a crack in the pitch and I'm trying to hit that crack!'" Their top wicket-taker was Jack Noreiga, who'd not played first-class cricket for eight years before that season. Sobers, who made 597 runs, was the most threatening bowler too, this in the last phase of his great career. No wonder, Bedi believes that with a more daring captain than Wadekar, India would have won at least 2-0. Legendary leg-spinner Chandrashekhar agrees, "He was a good captain, a good thinker, but he was not the attacking type."

The Indian team at the Third Test, India vs W. Indies at Georgetown, Guyana, '71. (Photograph by Getty images, From Outlook, July 04, 2011)
Despite the win, the series win left bittersweet memories for some. For instance, Kenia Jayantilal, whose lifetime of cricket got him just one Test innings, remembers his dismissal in the drawn first game: "I hit a four and then edged a ball. Sobers was moving to his left initially, but at the last moment he acrobatically took the catch with his right hand." The catch had Gavaskar gasp in the dressing room, "What a catch!" He'd not debuted because of a finger injury. When he got a chance in the second Test, Sobers dropped him three times. Jayantilal never played for India again; Gavaskar became the man who put spine into Indian batting, scoring 774 runs in the series.
Sardesai, though, was the instigator of the fightback. He rescued the team from a first innings situation of 75/5 by scoring 212 and helping India draw the first Test. In the second Test, after Bedi and Prasanna dismissed West Indies for 214, Sardesai made 112 and helped India take a lead of 138. When West Indies batted again, Venkat took five and India were left to score a mere 124. Gavaskar got his second 50 on debut and scored the winning runs after Abid declined to do so. "I'd got a full-toss, but I didn't score off it," Abid remembers. "Gavaskar asked me why, and I said, 'You're a fantastic young player on debut, you should get the honour of scoring the runs that win us this match'."
Their bowling was weak, but West Indies had great batsmen—Sobers, Lloyd, Kanhai, Fredericks, Kallicharan and Charlie Davis. "We did a swot analysis—our strong point was spin bowling," Wadekar recalls. "To be effective, they needed good fielding support near the wicket. Thus we wanted excellent close fielders. West Indies had great strokeplayers, and we planned to curb and frustrate them. You had to bowl tight and ensure that you didn't drop catches." There were specialist fielders like never before in Indian teams. "Abid at short leg, Solkar at forward short leg, Venkat at gully, I and Sunny in the slips," Wadekar says. "The others practised out-fielding more."
India had tempters—Bedi and Prasanna—and the stingy Venkataraghavan. They bagged 48 of the 68 wickets India took in the five-Test series against West Indies. Chandrashekhar wasn't part of that tour. Bedi recalls, perhaps with excessive modesty, "I'd say I was just a cog in the wheel. The real match-winners were Pras and Chandra and Venkat. I was a left-armer, and the feeling of any selection panel is that yes, we need a left-arm spinner. I learnt a lot from Erapalli and Venkat, highly intelligent fellows. Chandra was a genius, a freak genius."
A worthier win was the victory over England, who, unlike the West Indies, were strong, in form and very edgy.
That was in evidence on India's next tour, after a one-and-a-half month break, to England. It was a more worthy series win, for England were strong, having won their last five series. They were more edgy than the easygoing West Indians, not averse to saying something like "Wait blackie, the series is not over yet", as Wadekar records Brian Luckhurst saying to Solkar. Thus, it was good that Engineer was back in the team, for he could give as good as he got. He'd found early that they'd try to bully you, but "when you put them in their place, they respect you". It was Engineer who topped the batting averages, followed by Solkar and Wadekar. And Sardesai played two vital innings in India's victory at the Oval. India could have lost the first two Tests but were saved by rain on both occasions.
At the Oval, Chandra bowled the spell of his life. He'd come back from the Australia series of 1967-68 with a leg injury, and then had an accident in Bangalore and took a long time to recover. He'd taken five wickets in the first Test and none in the second. He believes he faced the axe, but was saved by the 11 wickets he took against Nottinghamshire before the third Test. About Chandra, Wadekar says, "If he didn't get an early wicket, he could go a bit haywire. But that day he took one wicket early and was bowling brilliantly, and I knew it was going to be his day."
England had taken a lead of 81 at the Oval before Chandra struck in the second innings, getting an early wicket, that of John Edrich, who was bowled off a quicker ball, code-named "Millreef" after a champion horse of the time. "I and Sardesai used to follow the performance of this horse," Chandrasekhar says. "I was planning to bowl a googly to Edrich, but Sardesai shouted from the slips 'Milreef daal Milreef'—a faster ball. It worked!" He adds, "If I bowled well on a particular day, I could demolish any batting order." He did exactly that at the Oval, bagging 6 for 38 to bundle out England for 101.
India needed 174, which they got in a tense finish. Abid was at the crease this time too, and he hit the winning runs, a boundary. Engineer made 59—without a single four, a novelty for him—and 28 not out. "Ray Illingworth was a wily captain and knew I was an attacking batsman, but I was patient, I just wanted to take India across," Engineer says. Thus it was that India became 'world champions'—for Indians, at least.
The twin wins 40 years ago were a true watershed, for they gave the team confidence, proved they could fight. They played to their strengths—spin bowling—a policy crafted by Pataudi. "Tiger was the first captain who instilled a sense of Indian-ness—that you're not playing for Delhi or Madras or Bombay or Bengal—you're playing for India. He got us to think India," says Bedi. Engineer says the twin victories broke a psychological barrier. "Our players didn't believe in themselves," he says. "It was people like Pataudi and me who made them believe in themselves, that we could fight and beat the whites."
A bonus—a massive bonus—was that India discovered Gavaskar in 1971, arguably the greatest Indian batsman ever. Bedi says Gavaskar's commitment to technique and execution was phenomenal. "It was perfect. His technique and concentration were faultless. The hit-and-run nonsense was alien to him," he says. "Vijay Manjrekar once told me that Vijay Merchant was better than Gavaskar. I said I'm not too sure—if Merchant was better, then he must have been one hell of a batsman! Personally, I've not seen a better opener than Gavaskar."
If, forty summers later, India are the favourites in West Indies and England, their ascent to the summit started in 1971, when the team gladdened the hearts of every Indian.
---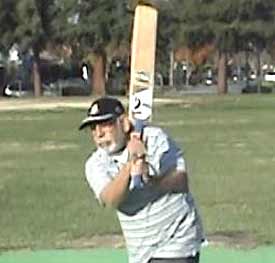 Abid Ali was a key player in 1971

Plight Of Abid Ali
The Indian cricket board recently instituted an award in Dilip Sardesai's name. Sardesai passed away in 2007—as have four others—Ashok Mankad, P. Krishnamurthy, M.L. Jaisimha, and Solkar—of the class of 1971. But perhaps something could be done for the living—for instance Abid Ali. A key player in the '71 wins, Abid told Outlook, "I need work to survive".
He moved to the United States in 1980 after qualifying as a coach. But bad luck dogged him—he was financially squeezed as he had to undergo a bypass surgery and then his son died of of a heart attack while playing cricket in 2008, leaving Abid to fend for himself. Nearing 70, Abid says: "I've been mailing to various BCCI and state association officials, explaining my situation." But he has got no response.
Abid is trying to earn a living by coaching children in California. "I drive a couple of hours, coach kids, then come back," he says. "I wish I could get a job to coach a team in India." Perhaps the board could bail him out with a financial package in the 40th anniversary of India's win in West Indies and England.
---
By Rohit Mahajan in Delhi and Sugata Srinivasaraju in Bangalore