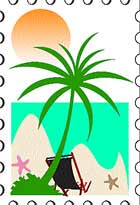 Chameleon Country Cousin
I thought it was high time I visited our geological cousin Madagascar, with whom we were joined together at birth before 'India' decided to change hemispheres and move north about 80 million years ago. Not surprisingly, the landscape was eerily familiar: in Isalo National Park, I thought I was back on Pachmarhi, the highest point in the Satpuras, with the same red sandstone cliffs, bluffs and gorges.
The wildlife and much of the plant life were, of course, different, because evolution had continued its work after we had parted company. Madagascar ended up with lemurs, while we got monkeys. They live in the trees, but seem to spend much less time squabbling, and look like a happy mix of fox, cat, puppy and teddy bear, depending on the species. Being unique, they are a huge tourist attraction and, along with the half the world's species of chameleons (as against India's one, the girgit) and some turtles and snakes (all harmless), seem to attract more eco-tourists than we do. One kept coming across groups of people oohing and aahing at chameleons, which they had been staring at for five minutes before realising they weren't looking at a leaf or the bark of the trunk.
Man is unusual in Madagascar in that he is not "endemic", having arrived as recently as 1,500 years ago after crossing almost 5,000 miles of ocean in outrigger canoes from present-day Indonesia. Linguistic and DNA analyses have corroborated each other in locating the origin of the earliest arrivals in faraway Borneo. They introduced paddy cultivation, but in so doing, chopped down 90 per cent of the forest cover and wiped out the larger animals. So the valleys are emerald green, but the hillsides are brown and even red where erosion has left huge gashes in the laterite. Habitat loss and pressure on the land and the marine environment due to rapid population growth in this mainly Catholic country are pushing the lemurs and other endemic species deeper into the few remaining strands of forest. Even the magnificent Baobab trees of the rainshadow areas in the west, which store water in their trunks and take a 100 years to grow ten feet, are threatened because they have their few leaves chopped off for fodder.
---
Some Acute Angling
But for the interest shown over the years by naturalists such as David Attenborough and Gerald Durrel, and pressure and financial assistance by international conservation organisations, Madagascar would have lost even more of its endemic fauna and flora. I joined a project run by a British NGO, Blue Ventures, as one of a group of volunteers in a remote fishing village on the southwest coast (our truck had to bump along a trackless wasteland for 12 hours before we got there). We were being trained to monitor the reef, which entailed learning how to recognise over 150 species of coral and fish, and go out diving with our underwater slates to do fish-counts. Blue Ventures has been working for some years with 29 fishing villages to get them to give up destructive fishing methods and close certain areas to fishing by rotation at certain times of the year.
---
Trouble Has Eight Limbs
We were lucky to witness the "opening" of one of these temporary No Take Zones. The men, women and children from the 50-odd families on a small island had waded out at low tide onto a sandbar with their homemade harpoons, waiting patiently for the village elders to offer prayers and down a few bottles of rum. On a signal, they surged out into the shallow reef to ferret out octopuses hiding tenaciously under rocks. Within hours, they had caught over a tonne. The three-month closure had increased both the size and number of octopuses, which are frozen and shipped to Europe. This community-managed project has been replicated by the government, although enforcement remains a problem in the larger effort. Blue Ventures has diversified into health education, dispensaries and family planning, since it realised it needs to tackle the root cause of the problem, overpopulation.
---
The Dead Walk! Rum, Anyone?
I was also privileged to be the only foreigner at a famadihana or "turning of the bones" ceremony. As in parts of Indonesia, the Malagasies revere their ancestors. Every five years, they exhume their skeletons and lovingly change the shrouds in which they are wrapped. The bodies are then paraded around the tomb to the accompaniment of frenzied dancing and a noise barrage from competing brass bands to assure the departed that they are well-remembered. There is a lot of mirth when the bodies are bumped into each other, as if in greeting. Someone had tied a pair of canvas shoes to one of the bodies to make it easier for her to walk around and see for herself that all was well with the world and her family. People had climbed the surrounding trees for a better view, and beer stalls had been set up for the partying to come that night. I left the scene reluctantly, after thanking the family members with a bottle of rum. Not a bad way to be remembered.