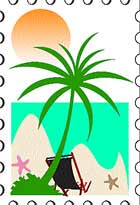 Chameleon Country Cousin
I thought it was high time I visited our geological cousin Madagascar, with whom we were joined together at birth before 'India' decided to change hemispheres and move north about 80 million years ago. Not surprisingly, the landscape was eerily familiar: in Isalo National Park, I thought I was back on Pachmarhi, the highest point in the Satpuras, with the same red sandstone cliffs, bluffs and gorges.
The wildlife and much of the plant life were, of course, different, because evolution had continued its work after we had parted company. Madagascar ended up with lemurs, while we got monkeys. They live in the trees, but seem to spend much less time squabbling, and look like a happy mix of fox, cat, puppy and teddy bear, depending on the species. Being unique, they are a huge tourist attraction and, along with the...