A Murky Missive
Failed chit fund Saradha boss Sudipta Sen's letter bomb to CBI became public on April 24
First victims were Kunal Ghosh and Srinjoy Bose, TMC MPs depicted as allies-turned-extortionists
But the real target was President Pranab Mukherjee whose strained relations with TMC is known. The letter painted the first citizen as a patron of corrupt businessmen.
It also targeted dissident TMC MP Somen Mitra by implicating businessmen close to him
***
The Multi-Layered Cast Of Characters That Feature In This Sordid Drama
Debabrata "Nitu" Sarkar: East Bengal club official close to Trinamool MP Somen Mitra; figures in Sudipta Sen's letter to CBI along with Sajjan and Sandhir Agarwal.
Kunal Ghosh: TMC MP named in Sudipta Sen's letter to CBI; was vice-chairman of Saradha Media Division; Sandhir Agarwal says Sen would drop Ghosh's name and that Ghosh came to his office in March 2013
Mamata Banerjee: West Bengal chief minister; Sandhir Agarwal says that Sudipta Sen would drop her name
Mukul Roy: Trinamool MP; Mamata Banerjee's second-in-command; Sandhir Agarwal says that Sen would often drop Mukul Roy's name.
Nalini Chidambaram: Lawyer wife of finance minister P. Chidambaram; named in Sen's letter to CBI
Omita Paul: President Pranab Mukherjee's secretary, under Supreme Court scanner for U.K. Sinha's appointment as SEBI chairman
Pranab Mukherjee: President of India; former Union finance minister
Rajeev Kumar: Police Commissioner of Bidhannagar; key SIT official; good credentials as investigator
Sajjan Agarwal: Calcutta businessman close to Pranab Mukherjee, Somen Mitra and the late G.K. Moopanar; named in Sudipta Sen's letter to CBI.
Sandhir Agarwal: Son of Sajjan Aggarwal; MD of Orion Techno City which promoted the now abandoned financial hub; close to Pranab Mukherjee, Somen Mitra and the late G.K. Moopanar; named in Sudipta Sen's letter to CBI.
Somen Mitra: Dissident Trinamool Congress MP
Shikha Mitra: Wife of Somen Mitra, Trinamool Congress MLA; director in Agarwal companies
Sudipta Sen: Saradha supremo, now in police custody
U.K. Sinha: SEBI chairman; named in Sudipta Sen's letter
***
One of the country's seniormost civil servants rushed to Rashtrapati Bhavan on the afternoon of April 22. He had a rather delicate duty to perform: tell President Pranab Mukherjee that his name figured in Saradha boss Sudipta Sen's letter to CBI dated April 6. Pranab was informed that according to the letter, Calcutta businessmen Sajjan Agarwal, his son Sandhir Agarwal and East Bengal club official Debabrata Sarkar extorted crores from Sen, claiming that they were "very close" to the president. Sen had also written that the alleged extortionists flaunted their "intimate connection" with SEBI chairman U.K. Sinha (whose proximity to Omita Paul, Pranab's powerful secretary, is now under the Supreme Court scanner).
The president was all ears during the briefing; he was relieved and grateful that a vigilant government agency had forewarned him, even though he had not been dir­ectly or indirectly accused of any wrong-doing. Forty-eight hours later, on April 24, when news channels went to town with the explosive letter that sought to implicate big names, the first citizen watched the proceedings on his huge flat screen. Fortunately for him, TV channels bypassed the portions pertaining to the president out of respect for the high office he holds. But those were early days; a clearer, sharper picture is emerging only now. Consider the following:
Ranabir Ray Choudhury, editor of Bengal Post, the now-defunct English daily owned by Saradha, insists in his column in Hindu Business Line that a "hush-hush meeting between Mamata Banerjee and Sudipta Sen was held at Delo near Kalimpong in 2011". Ray Choudhury, who interacted regularly with Sen while on his payroll, says Sen has personally admitted meeting the CM. The veteran journalist's assertion debunks Mamata's claim that she never met the Saradha boss, and that she wasn't aware of the existence of his newspapers and TV channels which folded up after the chit fund went bust, followed by Sen's arrest and disgrace.
The Special Investigation Team constituted by the West Bengal government to unravel the Saradha scam has been tipped off about a secret meeting between Sen and Biman Bose, West Bengal CPI(M) secretary and Left Front chairman, in a house in Salt Lake's FE Block at the end of 2010, when the Left was in power. Questioned by Bidh­annagar police commissioner Rajeev Kumar, Sen has denied meeting Bose, but sleuths are confident of clinching evidence of the meeting. If so, it would hugely embarrass the CPI(M), because many perceive Saradha as Sen's joint venture with Trinamool—and the Left naturally encourages this idea.
The Calcutta High Court is hearing a PIL demanding a CBI probe into l'affa­ire Saradha. But the Bengal gove­rnment is unwilling to let go of the case. The SIT, headed by state DGP Naparajit Mukherjee, kept at bay poli­cemen from Assam (where several cases are registered against Saradha) till they left for Guwahati empty-handed.
Even the Enforcement Directorate, which suspects money-laundering by Saradha, had to move court to obtain copies of FIRs. Even the ED has been denied access to Sudipta Sen. The Serious Fraud Investigation Office, under the Union corporate affairs ministry, is also similarly battling the SIT, whose proprietary attitude is raising unpleasant doubts about its motives. The SIT says it is entitled to guard its turf and federal agencies should go to the courts if they feel aggrieved.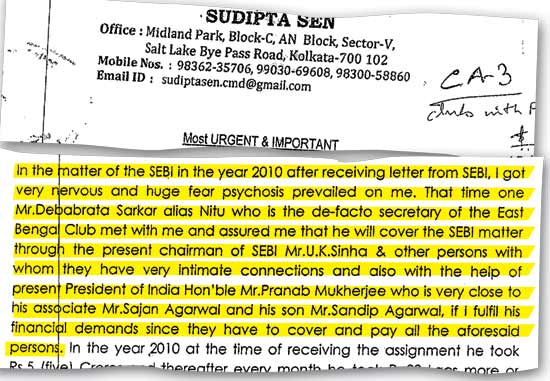 Letter bomb Sen's 18-page letter
The Saradha scam is multi-layered, as these snippets reveal. But its most intr­iguing aspect is Sen's 18-page letter to the CBI—deliberately leaked to the media—an enigma wrapped in a puzzle, couched in a riddle. And the riddle, primarily, is the attempt to tarnish Pranab Mukherjee's name: the president is the biggest fish the letter tries to fry without a shred of evidence.
The state SIT is loath to give a single scrap related to the scam probe to anyone else, raising doubts about its motives.
Others named in the letter—lightweight Trinamool MPs Kunal Ghosh and Srinjoy Bose, Congress leaders Himanta Biswa Sarma and Matang Singh or his estranged wife Mano­ranjana Singh and P. Chidambaram's wife Nalini—are really insignificant compared to the ultimate target the country's president. The choice of targets lends credence to persistent repo­rts that the letter was dictated by a Trinamool heavyweight at Mamata's behest to defame the Centre and the Congress party in general and Pranab (an old Mamata bete noir) in particular. This inside story has many twists too, as an Outlook investigation reveals.
It's hardly a state secret that Sajjan Agarwal, 60, and Sandhir Agarwal, 38, have excellent relations with the president—they have been close for three decades. East Bengal's Debabrata 'Nitu' Sarkar, bracketed with the Agarwals in Sen's narrative, is close to Trinamool heavyweight Somen Mitra, a former West Bengal Congress president. The East Bengal club is Mitra's fiefdom, and Nitu runs it for him. Mitra's wife Shi­kha is a Trinamool MLA. But the hus­band-wife duo is a thorn in Mamata's flesh; they are viewed as the enemy within. Mamata views Somen as a Tro­jan horse: a Congress agent trying to split the Trinamool. Since the day the Saradha scandal broke, the Mitras have been demanding a CBI probe like the opposition CPI(M), Congress and BJP.
Interestingly, the Agarwals are as close to Somen as they are to the president. Sandhir addresses Somen, 68, as 'uncle'. Sajjan, in a beige linen suit, sings paeans to Somen in his chamber. And Shikha Mitra is a director in Agarwal's companies. Evidently, the Aga­rwals and Sarkar have deep ties with Somen and the president—the two heavyweights who are forever in the gunsights of Trinamool's top brass.

Sandhir Agarwal (in tie) with Pranab Mukherjee in October '10
The trio figures on page 15 and 16 of the letter. It says Sen was gripped by fear after a 2010 SEBI letter to him asked probing questions about his chit fund. Nitu told him not to worry, as he had 'intimate connections' with SEBI chairman U.K. Sinha. Nitu also assu­red him of the president's 'help', as he was 'very close' to Nitu's associates Sajjan and Sandhir. Nitu made it clear that 'all the aforesaid persons' had to be paid handsomely for their services. So, Sen paid Nitu Rs 5 crore, initially followed by Rs 80 lakh per month. According to Sen, over three years, he paid the trio Rs 40 crore. Sen quotes Sajjan telling him that he spent Rs 20 lakh monthly to "manage" SEBI's Mumbai office. Rounding off the sordid saga of blackmail and bribery, Sen claims the trio warned him that if he disobeyed them, Nitu would unleash violent East Bengal supporters to teach him a lesson.
In the letter, Sen said he paid Nitu and the Agarwals Rs 40 crore over three years, and was blackmailed by them.
Speaking to Outlook, Nitu admitted knowing the Agarwals but denied any link with Sinha. "I was summoned twice by Bidhannagar police," he said in his East Bengal club office over toasts, omelets and coffee. A thin gold chain peeped out of his shirt collar. The police recorded his statement under section 161 of the Code of Criminal Procedure. "Sudipta Sen paid the club by cheque because Saradha is one of our sponsors. I never threatened Sen as he claims. But I did raise my voice when cheques bounced. The police wanted to know how I met Sen. I was repeatedly asked about Pranab Mukherjee's links with U.K. Sinha and the Agarwals. The police wanted me to implicate the president, but how could I tell lies?" asked Nitu.
Arnab Ghosh, deputy commissioner, detective department, Bidhannagar police, refused to divulge Nitu's statement. Nitu remarked: "Can an ant finish off one kilo of mutton? The letter accuses me of extorting mind-boggling sums of money running into crores. I am ready to go to the gallows if anyone can prove that I snatched even four rupees. I have been deliberately framed; the government is gunning for me because I'm a Somen Mitra loyalist. Anyway, Somenda and the club are backing me to the hilt."
Sajjan's and Sandhir's experience with the police is no different. Ghosh summoned father and son twice, but separately. Sandhir's CrPC statement was reco­rded on April 30 and May 7. Breaking his silence, he told Outlook: "The pol­ice wanted to know about our relations with the Hon'ble president. I was asked if I knew U.K. Sinha well. They were loaded but absurd questions asked by a partisan police officer. Ghosh was wearing his loyalty to the Trinamool on his sleeve."
Sandhir then elaborated on his statement: "I did tell (deputy commissioner Arnab) Ghosh that Sen had come to my office in February 2012 and wanted to invest in the financial hub my company Orion Tech City was then setting up as a joint venture with the state government. Sen dropped Mamata Banerjee's, Mukul Roy's and Kunal Ghosh's names. Sen said he would iron out differences we had with the state government. Sen is not a serious businessman, but I kept him in good hum­our, meeting him 3-4 times because he is so close to Mamatadi and other TMC leaders. I also informed the police that Kunal Ghosh came to my office in March 2013; why he came calling could be ascertained from him."
Nitu and the Agarwals see themselves as victims of petty politics ensnared in the deepening Saradha scandal.
The Agarwals say with pride that as Union finance minister, Pranab Muk­herjee told the West Bengal government in writing in 2010 to induct Orion Tech City as a joint venture partner in the financial hub that then chief minister Buddhadeb Bhattacharya was setting up at Jyoti Basu Nagar on Calcutta's outskirts. The Left Front readily acce­pted the recommendation. The financial hub, the second after Kulra, was launched with great fanfare on October 13, 2010. Delivering a speech on the occasion, Pranab had said: "The...hub is going to play a major catalytic role in the process of development of this region.... I am particularly impressed by Mr Sandhir Agarwal who had been in touch with me...and involved me, along with leaders of the banking world and financial institutions."
Significantly, Mamata too gave the financial hub pride of place in her election manifesto. After coming to power in May 2011, she announced that it was one of the first targets she wanted to achieve. However, to bag credit for the hub, she insisted on a relaunch. Pranab said yes the moment he was sounded. Even the date for the relaunch was announced—August 27, 2011. But soon after her coronation, Mamata fell out with both Pranab and Somen. Her relations with Pranab turned frosty over the finance ministry's refusal to sanction a special package for West Bengal. So much so that she refused to share the dais with him at the relaunch. Mamata's boycott resulted in its abrupt cancellation.
The financial hub went into oblivion—until February 2012, when Sen turned up at Sandhir's office "offering to invest his black money and play peacemaker". By Sandhir's account, after he refused to bite Sen's bait, Mamata launched a financial hub on 19 acres on March 10, 2012 without the Centre's app­roval. Moreover, citing a violation of rural land ceiling laws, her government took back 155 acres of land belo­nging to Orion, earmarked for the first financial hub. Sandhir says that the state government has not scrapped their project to prevent Orion from invoking the arbitration clause in the agreement.
Nitu and the Agarwals see themselves as victims of petty politics ensnared in the depening Saradha scandal. "We are caught in the crossfire; the grass always suffers when two elephants fight", said Sandhir, fiddling with his stylish suspenders. "We wouldn't have certainly merited a dishonourable mention in that concocted letter; I know the name of the TMC MP and his lawyer crony who drafted it, but won't be divulging them yet; if we were not so close to the president and Somen uncle." Sajjan added: "My first godfather was G.K. Moopanar. Because we belong to that school of thought, we don't mind facing problems because of our political affiliation."
As mentioned before, the president was forewarned about the letter on the afternoon of April 22, two days before it became public and created a furore. But what did the president do on April 23? Well, he had a chat with Sandhir ("Oh it was just a courtesy call," Sandhir told Outlook) in Rashtrapati Bhavan. Pranab summoned Sandhir, who obediently flew to Delhi and called on the first citizen. "Take care," Pranab told the young man.
---
Edited online to correct typos. A version of this article, with typos, appears in print