Toryali Azizi is from Afghanistan and works with the UN. But he is in Delhi on a personal trip, to be blessed with a baby. Not through prayer at the old shrines. To fulfil his longing, he'll be going to a modern sort of shrine: an artificial reproduction technology (ART) clinic. When he flew into Delhi with his wife, he only had a few contact numbers; in a week, he has zeroed in on IVF specialist Dr Archana Dhawan Bajaj, rented a flat for Rs 1,100 a day, even found a restaurant serving Afghani fare. The going's been smooth mainly because of one reason: thousands from his country have made similar trips before him.
Yes, India is the world's biggest baby-making factory—and in a slightly different way than you might have thought. The operative word is 'factory'. People come here with hope from Luxembourg to Saudi Arabia, Tanzania to Thailand, from the US to Uzbekistan. There are IVF clinics all over the country, in the metros, big cities, even the smaller towns. Couples from the US and Europe have been coming for cheap ART treatment—of which IVF, or in vitro fertilisation, is one method—for a while now. The new spurt is from Islamic countries and Africa. "I got the first cases from Afghanistan in 2006. I used to get one or two cases a month at the time. Now, between October and April, I see an average of 50 new patients from Afghanistan in a month. Many patients come from Iraq and Iran too," says Dr Dhawan Bajaj. Infertility is seen as a curse in many Islamic societies. Since these countries hardly have any ART clinics, people of all classes—shopkeepers and teachers, businessmen and daily-wagers—come to the numerous clinics in the lanes and bylanes of Delhi, Mumbai, Chennai and Bangalore.

Seeking joy African patients at Dr Malapani's clinic in Mumbai. (Photograph by Apoorva Salkade)
Why is India the latest flavour in fertility tourism? One reason is numbers. Dr Rashmi Sharma, a consultant with the IVF department at Moolchand Hospital, says a recent study showed there are over 500 ART clinics across the land. And India offers a wide range of services, such as artificial insemination by sperm from a husband or donor, in vitro fertilisation and embryo transfer (IVF-ET), gamete intra-fallopian transfer (GIFT), donor egg and embryo treatment, sperm injection (ICSI) and endoscopic diagnosis as well as the use of surrogate mothers. "Hospitals and doctors are also more transparent about the process and we give couples counselling before the treatment," says Dr Sharma. In the UK, Israel, Australia, France and Denmark, it's getting increasingly difficult to meet the demand for donor eggs; India is a natural alternative. Relaxed laws regarding third-party reproduction and the easy availability of surrogates also allow for treatment procedures that are banned in many countries. Above all, the popularity of India seems to rest on the skill of our doctors and the facilities available. "Why shouldn't they come to us? We have the latest equipment and a level of skill unmatched by doctors in any other country. I have an embryoscope, the first in Asia, which I use to observe embryos without exposing them to the laboratory air and select only the healthy ones. I have freezing containers to preserve the embryos for the next treatment cycle. I do around 1,000 embryo implants in a year," says Dr Hrishikesh Pai, head of the IVF department at Lilavati hospital, Mumbai.
The treatment doesn't come cheap. An IVF cycle here can cost Rs 1.5-2 lakh; other overheads, such as housing and food, can add hugely to the cost. One IVF cycle takes about seven months to show if the mother has conceived and many couples have to go through more than one cycle. Ahmed Sareed, 34, whose wife Noori conceived after two cycles, spent seven and a half months in India. They shelled out over Rs 2,000 per day for rent, living in the Afghani refugee-dominated Lajpat Nagar area in the capital. But India is still far more cost-effective than many other countries.
Dr Kaberi Banerjee, who sees about 100 patients from Muslim countries, says that while patients may be rich or poor, the causes of infertility are distressingly similar. "Male infertility is far more common—around 60 per cent of the cases—and it is usually because of drug addiction, war-related stress. These either lower the sperm count or result in impotency. In some cases, it's because of war wounds. With women it is usually genital tuberculosis," she says.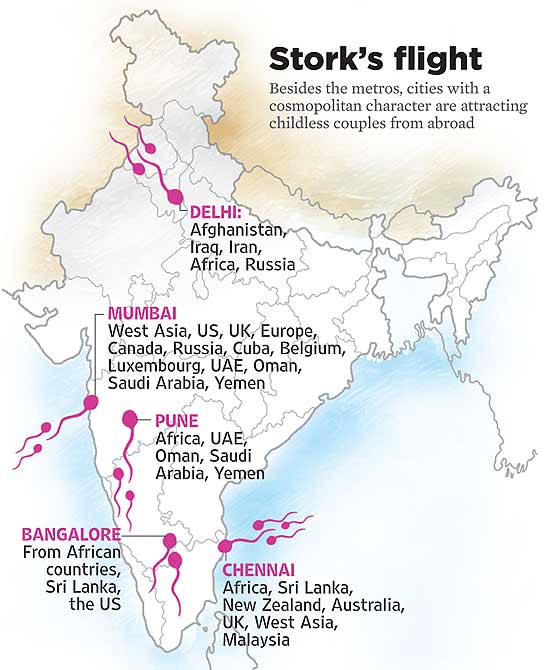 Dr Sharma says patients from Muslim countries seem more desperate to have children. "I have seen a man walk in with four wives but no children. The first option, if the first wife does not bear a child, is to remarry without ascertaining if the cause is male infertility. In African countries, they are not as shattered about being childless but want to conceive." But the taboos are the same. Morry Nyondo, from Tanzania, says women in her town often go to fertility clinics alone, as they think the problem lies with them. "A recent scientific study done in Tanzania revealed that 40 per cent of Tanzanian men are infertile. But the questions about childlessness are directed only at the woman. In Tanzania, they only do hormonal treatments. None of these assisted conception procedures are performed because they are taboo," she says.
Morry and her husband Kassy now have an IVF baby. But they found the whole business still very unorganised. "First, our doctor came four days later than expected, and then said that we had to undergo a part of the treatment, travel back home and then return to Mumbai. Every additional day meant hundreds of dollars wasted as we are both employed. Also, we had to ask for leave without pay and fake the reasons for travel due to confidentiality issues."
Many African patients also struggle to get visa renewals as the IVF treatment can be prolonged. "These patients often ask me to give written confirmation that they are here for treatment so that they can extend their stay," says Dr Anoop Gupta, who runs a clinic in Delhi. This is where agents and medical tourism companies come into the picture. "Africans have to undergo FRRO procedure, which means they have to register themselves within 14 days of arrival. This is because in the past there have been instances of smugglers using the medical visa to gain entry and sell narcotics. "But the red tape bothers genuine patients, so we help them cut loose from it and provide services that makes their stay comfortable," says P.R. Ramesh, Morry's agent in Mumbai.
Agents also provide translators or guides, arrange visas, book tickets, arrange clinical appointments, food and stay. Ramesh sees infertile couples from 31 countries visiting India for treatment. Almost all big hospital chains offer ART treatment and the number of private clinics is growing by the day. Dr D. Mahendran, managing director of Care Medical Tourism, based in Chennai, says that fertility tourists often prefer stand-alone clinics to hospitals. "They rely on us to select a doctor and a good embryologist. They fly in for two weeks for the treatment and then fly back to cut costs."

Comfortable space Many Afghan couples have found solace at ART clinics in Delhi. (Photograph by Jitender Gupta)
Dr Anjali Malapani, who runs a popular infertility clinic in Colaba with her husband Anirudha, says about 60 per cent of her clients are from foreign countries. Many of her patients are 38 years or older and have tried IVF treatment before. "So they insist on us implanting more than three embryos per cycle to improve their chances of pregnancy—a procedure that is banned in many foreign countries." She has also successfully steered patients away from expensive surrogacy procedures by providing healthy donor eggs. "Childlessness is a huge stigma and often patients don't tell anyone but their closest relatives about why they are coming to India," says Dr Malapani.
As against 28,000 gynaecologists, India has only 500 ART clinics because no medical college offers ART courses.
For example, Lorna Adams, one of Dr Malapani's patients, has told everyone she and her husband are holidaying in India. Her reason for choosing India is that she has not been refused treatment despite her age and obesity, and the relatively cheap treatment cost. "Here it would cost me about $4,000. It would cost me double to get it done in London and many clinics there just refuse you outright if they think your chances of getting pregnant are slim." She says she picked India after browsing the internet for the best IVF treatment. In February 2009, an internet search also led Mauritius-based Harris Mohan and wife Jeewantee to the Chennai-based Srushti Fertility Research Centre. Three years later, they are here to try again. They are staying at Seven Hills Villa, a service apartment with 30 rooms managed by the hospital itself. It's just two streets from the hospital and the guest house has patients from Nigeria, New Zealand, Sri Lanka, the UK and the Middle East.

Patients of Indian Origin Harris Mohan and wife Jeevantee at a Chennai clinic. (Photograph by R.A. Chandroo)
However, even though business is booming, the number of such clinics—about 500—is small compared to the 28,000 gynaecologists we have. The reason is ART is not taught at medical colleges; only the Sikkim-Manipal University, Karnataka, offers a course, an MSc in clinical embryology, started in 2005.
Most experts in the field are self-trained, or have attended workshops or training sessions in India and abroad. "This is why so many IVF clinics open and shut down so quickly," says Dr Malapani, who has been running her clinic since 1997. "Many gynaecologists think this is a lucrative business. But it is also result-oriented. When things don't work out and they have a zero per cent success rate, the clinics shut down." The Indian Council of Medical Research has taken the first steps to regularise such clinics in India by starting a registry to track them and the patients taking such treatments.
Despite the ad hoc nature of the practice in India, foreign patients keep coming because doctors seem to excel in dishing out the "personal touch", for many such clinics are run by husband-wife teams. "Many of my African patients keep in touch with me via e-mail, right through the pregnancy and final birth, because we bond while they are here. Similarly, I've started speaking a little Arabic to make my Middle East patients more comfortable," says Dr Rishma Pai, also a consultant fertility specialist at Lilavati and Jaslok hospital in Mumbai. The "borderless babies"—usually born in their parents' home country—might never visit India but for their parents, India remains the place where prayers were answered.
---
By Smita Mitra with Akhila Krishnamurthy in Chennai