There Will Be Light
50%? slash in ?power bills for those consuming power up to 400 units
Discoms should purchase power from economical sources
Will n?ot enter into unsustainable power purchase agreements
CAG audit of discoms; scrutiny of fast-running meters
Give consumers ?freedom to choose between power utilities
***
Current Lag Gaya
The numbers of those consuming up to 400 units have swelled
Power requirement and procurement costs have gone up
?Where are the power plants that will offer cheap power to Delhi?
Discoms? ?claim process of? CAG audit? on since Jan 2014
Enabling rules have to be framed and infrastructure provided
***
Dear Modiji, began Arvind Kejriwal's letter dated June 11, 2014. After congratulating Narendra Modi on his Lok Sabha victory, Kejriwal got straight to the point. "Delhi is reeling under massive power cuts," wrote Kejriwal, reminding the prime minister of the time he himself was the chief minister of Delhi.
"The discoms had attempted to blackmail the government, but when they were told in clear terms that deliberate power cuts would lead to cancellation of their licences, it led to immediate improvement in their work and behaviour. You are therefore requested to strictly enforce the accountability of these discoms, so that the people of Delhi are provided with immediate relief," he wrote.
June is a mere three months away. It is also the time when Delhi sweats under the summer heat, punctuated by the long power cuts. Last year, the month of June saw a record demand for power at 5,643 MW—the highest in all the four metros setting a record of sorts in consumption. With his tantalising promise of free power and water, the question everyone is asking is this: how will the newly elected government backed by an absolute mandate provide real power to the people—power that is continuous, power that comes sans high costs.
At Patel Nagar, amidst the ecstatic crowds gathered to acknowledge the two-year-old party's historic win, a former Congress block committee pre­s­ident says, "Jo bhi hua achcha hi hua (Whatever happened is for the good). Now we have to watch and see how AAP keeps its promises." He reminds us that the promise of "free" bijli and paani received the loudest cheers at every AAP rally of Kejriwal.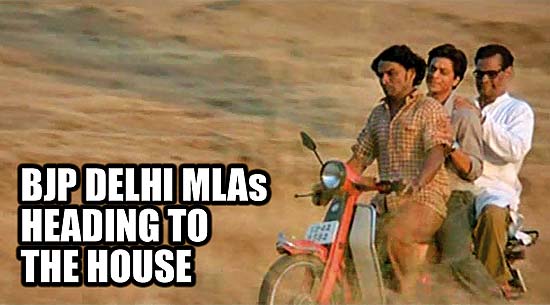 The prospect of free power and water has its takers but is it practical? Says a former official at the Delhi Regulatory Electricity Commission, "Subsidy has been sweetened for the last 12 years to those who consume between 0-400 units of power. In that sense, AAP's promise is nothing new. It becomes a part of the manifesto of political parties. The question is power is bought from public sector companies whose rates are fixed by the government at the Centre and these cannot be manipulated."
But it is the manipulation of expenses incurred that AAP seeks to question when the party presses for an audit of the companies. The PSUs involved in fuel supply, the party says, have made windfall gains. Both public and private power sector power producers show excessive coal/fuel consumption, resu­lting in unreasonably high tariffs for the consumer, says AAP.
Both BSES, a subsidiary of the Anil Dhirubhai Ambani Group (ADAG), and Tata Power Delhi Distribution, which supply power to the entire capital, emp­hasise that there is no standard basis for the charge of high tariffs as it is influenced by the high cost of power procured for supply in the capital. On the issue of audit, both entities clarify that the CAG audit of discoms has been in progress since January 2014 and "we continue to provide the audit teams our fullest support and cooperation". BSES states that it has even given the government auditors access to "our billing and consumer database. Relevant documents in excess of over one lakh pages have already been submitted".
In its 49 days in power in 2013-14, the AAP government had reduced electricity rates by half for households consuming up to 400 units a month. The state picked up a bill of Rs 200 crore as a result of this subsidy, of which Rs 139 crore was billed to the power companies.
But the situation has changed now. Delhi has added nearly six lakh people since then, as they keep pouring into the capital in search of livelihoods. The cost of power continues to be high though the cost of fuel and coal has gone down internationally. If the government keeps its promise, the quantum of subsidy will see a rise. Rajiv Kakria, a member of the upscale Gre­ater Kailash Residents Wel­fare Asso­ci­ation, says the AAP government will not need to provide subsidies to help ease people's burden of high bills if it fixes the meters. "Fixing the fast-running meters will itself bring 25 per cent relief," he says.
The AAP's proposal does envisage a subsidy to the state-owned power tra­nsmission company Transco­—to whom private discoms owe Rs 3,500 crore as dues. While AAP's hopes rest on discoms paying up, the matter is under dispute before the courts. AAP's plan states that discoms should purchase power from economical sources and get out of unsustainable power purchase agreements as a first step. The longer-term plan includes Delhi's own power station to meet peak power consumption of 6,200 MW. And lastly, AAP proposes to introduce competitive distribution leading to lower tariffs.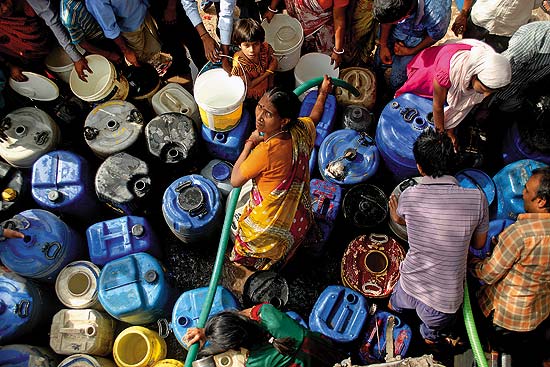 Photograph by Sanjay Rawat
Each of these proposals comes with their own counter-questions. Where are the cheaper sources of power? Who will provide cheap power to Delhi? This will happen only if rules are framed to the proposed amendments in the Elect­ri­city Act, like giving consumers the freedom to choose between utilities. In any case, the likelihood of it happening soon is remote. On the other hand, Delhi's discoms have "regulatory assets" of Rs 22,000 crore. These are the dues the companies allege are owed to them from the government.
"Subsidy has been sweetened for the last 12 years to those consuming 0-400 units. That way, AAP's promise is not new."
On the water front, AAP has promised 700 litres of free water to every household that has piped connection in order to encourage people to put up water meters and conserve water. But this is no easy task as Delhi gets its water supply from external sources. In South Delhi's Sangam Vihar, the residents of one of the biggest resettlement colonies in the capital are waiting with bated breath for Kejriwal to redeem his promise. In AAP's 49-day stint last year, many supporters claim that the water mafia that held them hostage to the tanker lorries were forced to stop oper­ations, resulting in the locals getting better supplies in their homes.
The wait this time is to see whether the AAP government will ensure that they all get potable water through metered pipelines or would they have to continue depending on private operators, who while charging exorbitant amounts still fail to give regular weekly water supplies.
In the coming five years, AAP's plan is to provide piped water connections to as many as 14 lakh households (50 lakh people) in Delhi that do not have it at present. AAP will ensure free lifeline water of up to 20 kilolitres (20,000 litres) to every household per month through a Delhi Jal Board (DJB) metered water connection. This scheme will be extended to group housing societies as well. AAP says it will ensure firm implementation of the high court order that entitles Delhi to extra raw water from Haryana via the Munak canal, an issue on which the BJP government—in Haryana and at the Centre—are yet to take a call.
Though yet to take off, the privatisation of water supply in most parts of the city is in various stages of implementation. The new government will have to take a deep look at the pro-corporate slant of the various agreements that makes water more expensive at the consumer end while government foots the bill for treatment and supply of water.
"Without proper meters, how are they going to measure the water supplied? Complaints about the water meters have been so many that there has been wide resistance to installing the new meters. While the meters may be installed for free, eventually the consumer will have to pay for it," points out Ashok Dikshit of People's Action Initiative. The RWA activists point out that the subsidy proposal of the new government is not sustainable as that too is public money. With around 60 per cent of Delhi's population living in slums, urban villages and low income colonies, all the new schemes stand to benefit the not-so-poor population in the capital city.
Kejriwal can take hope from the words of Gajendra Haldea. The former advisor to the now-disbanded Planning Commission says, "I think these issues will be resolved in a manner that is people-oriented, which means impr­oved services at lower costs." For now, this government lives in hope.
***
Paani Paani
Free water up to 20 k?lt (20,000 litres) to every household?/month
Metering of all households as part of plans to provide potable piped water
Revive Yamuna? river and promote water harvesting
Crackdown on water mafia?? plying unauthorised tanker supplies
Delhi's water bodies to be revived in partnership with mohalla sabhas
***
The Dry Trap
Free water will come at a cost which someone will have to bear
Scores of urban villages, slums have no access to potable piped water
?Yamuna is a stagnant pool right now and revival is a long-drawn out plan
?A crackdown on water mafi?a??;? water harvesting? ?needs more than intentions
Firm rules required to make water harvesting mandatory
---
By Anuradha Raman and Lola Nayar