It's what filmmakers dream of—the trailer going viral on the Net even before their movie releases. It did happen to Telugu film A Woman in Braamanism, but the producers had to quickly yank it off YouTube in a few hours. The randy trailer with steamy scenes between a Brahmin couple has got the community's goat and a case has been booked against the filmmakers.
The film is said to be based on Gudipati Venkatachalam's classic 1937 novel Brahmanikam but the eight-minute teaser clip was more a collection of rather shoddily shot sex scenes. Among other mildly amusing moves, the man is shown pouring milk down the woman's bustline, running an apple over his partner's body and some other squidgy belly button moves. The Andhra Pradesh Brahmana Seva Sangh Samakhya promptly staged a protest in front of the police HQ with vice-president Subramanya Prasad demanding the film be banned for its "vulgar content". As he thundered, "They are just using the name of Chalam to promote an obscene film."
Chalam (1894-1979) is a well-known rebel Telugu writer whose novels were considered much ahead of their times, often touching taboo topics of the time. His novels were popular in the 1930s and '40s and they did not shy away from talking about a woman's sexuality and her need for emancipation from rigid Brahminical customs. Indeed, Chalam was known as the D.H. Lawrence of Telugu literature. The writer is said to have led a bohemian life though in the '30s it was considered sacrilege for a Brahmin woman to be caught reading his books.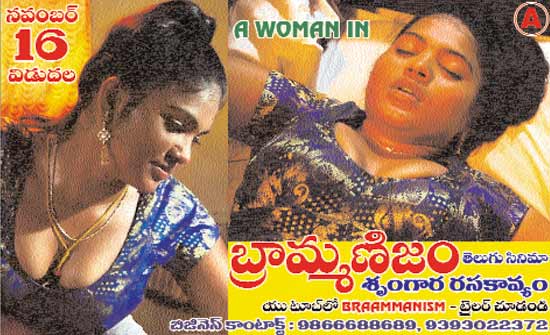 "Love-making scenes in his books are more philosophical in nature, seeking to expose the sexual politics of the '30s."
The movie clips released so far seem to have little resemblance to Brahmanikam, says C. Mrunalini, professor at the Telugu University. The book tells the story of a young Brahmin woman, Sundaramma, who is exploited by several men after she is widowed. Her pain and pleasure as a young married teenager is described in a subtle, sensuous tone. "Her innocence and ignorance lead to constant pathos in her life and her serial victimisation is enunciated with sensitivity by Chalam," explains Mrunalini. "And certainly, there are no such lurid scenes."
While Chalam's literature leaned towards flesh-and-blood romance more than platonic relationships, he never wrote bad sex or even erotica, say his readers. "I'd say the love-making scenes in his books like Maidanam or Brahmanikam are more philosophical, seeking to expose the sexual politics of the day," says novelist K.N. Malleswari.
"It's important to understand that famous writers like Gurjada Appa Rao, Sri Sri and Chalam—who were all Brahmins—chose to rise above their caste and looked at the customs therein critically," says Sahitya Akademi award winner Kethu Viswanath Reddy. "The character Sundaramma's ordeals were clearly felt intimately by Chalam in his own family when he saw his sisters suffer because of rigid Brahmin customs," he elaborates.
It's of course always tricky when it comes to portraying the essence of a classic novel in a film. "Yes, some 'elements' were added to give the film a commercial look," says harried producer and distributor Gangadhar, dazed at the way things have panned out. "It has to sell, after all. But I request the protesters to see the complete film before arriving at a conclusion. If the audience find some of the scenes objectionable, they will be removed." The movie is slated for release on November 16. Regional censor board chief Dhanalakshmi has avoided taking calls so far (films are generally given censor certificates 2-3 days before their release). So class or crass? The debate is still on but Chalam admirers say apples on heaving bosoms and milk on writhing bodies is certainly not what his free-spirited and socially illuminating literature was about.