I sign off my conversation with Shan Ghosh aka Junior Salman, a die-hard Salman Khan fan from Nagpur, with a 'thank you', only to be promptly told: "Don't say thanks. Instead, help three people and tell them to help three others. The world will then change". For non-worshippers of the star, this is not an original Junior Salman thought, but what idol Salman delivers in his recent film Jai Ho. That's the extent to which Shan has unquestioningly internalised Bhai; he even talks in Bhai gems.
Shan took a bus from Nagpur to Pune and then a train to Mumbai just to stand outside the sessions court on May 6 to hear the verdict on the hit-and-run case. The five-year sentence came as a big blow, prompting him to lock himself in his Mumbai room. "Mood upset hai. I don't feel like stepping out. I don't feel like talking to anyone," he tells us. Last heard, Shan had decided to extend his stay in Mumbai in the hope of seeing Bhai walk away with the bail on May 8. His reaction is quite the same as what one would expect from a Woody Allen, Roman Polanski or Michael Jackson fan for their misdemeanours.
In stark contrast to the emotive Shan is the commonsensical and level-hea­ded Ram Nivas Budhnagar, a member of the Bishnoi community that has no love lost for Salman. Ram Nivas is unwilling to forgive him for the environmental crimes he committed in Jodhpur in 1998. In fact, he now hopes that Salman's meek and harmless animal victims might also get justice. Salman is accused of hunting chinkaras and black bucks in three separate incidents while he was in Jodhpur for the shooting of Hum Saath Saath Hain.
Somewhere, caught between these two extremities of reactions—of a fanatical idoliser and a resentful castigator—lies the enigma called Salman Khan.
Such a verdict would not have been deemed so earth-shatteringly crucial if Salman was not at his peak, and the ind­ustry itself was in better health. His Bajrangi Bhaijaan (with four days of work left) is set for an Id release and Prem Ratan Dhan Paayo is likely to light up Diwali and rescue Bollywood from its current morass. 'Security net' is how Sha­­ilesh Kapoor of Ormax Media desc­ribes Salman. That's how key he is.
Salman's larger-than-life persona has led to polarised opinions. "All stars are human and fallible. Their mistakes become far more glaring than those of any other member of the civil society," says actress Dia Mirza. Then there are those who think Salman has been let off easily precisely because he is a star. Cultural commentator Sudheesh Pachauri thinks it's Salman who has extended the case to 13 years, instead of accepting his guilt back then. Not to talk of allegations of manipulation of witnesses, evidence and testimonies. "Mera mann sakht hai (my heart is hard)," is how Pachauri puts it. His reasoning is clear-eyed: a life was snu­­ffed out and four others injured. "Why should I then make him my deity, my god?" he asks.
The verdict wouldn't have been deemed crucial if Salman hadn't been at his peak, if the industry was in better health.
Shohini Ghosh, professor of media at the AJK Mass Communication Research Centre, Jamia Millia Islamia, thinks Salman is the one star who actually doesn't enjoy the immunity of stardom. "The media and the elite have always been uncomfortable about his deeply ambivalent persona," she says. Even now, when he has risen above the B- and C-centre hero stature. Salman's bad off-screen reputation—his fight with his girlfriend or srk—has often eclipsed his performances, and his misdemeanours have forced 'thinking' men and women to be judgmental of him as a star as well. If there are those who think his good deeds (whether prompted by guilt/repentance or by design/PR exercise) have not been taken into account, there are others who wonder why they should be. "His corporate social responsibility came into play when the cases started. Where was it before that?" asks Pachauri.
The extreme reactions Salman elicits are because he himself exists on the ext­remes. Ultimately, the key to Salman's star appeal lies in his unpredictability, in the fact that he is a bundle of contradictions. "His stardom is a collage of confusions," sociologist Shiv Visvanathan had once told Outlook. "He doesn't bel­ong here, lives in his own bubble, by his own rules. He is a man in denial," says senior journalist Anil Thakraney. Sho­hini sees more to it. "The dark side of him represents the complexity of our times," she says. "The fall from a pedestal into an abyss is something people identify with in our troubled times."
Is this what makes him the superstar he is? Samreen Farooqui, who along with Shabani Hassanwalia made the documentary on his fandom, Being Bhaijaan, feels it's the flawed persona of Salman that attracts fans. It makes him more human, more accessible. He has made mistakes, risen from failure and conqu­ered all. And we, especially in India, have always worshipped and forgiven our gods and leaders. Says Samreen: "He is that god, above and beyond everything." That may be true among his fandom but real crimes and real punishment are what human beings of flesh and blood have to deal with. This will dawn on Salman Khan, and his teeming admirers, as he pays for his crimes in real terms.
***
Bhai's Dual Role: Hunter And Philanthropist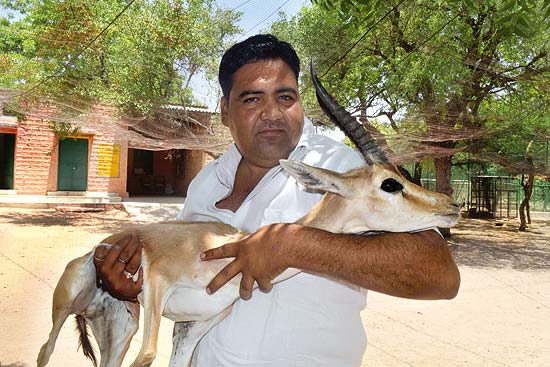 Ram Nivas Budhnagar, in Jodhpur, a member of the Bishnoi community
The sentence in the hit-and-run case gives the Bishnoi community hope that harmless animals that we have been fighting for might get justice. But the way they have tried to influence the case, the way they tried to mislead the court, is shocking. Things would not have come to such a pass if Salman Khan had accepted that he was at fault. It could have been settled with a compensation. There is talk about how he has undergone a change of heart, so why has he been producing false witnesses in court? Testimonies, evidences witnesses have been tampered with in the Jodhpur cases too. Stories about Salman's largesse—blown up as if India runs on his generosity—appear in the media just before a court hearing.

Photograph by Apoorva Salkade
Shan Ghosh aka 'Junior Salman', in Nagpur, who runs Being Salman
We have never cared about the long-running cases against Bhaijaan. We look at the positives—the charity and social work. We are running a Being Salman group, participated in an event aimed to build communal harm­ony. We collected winter clothing from people and on Salman Bhai's birthday in December distributed them amongst footpath-dwellers. We don't hold Bhai guilty. He is my idol, he inspires me; no one else does it for me the way he does. Even Modi nominated him for the Swachh Bharat Abhiyan and I am one of those Bhai nominated in turn to carry it forward. He is using fans like me for the good of society.... All we want to do now is to support him and help him to somehow come out of this unscathed.