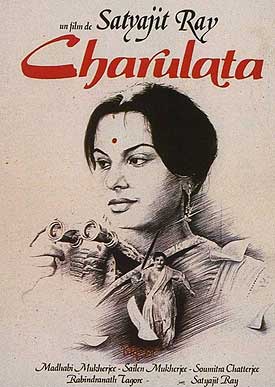 The scene: 11 in the morning on a September Sunday at Soumitra Chatterjee's house in Calcutta's Golf Green. The 80-year-old actor steps into the living room in a pair of track pants and a sweatshirt. Sunlight streams in through low wood-framed glass-windows of the one-storey bungalow, itself framed in foliage and creepers, and catches a happy glint in his eyes. "Yes, it's a precious moment," he smiles, agreeing that the impending meeting will recreate a certain magic. Though a little tired (Soumitra was diagnosed with cancer four years back but follows a ­hectic schedule­—acting in films and theatre, attending seminars, writing and reading), five decades have not stolen the spring in Amal's step.
After all, he will be meeting Charulata, half a century after the actors stepped out of their characters on the sets of an iconic film. "Not that we have not met each other in between," Soumitra says during the drive to Madhabi Mukherjee's house in Lake Gardens. "We often see each other at common frie­nds' homes...." Soumitra played Amal to Madhabi's Charu in Satyajit Ray's 1964 masterpiece Charulata, based on Rabindranath Tag­ore's short story Noshtonir.
"Esho" ('Come in'), Mad­habi says tenderly when she catches glimpse of Soumitra at her door. Their chemistry, as they greet each other warmly but stop short of embracing (as if still heeding the celluloid customs of a bygone age of Bengali films), is ostensibly strong. The Charu-Amal magic communicates itself to each other; it seems Soumitra and Madhabi have transcended reality and slipped into the skin of their aristocratic characters in 1870s Calcutta.
"Was it difficult not to fall in love with each other while making Charulata?" I ask, when Madhabi settles down on a chair beside Soumitra after spending ten minutes fussing over him ("What would you like to eat? Tea? Shall I bring green tea? It's good for health."). At my question, they glance at each other and allow themselves a smile. Madhabi replies, "Amal and Charu loved each other dearly. It was we who conveyed that love." Perhaps their attraction was almost as ephemeral and impossible, and played out in a similar filigree of half-tones as that of Amal and Charu, a love destined to be platonic. Expressed in a glance loaded with longing, a whisper, a sigh. Madhabi was not married at that time; Soumitra was.
"Satyajit Ray did consider Charulata to be his most perfect film," says Soumitra. "In terms of concept and execution, cinematography and even acting." Mad­­­habi reveals that subsequently, Ray felt tremendous pressure over hav­ing to live up to the perfection of Cha­rulata. "He was very measured and did not really discuss this with us. But dur­­ing my long association with him, I came to realise that with Charulata he had set the standards very high for himself." But then Ray's idea of perfection itself did not follow unspoken convention. Soumitra says, "He did not consider women who were conventionally bea­utiful to be interesting. The typical Ben­gali idea of beauty—the big eyes and the 'paan-shaped' face—did not draw him. He liked intelligence and character in a face. He liked the slight imperfections. Pointed cheekbones. Nar­row eyes. In fact, once when someone tried to convince him about hiring an actress, saying 'she is very beautiful and has big, expressive eyes', Manikda (Ray) replied, 'What did you say? She has big eyes? Keep her miles away from my films'."

Young writers Amal (Soumitra) and Charu (Madhabi) in the garden scene in Charulata
Soumitra says he has imbibed this same sense of beauty from Ray. He lets on that he first met Madhabi several years before Charulata at the house of filmmaker Mrinal Sen. "I found her to be extremely attractive and very interesting." Madhabi herself recalls the moment of her first meeting with Soumitra as one of her most memorable. "I was sitting there speaking to Mrinalda when he walked in. He was so handsome I could hardly take my eyes off him. And he had this wonderful personality. Now, with age, he has become quieter and more reserved. But at that time he was very vivacious."
Ray did not like conventional beauty. He liked intelligence and character in a face. Soumitra imbibed it from him.
By the time Charulata was made, both Soumitra and Madhabi had worked with Ray but it is during the making of this film that the two grew close. "When we went on outdoor locations, I took care to see that he (Soumitra) eats right and takes rest. He did not know what was good for him. He would eat fried street food like shingaras and teley bhaja." Soumitra, for one, can't recall many of the minute details during the sho­oting of Charulata, but talks of a constant sense of happiness and comfort. "We were all like a family. Manikda, me, Madhabi, her family (she later married and has two daughters), my family (his wife, daughter and son)." They don't remember a single instance of having a disagreement or an argument or even an ego tussle. "We just followed Manikda's ins­tructions and never thought about imp­osing our own views," Madhabi laughs.
She says her entry into cinema was not her choice either. She was only seven when one of her mother's friends, who had acted in theatre, asked for her. "She told my mother, 'I will take your younger daughter', and my mother agreed. Then, at the age of 17, I got tired of being cast as a little boy and got my first role as a female lead," Madhabi reminisces. Her introduction to Ray was by chance too. "We had all gone to the crematorium at Cossipore's burning ghat for the great thespian Sisir Bhaduri's funeral. Sudd­enly, someone noticed a very tall man taking photographs from under a tree on the bank of the river. It was Satyajit Ray."
The actual meeting with Ray was more eventful. "When I heard from some people that he was thinking of casting me and wanted to meet me, I asked where he lived. I was told that he lives in south Calcutta. I lived in the north. So I told them that I was definitely not going to spend that much money on taxi fare. Later, to my utter embarrassment, they came back with the money for the taxi fare and said, 'Manikda told you to keep this'." She went reluctantly, not expecting to land a role in the then world-famous auteur's film. "I was convinced he wouldn't like me."
Soumitra too recalls his first meeting with Ray vividly. "Someone had taken me to meet him as he was casting for the second part of the Apu Trilogy. I later realised that Ray would always himself be more or less silent and let the person with whom he was in conversation speak more. I wouldn't even notice it until later, when I realised that I talked on and on and he just listened. It was actually his way of gauging a person's diction, ability to deliver dialogue, personality and so on." Soumitra did not get to work in Aparajito because he was "just a little too grown up" to portray the adolescent Apu. "I thought that was the end of my association with Satyajit Ray," says Soumitra. But a few months later he got another call. "Manikda had written the third part of the trilogy with me in mind."
As Soumitra and Madhabi talk about the lost world of '50s-60s filmdom, Calcutta, Ray and the making of Charu­lata, they seem to have been transported to another age. Then the reverie is broken and Soumitra has to leave. Madhabi looks at him and exclaims, "Oh, is it time already?" Theirs is a friendship forged in the smithy of a film that time has only embellished with an unearthly sheen.