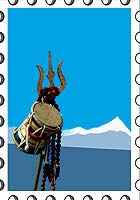 Pass perfect
To be among the first Indians to cross Nathu La on an Indian passport offers an overwhelming sense of pride. That we managed to finish the arduous pilgrimage is all to the credit of my wife Vandana, an ardent Shiva devotee, who invoked the shield of the lord of Kailash. If there was any miracle during the yatra, it was seeing her complete the exhausting circumambulation of Kailash. This included crossing the Dolma La, 18,000 feet above sea level, each step a step into uncertainty, the fear of death hovering over us. Such is the power of Mahadev!
The send-off at Nathu La, the pass between Sikkim and China, was spectacular, with the top army brass present. I had the honour of flagging off the yatri group with Maj Gen Rohit Sawhney. The home secretary of Sikkim and other officials took care of each yatri, treating them as family. On the other side, Chinese ambassador Le Yecheng had specially travelled from Delhi to welcome us. He was joined by Dan Jiang, governor of the Tibet Autonomous Region (TAR). It was an incredible moment. Thanks to Prime Minister Narendra Modi of India and President Xi Jinping of China, Nathu La, once known for skirmishes and standoffs, was transformed into a symbol of friendship and cooperation over steaming cups of tea.
---
Mark of Milarepa
Another 500 km to the next city, Saga, and the day of darshan! By afternoon, we were nearing Darchen, base camp for Mt Kailash. The sight of Mt Kailash is sudden, overpowering, magical. It evokes a range of indes­cribable emotions. Nothing can compare to the majestic, divine aura around Kailash. For thousands of years, Mt Kailash and Lake Mansarovar have captivated the Indian imagination. Buddhists revere it as the supreme abode of Avalokiteswara and perform the circumambulation the hard way, prostrating themselves at each step! The Kailash region is also the highest water source in the world, being the point of origin of mighty rivers like the Indus, Sutlej, Brahmaputra and Mekong, besides dozens of rivers flowing into mainland China. As a tribute to its ancient sacredness, no one has ever been permitted to scale Mt Kailash.
When I visited Darchen in 1992, there were a few mud huts and a huge ground. Today, it has turned into a city of pilgrims, dotted with luxury hotels and government offices. Vegetarians like us had a tough time getting meals of beans, broccoli, cabbage and mushrooms. Yatris also found themselves drinking lots of water to prevent mountain sickness.
We were lucky to visit the Yogi Milarepa (1135-1052 BC) cave monastery in Zutul Phuk. Milarepa is the yogi of Kailash and his handprints appear on the roof of his cave; inside, there's an intact trident, apparently left from the yogi's time. At Chhugu monastery, we bought dried fish for 60 yuans. Fishing is strictly prohibited in Lake Mansarovar for religious reasons, but to ward off evil, monks preserve the dead fish that wash ashore.
---
Fast-forward
High-altitude, high-speed driving, that too in a mountainous, bor­der area! Reaching Yatong was an experience in itself: we covered 40 km in just 23 minutes on metalled road, often hitting 120-140 kmph. I experienced speed at another level too. An official told me he had forgotten to have my passport stamped by Chinese immigration at Nathu La, so I could have lunch and wait while he got it done. He returned in an hour, having covered 80 km.
From Yatong, we set off for Shigatse, in the TAR, our first night halt, some 500 km away. The mountains were treed and shrubbed in green, turning gradually into patches of brown and purple topped by snow-capped mountains of majestic splendour. Except for the roads, everything looked exactly like it is in Ladakh. I had visited Shigatse in 2002 and it has been transformed since then, with huge buildings, broad highways, malls. Many hotels have adopted Indian names: we stayed at Hotel Himalaya Kailash, and next door was Hotel Brahmaputra. Every structure had Chinese flags fluttering. My interpreter said it was the Tibetan people's way of saying thanks to the Chinese government for developing the region.
---
Cerulean splendour
Lake Mansarovar, 88 km in circumference and 300 feet deep, is the nectar pool of the gods. Just gazing upon it is a heavenly experience, and you can spend a lifetime taking in its waves and birds, its unending expanse, its changing colours. Suddenly, you might find it enveloped in clouds, the most spectacular water body on earth shrouded in cloudy mystique. By the shore, the yatris chant the name of Mahadev. One of them, 70-year-old Ambalal from Mumbai, stuns us all by swimming in the icy waters of Lake Mansarovar, up here at 15,000 feet.
---
Going hot...
In Shigatse, Wi-fi was available, but I'd to open a Hotmail account. Gmail and Yahoo! are banned in China.
---
Tarun Vijay, former editor of the RSS weekly Panchajanya, is a Rajya Sabha MP of the BJP; E-mail your diarist: tarun.vijay [AT] sansad [DOT] nic [DOT] in. He tweets @Tarunvijay