How India's Helping
Committed $1.3 billion onvarious projects.
Built the 218-km Zelarang-Delaram highway to enable south-western Afghanistan to access the Iranian port of Chabahar.
Constructed the 220KV DC transmission line from Pul-e-Khumri to Kabul and a 220/110/20KV sub-station at Chimtala.
Built the Salma Dam power project (42 MW) in Herat province (to finish by 2011).
Constructing the Afghan parliament building (to be completed by 2011).
Helped expand the Afghan national TV network, provided uplink and downlink facilities over all of Afghanistan's 34 provinces.
84 small projects in areas of agriculture, rural development, education, health, vocational training and solar energy.
Gifted three Airbus aircraft along with essential spares to Ariana Afghan Airlines. Also,
400 buses, 200 mini-buses and 105 utility vehicles.
***
The city of Kabul always seems swathed in the ambience of indolence and insouciance, depending on the direction in which you are looking. In the city centre of Charahi Ansari, under the mellow afternoon sun, families mill around shops, restaurants and kabab corners. Some simply loiter around, relishing the balmy spring season after months of bitter winter. But turn around and you watch in horror the ugly scars of a city that hasn't had any respite from violence for nearly 25 years.
In Charahi Ansari itself, you find pieces of evidence. These testify to the wounds inflicted on India. There, in a corner, stands the charred shell of the Park Hotel. Opposite the hotel stands what was once a guesthouse. It could be mistaken for an ancient ruin, but for the thick layer of soot covering it. These two buildings were the targets of wanton attacks on February 26—terrorists had triggered off an explosive-laden vehicle, tossed grenades and fired at random, killing 10, including seven Indians.

Young targets An Afghan takes aim with a toy pistol in a Kabul market
These devastated buildings are also monuments to what has been called the proxy war involving India and Pakistan in Afghanistan. (India, however, rejects the word proxy, claiming it hasn't targeted Pakistanis there.) They are depressing symbols of the collateral damage India has been suffering ever since the Lashkar-e-Toiba (LeT) and the Haqqani faction of the Taliban have taken to hitting soft Indian targets—those brave, faceless footsoldiers of Indian diplomacy labouring in a precarious environment to enhance India's interests in Afghanistan, and who become a face with a name only through a violent death. The Indian embassy in Kabul has been targeted twice in two years. A diplomat and a military attache have died. Elsewhere, an engineer was beheaded.
The Indo-Pak battle for influence in Afghanistan is as old as the American invasion of that country. Pakistan had always roiled at the ouster of the Taliban, whom they had fashioned into a fighting force to acquire control over Kabul and through them gain what is called 'strategic depth'. To the paranoid Pakistani, India always loomed on his eastern border; a strong Indian presence in Afghanistan or an independent Kabul could strategically sandwich his country. Once the Taliban rallied back, and the post-9/11 dispensation in Kabul floundered, Pakistan began to target India.

Indian engineers at work at the Afghan parliament construction site
But the game is becoming deadlier and bloodier now. American President Barack Obama favours a political solution, wants to negotiate with the Taliban, stabilise Afghanistan, and withdraw a substantial number of troops at the earliest to appease a domestic audience. This has given the necessary opening to Pakistan to regain its lost influence in Kabul. And it's trying to achieve the goal quite ruthlessly—by commissioning terror groups to muscle India out.
"There's no question of retreating from Afghanistan," says an Indian diplomat. But India is scaling down.
"There's no question of retreating from Afghanistan," says a senior Indian diplomat. Such brave words are perhaps for public consumption, for there are tell-tale signs of India scaling down its presence here. Nearly 50 per cent of Indian personnel working on various projects in Afghanistan have been sent home. The Indira Gandhi Institute of Child Health in Kabul—the only children's hospital in the country—is without an Indian doctor; any medical guidance from New Delhi is rendered through teleconferencing. And though four other medical missions are working now, India isn't taking on any new projects, content to complete the two on hand—the Salma dam and construction of the Afghan Parliament—of the $1.3-billion worth of Indian projects initiated here. The SEWA (Self-Employed Women's Association) scheme, hugely popular as it empowered Afghan women, has been put on hold; Indian-run vocational courses have been suspended; and the training of Afghan civilian personnel, whether in government or civil society, will only be imparted in India now (see infographic).

Treatment through videoconferencing at the Indira Gandhi children's hospital
A senior MEA official justifies the scaling down saying no new projects are being taken up "because we have not been asked to by the Afghan government". He points out that many of the 3,500 Indians in Afghanistan now are there of their own accord—and are not working on Indian government projects. "If some of them now want to return to India, how can we stop them," he asks.
Considering the popularity of these projects, it's debatable whether India would have desisted from proposing new projects to the Afghan government. New schemes would have augmented further the formidable soft power India already enjoys here—Bollywood remains extremely popular, and now even TV serials command an enviable following (TV star Smriti Irani is fast becoming a household name). India remains the favourite destination of Afghans—the Indian embassy and four other missions here issue 350 visas daily, a fact borne out by the packed thrice daily flights between Kabul and New Delhi.
So is it that President Hamid Karzai's government doesn't want Indians here?

Indian engineers working out at a gym in Kabul
Karzai has been an ally of New Delhi, well disposed to India because of, among other things, having studied here. He has also had testy relations with Pakistan, distrustful of its machinations and proximity to the Taliban. Most Afghan observers say things began to change when Karzai began to reach out to Pakistan last year. Partly, he did this out of desperation—the US and other western powers began to gun for him months before the November election, believing he didn't serve their interests. In addition, Obama unveiled his new Afghan policy, opting for a surge in Afghanistan and promising a scaling down of American troops by mid-2011. This fanned the already existing speculation that the Obama administration wasn't really averse to the return of a 'reformed' Taliban.

Shops selling Indian film CDs and audio cassettes are a common sight in the capital
Boxed into a corner, Karzai began to play a few cards of his own. He opened channels of communication with the Taliban to cobble together an arrangement. He reached out to Mullah Baradar, an influential Taliban leader. Karzai's audacity stung Pakistan, which was kept out of the negotiations. Islamabad retaliated, arresting Baradar and sending the message loud and clear—peace in Afghanistan cannot be contemplated without a role for Pakistan.
Karzai decided to blow with the wind. Through Pakistan, he now hopes to strike a peace deal with the Taliban....
Meanwhile, Pakistan was shuffling its own cards, launching an unprecedented crackdown on the Pakistan Taliban in the tribal areas. It earned the country crucial brownie points, convinced the Americans that army chief Ashfaq Kiyani was serious about his intent to fight terror, and enabled Pakistan to claw back from the margins to occupy centrestage in the unfolding drama in Afghanistan. Some, however, say it's more the British than the Americans who have allowed Islamabad to emerge as the sole arbiter for peace and stability in the war-torn country.
Karzai decided to blow with the wind. He toured Pakistan recently, described it as the twin of Afghanistan and showered lavish praise on Islamabad. It's through Pakistan that Karzai now hopes to strike a peace deal with the Taliban, and share power with them. To this end, the Afghan president has convened a peace jirga for April 29. Says Haroun Mir of the think-tank Centre for Research and Policy, "Karzai will try to get his deal with the Taliban approved by the jirga."

The veil is still there, but fashion is back too; mannequins display the latest cuts
But why convene a peace jirga? Mir says Karzai's position in Parliament has been undermined, and he believes the best option for him is to get the support of tribal elders who command clout outside the house, among the masses. Karzai is also planning a 'Kabul Conference' later to consolidate his support base and win legitimacy for the jirga's decision.
An indubitable survivor, Karzai knows his peace plan could run into rough weather, particularly as his own cabinet colleagues are opposed to it. Many of his colleagues belong to ethnic minority groups or are dubbed 'liberal Pashtuns', leaders who had suffered tremendously under the rule of the Pashtun-dominated Taliban. They are opposed to any deal with either Pakistan or its proxy, the Taliban. Which is why a senior Afghan government advisor admits, "Karzai has lost the game in his mind as he feels cornered from all sides. Though he is talking about a deal with the Taliban, even he knows that it will be like signing his own death warrant. We'll have to wait and watch on what he does ultimately."
Obviously, Karzai's machinations have made India nervous. In a rethink of its own policy, India has indicated that the rehabilitation of Taliban soldiers who joined the movement for money and are now willing to abjure violence is acceptable. But it remains steadfastly opposed to the reintegration of the Taliban, or sharing power with them. As a senior Indian diplomat puts it, "If that happens, it will mean not only a legitimisation of the Taliban ideology but also a clear indication of throwing the Afghan constitution into the dustbin."

The OPD is bustling at the Indira Gandhi Institute of Child Health in Kabul
There are many here who blame India for its plight. They say India was not assertive about its presence here, thus failing to win the confidence of those who, hemmed in between Iran and Pakistan, considered it a natural ally. Says Moridian Dawood, advisor to the Afghan foreign minister, "India seems apologetic about its presence. It's a regional player and must behave like one, instead of insisting on a benign presence with a penchant for staying in the background."
Many in the Afghan establishment echo Dawood's view, pointing out that even Karzai had told Indian officials that since New Delhi didn't have the stomach to back him in the face of US opposition, he had no choice but to throw his lot with Pakistan. Not only Karzai, many liberal Pashtuns complain that India didn't openly back them, preferring to cultivate its old friends in the erstwhile Northern Alliance. No doubt, India tried to correct this perception, locating many projects in the Pashtun-dominated provinces rather than at places where ethic minority groups are in a majority. But this has not quite earned it enough dividends.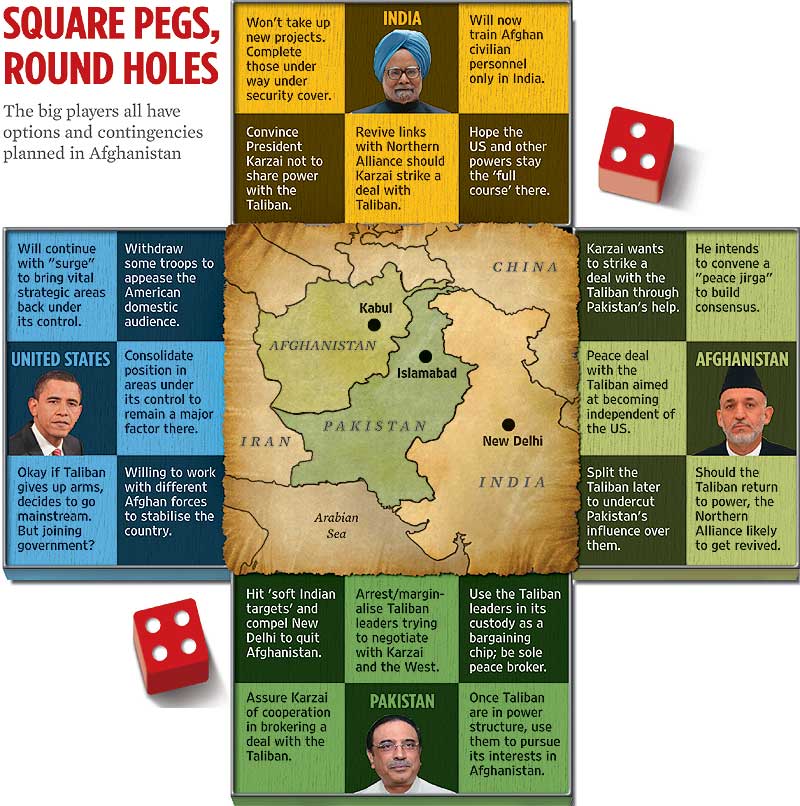 Click here for large image
Should Karzai and the Taliban strike a deal, Afghanistan could again slip into chaos, imperilling India's $1.3 billion investment and the energy it expended to acquire a salience here. No wonder, Indian officials are burning the midnight oil, trying to refashion its Afghan policy. Should it put its weight behind the groups which constituted the Northern Alliance, a formation that's bound to oppose a return of the Taliban? Or should it play both ends, refrain from shutting the door on the Pashtuns? Says Dawood, "I don't believe this is the end-game. But India, which enjoys so much popular support among Afghans, must have the stamina and patience to stay the course. It can't afford to run away."