Here's some depressing news for those filled with agony at the memory of 26/11. The trial of LeT operational commander Zakiur Rehman Lakhvi, whom India considers the mastermind of Mumbai, is progressing at a snail's pace.
It was Ajmal Kasab, the lone surviving 26/11 assailant, who had first named Lakhvi as his trainer. The case against him was bolstered by the fbi providing Pakistan with a taped conversation between Lakhvi and the terrorists during the mayhem in Mumbai. Then, on December 2, '08, India officially named Lakhvi as one of the four masterminds of 26/11.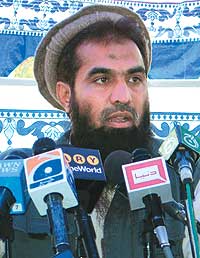 Under trial:
Tags
Read More from Outlook
Harish Manav / Three-time MLA from Chamkaur Sahib Channi has become the first Dalit face to get the top position in the state government. In 2018, Channi was accused in a #MeToo case.
Harish Manav / Getting emotional at his first press conference as the chief minister, Charanjit Channi said that he comes from a poor family that did not have a roof over their head.
Outlook Web Bureau / Within four days Virat Kohli relinquished two captaincy roles to manage his workload.
Outlook Web Bureau / While RCB is third in the eight-team standings with 10 points from seven games, two-time champions KKR are languishing at the seventh spot with just two wins.