In June 2014, Narendra Modi lamen­ted—rather prematurely, one must say in retrospect—that he did not have anything called a "honeymoon period" in government. In a post titled 'A few thoughts as we comp­lete one month in office', he wrote: "Every new government has something that friends in the media like to call a 'honeymoon period'. Previous governments had the luxury of extending this 'honeymoon period' up to 100 days and even beyond. Not unexpectedly, I don't have any such luxury. Forget 100 days, the series of allegations began in less than a hundred hours."
Among the controversies raked up in the media at that time were his HRD minister Smriti Irani's educational qualifications, the appointment of Nripendra Misra as principal secretary in the PMO by issuing an ordinance, and the rail fare hike.
If Modi were to write the blog today, he might well be tempted to view those days—and the next nine months—as part of an extended honeymoon period. Despite the media criticism, and the voluble rants of fri­­nge elements in the Sangh parivar, the government was able to pass the National Judicial Appointments Commission amen­dment bill (now invalidated by the Supreme Court), present two budgets (both unimaginative), amend the coal mines and minerals laws (to enable coal and mineral auctions), open up insura­nce for 49 per cent foreign investment, and enact a law to free small factories from the tentacles of inspector raj, with an online reporting system for labour law complia­nce. Thanks to a global collapse in oil prices, the government was also able to decontrol diesel and LPG prices and bring down inflation despite a monsoon failure. To top it all, Modi was winning election after election, in Maha­ra­shtra, Haryana, Jharkhand, and (partially) in J&K. Both politics and economics were coasting along smoothly, hand in hand.
But somewhere between October 2014 and April 2015, economic and political fortunes were to part company—and Modi can trace the beginnings of the end of the honeymoon phase to this six-month period, even though it was not apparent then.
The political downslide began when the regional parties and the Congress managed to stall the introduction of the Land Acqui­sition Bill in December, using the Sangh parivar's ghar vapasi rhetoric as excuse. The Congress again became a blocking force in Parliament after the 'Shahzada' returned from a mysterious two-month vacation to make his famous 'suit-boot-ki-sarkar' spe­ech. A budget session that began with some legislative accomplishments in the first half ended in chaos and filibuster in the second half, followed by a washout of the monsoon and (now) winter session of Parliament.
From mid-April 2015, Murphy's law held good for the Modi government; what­ever could go wrong did. The Rajya Sabha is now unlikely to let anything pass as long as the government's numbers don't cha­nge. That may not happen till 2017, when the balance will tilt marginally in NDA's favour.
Looking back, 2015 is probably the year in which the Modi government was brought down to earth, after the cloud nine it inhabited for much of 2014. The land bill is as good as dead, and its replacement may not be worth the paper it is printed on. The GST bill will now happen, if at all, only in the budget session of 2016, and any other piece of legislation will depend on backroom deals with the Congress, for which chances seem slim, given the political bitterness generated by the National Her­ald case.
The hefty defeat handed down to the BJP in Bihar by Laloo Prasad Yadav and Nitish Kumar has done nothing to make the climate for ref­orms or legislation any better. Modi's opponents are now cock-a-hoop and beli­eve they have a measure of the man.
The big question now is not about Modi's annus horribilis just past, but whether 2016 will be any better. Will the remaining years of the NDA pass by with little achievement, as UPA-II's last years post 2G and Coalgate did? Let us first consi­der the Modi government's sins of omission and commission that brought it to this state after crafting the biggest political win in 30 years.
The first sin was to try and enjoy the honeymoon while it lasted. The worldwide lesson in political management is that if tough decisions are not taken in the first 100 days, when the political opposition is licking its wounds and not in a mood for confrontation, they will not be taken at all. The Modi government prioritised the NJAC over more important bills like Land Acquisition and GST in its first 100 days. It now has to reckon with the possibility that these reforms may be stuck for a long time.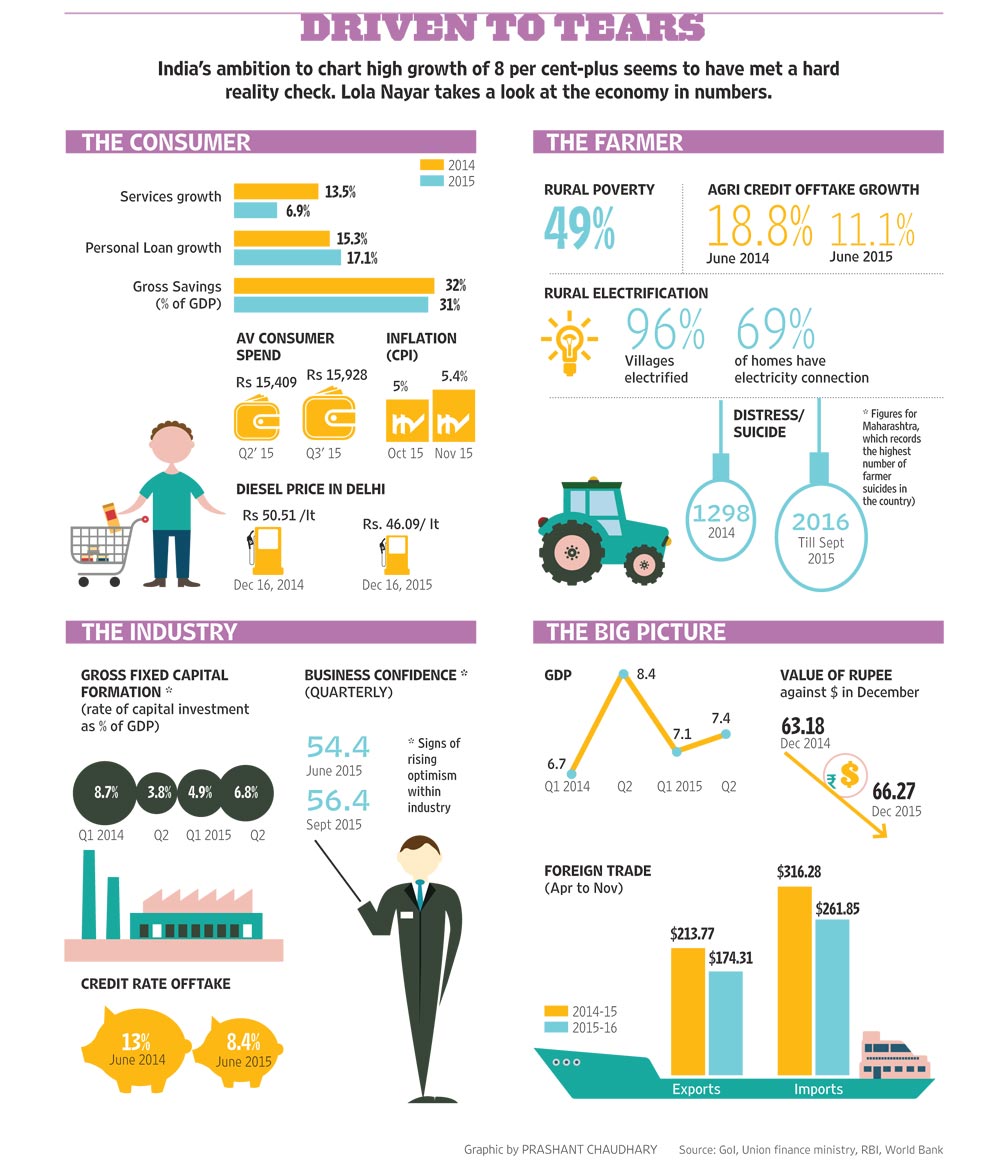 Second, political cockiness ensured that the BJP's political fortunes were hinged on the charisma of one man—Modi. This lies at the root of its political reverses, both in Delhi, where it had no leader to take on Arvind Kejriwal, and in Bihar, where too it failed to announce a CM candidate. In doing so, Modi and BJP president Amit Shah forgot their own lessons from Gujarat and the Lok Sabha elections. State and central elections are now presidential in nature, and depending on the Modi wave to blow endlessly across the land was wrong.
Third, there was poor understanding of parliamentary tactics. The BJP glibly assu­med that if the Rajya Sabha rejected some of its bills, it could call a joint session of Parliament and use its stronger majority in the Lok Sabha to pass them. But the mistake was to announce its strategy beforehand, when Sun Tzu would advise you to keep the enemy guessing. The Congress and regional parties used filibuster and disruption to prevent bills from being taken up for voting, and bottled them up in committees.
Modi should sit back and let federalism work. The best reforms are those that come from below; the best thing the Centre can do is to let states take the lead.
Worse, the BJP simply wasted two budgets—both nondescript. When you have only five budgets to present in a five-year term, with the last one being election-oriented, the first two matter the most. Man­mohan Singh got all his reforms and big changes done in his first two budgets of 1991 and 1992; after that, the budgets were run-of-the-mill. Arun Jaitley made no impression with his first two budgets, with a commentator even calling his July 2014 effort as "Chidambaram's budget with saffron lipstick". If you want NDA-II to shine, it can't be by becoming UPA-III in disguise.
But it is one thing to wonder how the NDA dropped the ball in its very first year, quite another to write its epitaph prematurely. It can improve its scorecard in the remaining three-and-a-half years by learning from its past goof-ups and getting smart about the future. If anything, it should start with the assumption that no major legislation will pass in the next one year at least. Only bad laws will pass, as in the final years of the UPA, when the Food Security Act and the land bill were passed as the BJP found it politically difficult to oppose them. So passing no law is better than passing a bad one just to prove you can get things done.
Here's the gameplan Modi could emb­race to make 2016 stand out better than 2015, a year of under-achievement.
First, focus on budgets. After two weak ones, Budget 2016 needs to be a blockbus­ter. If reforms are posed as money bills, the Rajya Sabha can't interfere. All ref­orms with a budgetary content, tax changes inc­l­uded, should be pushed through—a direct taxes cut, eliminating tax loopholes, etc.
Second, the Modi government can use pro-poor subsidy reform as its theme song and use JAM—Jan Dhan no-frills bank accounts, Aadhaar, and mobile money transfers—as its chosen vehicle. JAM can be used to shift physical subsidies to cash in beneficiaries' bank accounts. Already done for cooking gas, it needs to be extended to kerosene and food subsidies, and NREGA payments. Once middlemen are cut off from feeding off the welfare state, not only will there be budgetary savings but the poor will also get cash in their accounts. This is more empowering than giving them cheap grain or kerosene, forcing them to become supplicants of a feudal system. JAM can convert a supplicant into an empowered consumer with buying power. The poor will applaud. And so will macro-economists.
Third, the Modi government should not push the GST bill too hard; it should let the empowered committee of states come up with a better consensus, and then push it sometime towards end-2016. By giving the impression that it is desperate to pass GST, the NDA has needlessly handed the Oppo­sition blackmail power. Even without GST, growth will revive on the back of an improving business cycle and cleaner corporate balance-sheets. So the focus should be on easing rules for business, not big-bang ref­orms that cause a political ruckus.
Fourth, the financial system is key. What­ever happens, growth and revival depend on the health of the banking system, still reeling under bad loans. Banks have to be recapitalised qui­ckly, even if it means tem­porarily relaxing fiscal deficit targets. A rob­ust banking system will speed up growth and bring in tax revenues the next year.
Fifth, Modi should sit back and let federalism work. It does not matter if the Centre does not legislate better land or labour laws; if states start doing the reforms, the Centre should pass them on for presidential appro­val, few questions asked. Once one state gets to move ahead, the rest won't want to be left behind. States oppose the Centre only when the latter proposes a one-size-fits-all panacea and tries to take credit for it. But states cannot oppose what other states propose as reform. Most states are in a posi­tion to start reforms as most parties have comfortable legislative majorities. The best reforms are those that come from below, and sometimes the best thing the Centre can do is to let states take the lead.
Thinking federal is key to getting Indian politics right—and this includes making the BJP itself federal in character. Modi and Shah must let state units vote their own leaders and generate a face for chief ministership. The BJP thus needs a recognisable face for the upcoming Kerala, West Bengal, Tamil Nadu and UP. The time to figure out the best faces to lead the party is now, when the elections are months away. This has two advantages: a good leader can generate local momentum while Modi can bring in his national charisma to tilt the balance.
The BJP's biggest political failure in 2015 was to think national leaders win state ele­ctions. Modi's own record, and that of the most successful CMs of the party (Vasu­n­dhararaje, Shivraj Chouhan and Raman Singh), shows that state wins are forged by local leaders, not central ones. The BJP's biggest takeout from its setbacks in 2015—both political and economic—is that you have to get the politics right to get the economics right. And getting politics right means tipping your hat to federal principles. Modi has to focus on things directly under the Centre's control and leave the heavy lifting in reforms to the states.
---
(R. Jagannathan is editorial director at Swarajya and former head of Network 18 news and print publications.)