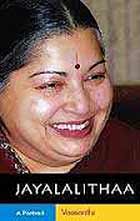 Banned book: Jayalalithaa: A Portrait, Penguin, 2012
Status: Permanent injunction against the book in 2012
What happens to an author who toils over a book, say a biography, for two years, searching for source material, fixing interviews, tracing persons long forgotten, and when the book is ready to be released she suddenly faces a court injunction against its release? How does an author with limited sources even try to get the court injunction overturned when the exasperated publisher feels that it is more prudent to abide by the verdict than to "fight for the big idea"? Legal cases are expensive. True. Time-consuming too, agreed. And the question arises, is the fight worth the trouble? Especially if the fight is against a formidable political power? There are millions of safe titles that get printed every year. What if a book that has become a problem meets with a silent death? The author be damned.
When I was commissioned by Penguin (who had published my book Cut-outs, Caste and Cine Stars) to write a book on Jayalalitha, and I agreed after a good deal of thought, neither of us, of course, knew what we were in for. I had had a good relationship with Penguin during my earlier book, and the second book, though one of the most challenging assignments I have had, was done with great care and meticulous editing. The final draft of the manuscript was shown to lawyers for legal scrutiny and facts verified. The book was about to be released when Outlook magazine decided to bring out a cover story on it as a curtain-raiser. I was a little apprehensive about it, but gave an interview to the magazine after consulting my publisher. What appeared in the magazine (March 21, 2011) were like excerpts from the book but they were just portions from the conversation the reporter had with me. Not a single line was from the book. The title of the cover was provocative enough—Jayalalitha: The Untold Story. A week before the release in April, I was informed about the court injunction against the book. The sense of shock I felt was stupefying. I have always championed the cause of freedom of expression and I suddenly felt numb and powerless, unable to understand how a court could give an injunction before the book was released. The din of 2011 Tamil Nadu assembly election campaign had subsided and the results were awaited. When the results came, it was clear that Jayalalitha had won a massive mandate.
My book was an attempt to understand the persona of the most enigmatic, dynamic woman politician in Tamil Nadu. Biographies of successful men and women need to be written.
Penguin fought for a year in the Madras sessions court and by the time the verdict was announced on August 27, 2012, granting permanent injunction against the book, a feeling that the legal battle was a waste of time, effort and money had set in. I attended one of the court hearings and felt utterly humiliated. I heard the lawyers of the other side raising their voice and calling me a liar who dared to defame a leader of six crore people. I am yet to recover from the shock. A fear psychosis had been generated, whether real or imaginary, and the effect was inexplicably terrifying and even crazy. It was feared that I might be physically assaulted; that the Penguin office and property may be damaged. The book violated one's right to privacy, it was argued. And we lost. Penguin decided not to go for an appeal in the higher courts. I never imagined a book would or could be banned even before it could see the light of day.
The author became a non-entity. A mere zero, who could be dismissed and destroyed with a stroke of a pen. Penguin went silent and there has been no direct contact with the publisher after that. More shocking and painful was the silence of the media, English and Tamil, in Tamil Nadu. The matter never crossed the borders of the state: if it did, there was no sign of it. I was made to feel like a criminal convicted for no reason at all.
The injunction against a biography of a public figure signals a warning to Indian publishers that hereafter no biography can be written in India. It is indeed ironical. Biographies of successful men and women need to be written. My book was a journalist's attempt to understand the enigmatic persona of the most colourful, dynamic and determined woman politician that Tamil Nadu has ever seen. Her lonely battle overcoming the odds against her—as a woman, as a Brahmin, as a former actress, and her emergence as a tough politician who became the chief minister of the state not once but three times is so extraordinary a narrative, that I believe it needs to be told.
What is it that makes an injunction against a book so easy? Why is it authors are helpless and vulnerable despite the constitutional guarantee of freedom of expression? Why is it in a free democratic society we still fear the might of political power and of fringe religious groups?
Unfortunately, all the uneasy questions are resolved 'pragmatically' and not rationally. In such a scenario, the premature death of a book matters little.