Ripple In The Tipple
What Liquor syndicates bribe Andhra ministers, MLAs, police, excise, health officials and media. Total annual liquor trade is about Rs 50,000 crore, 60% of it illegal.
How Much Bribes range from Rs 30 for a constable's lunch to Rs 39 lakh for a minister
Why To turn a blind eye to illegal vends in rural areas, smuggle in non-duty-paid liquor, operate beyond set hours, allow liquor shops to function as 'bars'
Loss Licensed shops obtain liquor from APBCL; of the cost, 70% goes to excise department. Illegal trade deprives exchequer of some Rs 5,000 crore per annum.
How The scam was unearthed by ACB with a seizure of cash from an excise department vehicle.
Who At least five ministers, 70 MLAs, 12 MPs said to be involved. Eight excise officials held so far.
Where Scam found operating in 18 districts, including Adilabad, Hyderabad, Kurnool, Guntur, Vizag
Proof The syndicates kept accounts of payoffs; 125 books of nearly 20,000 pages and four hard disks seized
Politics Cong, TDP, BJP, Praja Rajyam, TRS, YSR Cong, CPI, CPI(M) members among alleged beneficiaries. Tussle between CM and state Cong chief Botsa Satyanarayana seen as cause for outing of scam.
Policy Unlike TN, where liquor shops are in govt control, AP has auctions and private players run the show. Govt mulling policy change.
***
When the Congress government in Andhra Pradesh raked in a whopping Rs 7,000 crore by granting liquor licences in 2010, towns, villages and hamlets were awash with booze and the state raised a toast to the huge revenues generated. So much so, the opposition took to calling the state 'Madyandhra Pradesh'. But two years on, the liquor bomb looks like exploding in the face of an already shaky regime, with anti-corruption bureau (ACB) raids in 18 districts exposing a parallel nexus between liquor syndicates and politicians cutting across all parties. The worst-hit, of course, is the Congress: the names of its ministers and MLAs have cropped up in the investigation as prime bribe-takers. So far, chief minister Kiran Kumar Reddy—who is under attack from dissident ministers, and on another front is trying to tackle the Jaganmohan Reddy factor—has been silent, but says he is willing to make a statement in the assembly.
The liquor trade in the state is estimated at a staggering Rs 50,000 crore per year, of which some 60 per cent is illegal and controlled by a mafia that has had a free run, thanks to a liberal greasing of wheels through bribes to police, officials in all kinds of departments and politicians. These connections and pay-offs now stand exposed, thanks to the records of bribes paid that have been found. In that respect, this is quite a well-documented unravelling of a scam.
A liquor baron has told the ACB he paid the excise minister, Mopidevi (above), Rs 10 lakh to settle a syndicate quarrel.
Outlook has obtained a 750-page report of the ACB detailing the 'mamools' (or bribes) paid by liquor syndicates to officials in a host of departments—excise, police, metrology, fire...the list could go on. The eight excise officials who have been arrested were found to be not only accepting 'mamools' but also reinvesting them in the business. For instance, one excise commissioner from Visakhapatnam had invested some Rs 2 crore in a liquor syndicate. Bribes were also paid to municipal and enforcement officials, those with the Andhra Pradesh Beverages Corporation Ltd (APBCL), even media persons. The bulk, of course, went to politicians at all levels, from corporators to MLAs and ministers, besides contributions to party funds.
It all began with a surprise check by the ACB on a Tata Victa belonging to excise officials on December 13 in Karimnagar district. Some Rs 3.62 lakh in cash was seized, clearly the proverbial tip of the iceberg. It's been so much liquor under the bridge since—raids and investigations over the last two months have unravelled an extensive web. Bribes were paid to facilitate numerous violations of excise laws—sale of liquor above MRP, sale of loose liquor and fake spirits, smuggling of liquor evading duty, operation of illegal outlets in rural areas (known locally as 'belt shops'), flouting of set sale timings.

The antagonists? CM Kiran Kumar Reddy and AP Cong chief Botsa Satyanarayana
The ACB carried out 34 raids from December 13 to 17 last year on some 350 liquor vends. Sleuths have held 42 suspects so far—eight excise officials, 20 heads of liquor syndicates (groups into which shops organise themselves to facilitate illegal activities, each headed by an influential person who would ensure the wheels moved smoothly) and 14 accountants employed by them. Some of the seized account books have records for three months, some of them for up to 18. Top officials say this is the first time in the country that tell-tale records have been seized showing the widespread nexus. "The data is voluminous: 125 books of records running into 20,000 pages, four hard disks and several loose files," a source says.
The investigations only reinforce what is common knowledge—that regular payouts are made. For example, the ACB found that Oruganti Eeswara Rao, a syndicate leader from Srikakulam, had paid Rs 39.46 lakh in instalments to a "minister", a sarpanch, a CPI(M) member and an MLA of the YSR Congress. Eeswara Rao has also told the ACB he paid Rs 10,000 to MLA Krishna Das, brother of the only state minister from Srikakulam district, Dharmana Prasada Rao. Some entries don't name persons, some do. Here's a sampling from the ACB report:
On July 10, 2011, Rs 10 lakh is listed under "minister's PA-Apparao"
On August 9, 2011, Rs 10 lakh to "Venkat sir (to the minister)". "Venkat sir" is also listed as receiving Rs 5 lakh each on August 18 and September 1.
There are entries of Rs 1 lakh on eight other dates under "Chinni (ministergaru), "minister's PA", "PA Apparao".
During interrogation on February 4, a syndicate leader, K. Dayakar Reddy, said he paid a half-yearly bribe of Rs 4 lakh to Y. Chennakesava Reddy, the YSR Congress MLA from Yemmiganoor.
Similar revelations have come from other districts too, 18 in all—Adilabad, Chittoor, Guntur, Hyderabad, Karimnagar, Kurnool, Khammam, Krishna, Mahbubnagar, Nalgonda, Nellore, Prakasam, Rangareddy, Rajahmundry (E. Godavari), Srikakulam, Visakhapatnam, Eluru (W. Godavari) and Warangal. Payments seem to have gone to all parties—the TDP, CPI, CPI(M), BJP, YSR Congress, Telangana Rashtra Samiti and even the Joint Action Committee (Telangana).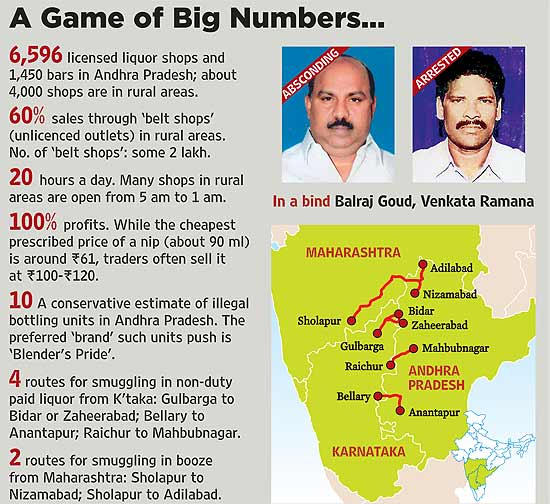 The ACB's big break came when Nunna Venkata Ramana, a partner in 29 liquor shops and with stakes in 80 others in Khammam and Warangal, began to sing. Under interrogation, he said that besides payoffs to district secretaries of various parties and MLAs, he had delivered Rs 10 lakh to excise and prohibition minister Mopidevi Venkata Ramana at his residence in Banjara Hills, Hyderabad. It is learnt that this was for settling a quarrel between two syndicates.
The panic in the political class was evident in the urgency with which the minister denied knowing anyone called Ramana or taking a bribe, and said the ACB should have taken him into confidence before recording a criminal's statement, something ACB officials laugh off. Roads & buildings minister Dharmana Prasada Rao, too, issued a statement that syndicate accounts mean nothing. Other ministers are up in arms against the probe too, saying it is political motivated, so a special investigation team (SIT), headed by ACB DIG K. Sreenivas Reddy, has been set up to probe deeper. firs were filed on January 25, and talk is that many big names are likely to come out.
Balraj Goud, who's on the run, is a liquor baron worth about Rs 1,000 crore. He contested once on a Praja Rajyam ticket.
Some Congress leaders say the raids are the result of a power tussle between the chief minister and Pradesh Congress Committee chief Botsa Satyanarayana, the transport minister. Botsa, who was in the race for the CM's gaddi, makes frequent trips to Delhi and is said to be running a "complaint cell" in Gandhi Bhavan, the state Congress headquarters in Hyderabad, for leaders unhappy with the CM. The general administration department, under which the ACB works, is with the CM, and Botsa's supporters say the raids and cases are Kiran Reddy's way of hitting back, since Botsa's family is in the liquor trade. It could be added, though, that he is indeed a big player. Opposition leader Chandrababu Naidu even alleges that Botsa is the ringleader of the liquor syndicate mafia, and his family controls some 300 shops. Also, he says, "77 MLAs, 12 MPs and five ministers are in cahoots with the liquor mafia".
Botsa, on his part, declared at a press meet that his friends and relatives might be in the liquor business, with some 30-odd shops, but there's nothing illegal about it as they had all obtained licences and are not violating any rules. So far, he hasn't been implicated. A December 16, 2011, raid on Botsa Adibabu, a syndicate head, came a cropper, but ACB sources say he was probably forewarned and did away with some hard disks that might have incriminated him and other powerful figures. Quite plausible, as the money involved is humungous, and the network widespread.
After the Chandrababu Naidu regime lifted prohibition in the state in 1996, liquor barons have only grown in strength. Under the TDP regime, the state followed a lottery system for allotment of licences. But in 2005, the Y.S. Rajasekhara Reddy government started auctioning licences. Auctions are held every two years and bids go up to Rs 5 crore each. The business is now controlled by some 200 liquor barons. While Nunna Venkata Ramana is a prime catch, another, B. Balaraj Goud, is absconding. He is said to be worth some Rs 1,000 crore and reputed to pay bribes of nearly Rs 2 crore every month. He even contested on a Praja Rajyam Party ticket from the Mahbubnagar parliamentary seat in 2009. Reports have surfaced that one of his diaries reveals the names of some key ministers.
Liquor is a big source of state revenue, and besides the liberal argument, this is a major consideration in lifting prohibition. When allotted, licences cost heavily in bribes; when auctioned, the prices are driven sky-high by competition. So enforcement of legal sales is extremely difficult, what with governments unwilling to rub liquor barons the wrong way, eyeing as they do revenue (and bribes, as cynics would add and the ACB probe shows). "In order to make up for what we pay, we're given the nod by the excise department to sell above MRP, deal in non-duty-paid liquor, violate timings and so on," says one dealer. "We generate thousands of crores in revenue, and suddenly, even the media, which took bribes, is calling us a mafia." Excise officials freely admit that enforcement is a joke, given the pressure to increase revenue (currently Rs 8,000 crore per year) by any means. And, it might be added, the lure of bribes irresistible.
So smuggling in of liquor without paying duty is rampant. An excise source says a CAG report of November 2011 found that sales of APBCL liquor had fallen substantially in Srikakulam, Vizianagaram and Visakhapatnam districts because liquor was being smuggled in from Goa and Orissa. Then there are the 'belt shops'. A liquor trader from Guntur estimates that 60 per cent of liquor sales in the state is through such illegal shops and the turnover in them could be as high as Rs 1 lakh-crore a year. ACB sources said the 'mamool' rates for new bars are Rs 30 lakh and monthly 'mamools' for liquor shops and bars Rs 4,000 each for the ministerial level alone.
So liquor flows freely; so do the bribes. As TDP leader Gali Muddukrishnama Naidu puts it, "Andhra spends Rs 17,000 crore on welfare schemes but takes it right back from the poor through this liquor business." While some profit.