Author, columnist and traveller Pankaj Mishra has been an early essayist for Outlook with a famous takedown of Rushdie. He is an avid reader of magazines and a prolific writer for both Indian and international publications like The New Yorker and Granta. He was perhaps the first author to bring small-town India to a global audience with Butter Chicken in Ludhiana and wrote acclaimed books such as From the Ruins of the Empire, and The Romantics. In an interview with Namrata Joshi, he discusses the ways magazines impacted his life and his worldview. Excerpts:
What does a magazine mean to you, as a reader, as a writer and how have you evolved as a magazine reader?
I grew up as a reader with magazines, in small places where there were more magazines than books available, and I remain addicted to them to this day. I also grew as a writer while writing for magazines—Indian Review of Books, The India Magazine and then the New York Review of Books and the New Statesman. I remember how nearly every day of the month during my childhood was marked by anticipation that such and such magazine would arrive at the railway station near us. There were the Hindi magazines: Dharmayug, Saptahik Hindustan, Kada­mbini, Sarika, Ravivar, Dinman. I was also vulnerable to these Allahabad rags: Maya, Manohar Kahaniyan, Satyakatha. I even read Vama, a women's magazine, with much pleasure. The magazines in English were undergoing their own renaissance. India Today was in its illustrious infancy. The Illustrated Weekly got livelier under Pritish Nandy and Anil Dharker; Vinod Mehta's weekly paper The Sunday Observer was an exciting innovation. So was Frontline then with its colour pictures. Sunday was deep into its best phase; then even a lifestyle magazine like Gentleman had pretty strong content.
New Yorker, Granta, Times Literary Supplement...what challenges and highs have these varied spaces and platforms offered to you as a writer?
These are three very different magazines. The first is a general interest weekly; the TLS is an intellectual periodical; Granta is a quarterly platform for long-form literary journalism and fiction. They require different kinds of energy, stamina and pace; and they have their own sense of the audience. Writing for the TLS or the New York Review of Books, I can assume a broad familiarity among readers with my subject. I cannot do that with the New York Times Magazine. And it is easier in general writing for a British or European readership than an American one. The former do not seem to have the same need to have everything foreign explained to them. So I can write an 8,000-word essay on Indonesia for the LRB without worrying that the reader may know nothing about Bandung's geopolitical and symbolic importance.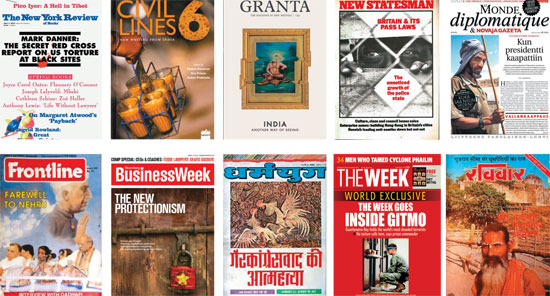 An Omnivore Pankaj Mishra is a voracious reader of all kinds of magazines. He has also grown as a writer while contributing to many of these publications. They range from Hindi weeklies to general interest American magazines.
Are there any specific pieces you wrote which are memorable to you?
"It is easier to write for British magazines than American ones. The former don't need everything foreign explained to them."
The three-part series on Kashmir in The Hindu. The whole experience of researching it was a rude and salutary political awakening for me. But writing it was easy compared to The Elections in Allahabad, a 15,000-word piece I wrote in 2000 for the New York Review of Books. I had to struggle with the material, which was very disparate and intransigent, to find a narrative and controlling argument amid many different experiences, political positions and personalities. It was the most exacting piece of journalism I had done by that point, and I felt capable afterwards of taking on more complex assignments. Looking back at the piece, I can see it describing the early stages of the political process we now know too well: the resentment evoked by Hindutva against Dalit and OBC assertions outsmarting tone-deaf Nehruvian liberalism. All those things are already present.
Why do you think Indian languages have not been able to evolve a culture of newsmagazines?
Is this true for all times? What about Ravivar under Surendra Pratap Singh? I suppose periodicals in Indian languages, by and large, address regional audiences. And if a newsmagazine is aimed at a national, if not international readership, then English as the pan-Indian language is a natural choice. Even the Malayala Manorama folks put out a newsmagazine in English, The Week, not in Malayalam.
Which are the magazines, who are the magazine writers, you now look forward to?
There are too many to list. I remain a magazine junkie, and get all kinds, small and large-circulation, and indeed many of them on the iPad. I can't say I read them all cover to cover, but I do flick through them, and I continue to berate myself for spending more time reading all my magazines instead of books.
What are the feelings that a good magazine evokes in a reader?
The feeling that you hold in your hands a product of several collaborative minds. The greatest magazines are curated things, harvests of sustained and manifold engagement with writing. And there is nothing like them in the new media, however swift the latter might seem. Compared to the long and hard work of refining and presenting thought, which involves a variety of talents and skills, publishing a blog or a tweet is not much more rigorous than the breaking of wind.

Roaring Business People check out their favourite magazines at a stall in a railway station in India. (Photograph by Jitender Gupta)
How do you view the evolution of Indian magazines in the post-liberalisation era, and how does it compare with Indian newspapers?
As with many things, quantity has overwhelmed quality. We have many more magazines, especially niche ones. They are glossier, better funded, and rates for freelancers have improved, especially if you write for the Mumbai glossies. There is a glut of business magazines, though most of them are engaged in CEO-pooja. A few golden oldies continue to get better all the time, such as the EPW. Caravan is an interesting innovation in English-language journalism in India: the first half of it is a cross between the Atlantic and the New Statesman, and the literary pages resembles those of a magazine like Raritan or n+1. It has created and upheld a new standard of rigour and integrity.
"I remain a magazine junkie and I continue to berate myself a lot for spending more time reading magazines instead of books."
But when you turn to English-language newspapers you see an extraordinary implosion: there are only two or three that are even worth opening. So the places where good journalism could be accommodated are fewer.
At the same time, we have a plenitude of talent. I can't remember a time when we had so many first-rate young journalists writing in English. Supriya Sharma, Aman Sethi, Basharat Peer, Raghu Karnad, Neha Dixit, Samanth Subramanian, Sonia Faleiro, Snigdha Poonam, Nisha Susan are just some of the names that come to mind. But where are the magazines that can support their work over the long term? Many of the magazines I grew up with were ruined by cable TV news and soaps. A few of the news portals are promising, but who knows how long they will last? And do they pay well enough to support new promising writers? The question of untainted financial support is hugely important. Where is the institution that can support an intrepid journalist-cum-commentator like Glenn Greenwald—someone who goes after the venal and tawdry in business and media as well as politics with a variety of rhetorical and forensic skills in addition to moral authority. (Instead, we are stuck with the faux-prosecutor, Arnab Goswami.) We also need more small magazines; the best one is Himal from Nepal.

Pet Project Tarun Tejpal holds a copy of Tehelka. (Photograph by AFP, From Outlook Issue 02 November 2015)
Why do we really need magazines anymore? And the newsmagazine, will it survive?
Magazines make writers; they create whole ecosystems of thought and feeling. Newspapers mostly produce reporters, and surf contemporary prejudices and opinions. Two generations of the greatest Russian writers and thinkers came out from the pages of the magazine Sovremennik. We can't imagine huge parts of contemporary Anglo-American intellectual and literary culture without the New Yorker, New York Review of Books, the New Statesman, Granta, and the London Review of Books. And there are writers and forms of writing in India that would have never become known without magazines like Agyeya's Dinman, Kai Friese's India Magazine, Mukul Kesavan and Rukun Advani's Civil Lines.
"The primary influences on the so-called millennials are rancorous TV anchors, rancid Twitter trolls and shady websites."
It was really magazines that allowed me to try out different voices and tones and to attempt a variety of genres: travel writing, long-form reportage, review-essay, and the memoir. And my experience as a writer and reader enriched by magazines is nothing exceptional. Right from the 19th century, magazines have been responsible for the shaping of minds, and the formation of literary and intellectual cultures. The biggest shift of our time is that television and digital media are now central to this process. This is why the so-called millennials are culturally more distinctive than any other generation in recent history. The primary influences on many of them are rancorous TV anchors, rancid Twitter trolls and shady websites. Those of us who grew up in the golden age of Indian magazine journalism, which started in the mid-1970s before petering out in the 1990s, can remember and treasure a different culture of reflection and of defiance.
The newsmagazine does face challenges, as is manifest in the struggles of Time and Newsweek. At the same time, Businessweek, which I read regularly, has reinvented itself successfully. The Economist, though ideologically challenged after 2008, is holding on to its audience. There is nothing like Le Monde Diplomatique out there and it is a monthly. So it is possible to improvise and stay relevant. The strength of Outlook is that it is not a conventional newsmagazine: it is a mix of news, commentary, polemic, and a bit of fluff.
If Outlook had to have a manifesto for this new era that we are living in, what should it read like?
One word: 'Boldness', which is actually now an imperative when most newsmagazines are timid or ethically compromised. I have been critical of Outlook for its frivolous India-is-Shining mood. I am more sympathetic to it now that its principled position on many issues looks besieged. The Indian liberal to which it primarily addresses itself belongs to an endangered species. Outlook also has to compete with newsportals like scroll.in and thewire.in that are frequently refreshed. That said, a know-nothing political culture is traditionally conducive to good journalism; it provides a target-rich environment. Look at the Indian Express; it has reinvigorated itself in less than a year.
A whole oppositional culture has sprouted on digital media. The serious print magazines can flourish, too, but they have to innovate. The usual big expose on corruption won't do. When Tehelka re-launched in 2004 as a print magazine, I complained in the very first issue that its dramabaazi about corruption had merely fed the middle class appetite for sanctimony, and said that it has to work harder at a time of mass manipulation and ideological propaganda­—to make the reader more agile, intellectually and morally, and more capable of personal judgement. This seems less naive now than in 2004. When you look around during this reign of Hindu supremacists and see the atrocious news channels and a pathetically craven press, it becomes clear that there is only one way forward for Outlook and that is the way of courage and rigour.