Shehla Masood's worst fears came to pass on August 16: she was shot dead in front of her house in Bhopal at around 11 am. An RTI activist who had taken up a variety of issues, from good governance, transparency and police reforms to tiger conservation, and who had been collecting evidence using the RTI Act since 2005, she had made several enemies among the powerful. She had received several threatening calls from bureaucrats, police officers and politicians. And she had faithfully kept the authorities apprised of the same, filing several petitions, including one to Union home minister P. Chidambaram, on how she feared for her life. They weren't enough, however, to stop her enemies from getting to her.
And so it was that Shehla was killed in her car as she was setting out to lead a group of concerned citizens who wanted to express their solidarity with Anna Hazare. It was a death that could easily have been prevented. In fact, in her letter to home minister Chidambaram last month, she had clearly said, "I had made a complaint dated 2/09/2009 for gross violation of service rules.... I have lodged a complaint against him (Pawan Srivastava, an ips officer who was deputed to the culture department and is now IG, police training school, Indore) for threatening my life which so far has not been registered because of his political connections." She also sent copies of her complaint detailing the threat perception to the Union home secretary and authorities concerned at the state level.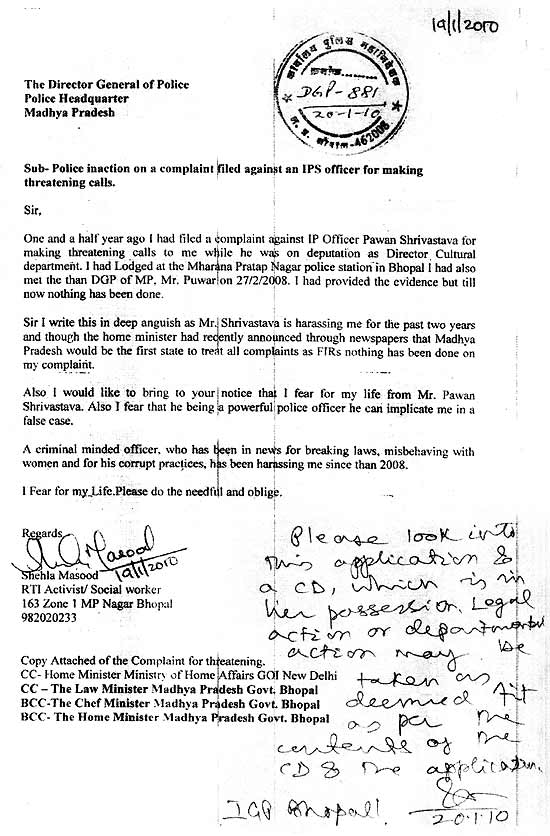 To no avail The letter Shehla wrote to the MP DGP and his noting
Masood Zaidi, Shehla's father, is a broken man but still proud of his daughter. "She was a fighter," he says. "Her complaints were with almost every person in authority. They could have helped her out. But it was all in vain. For me she is a martyr and I would want justice for her. I think people should gather and draw the attention of the government towards this gross injustice where on the second day there were reports floating that she had actually committed suicide."
And suicide is one thing Shehla's relatives rule out completely. "Both her hands were occupied when the shooting took place," says brother Razil Zaidi. "She had her mobile phone in one hand and her car keys in the other. How could she have killed herself? We want a free and fair inquiry, and the guilty should be punished. We want a central agency to look into the matter." When contacted, Madhya Pradesh police IG Vijay Yadav had this to say: "I do not know where these rumours are gaining ground from but we have registered a case of murder and our investigations are moving in that direction only."
However, the doctor who performed the post-mortem on Shehla's body, Dr D.S. Badkur, director of the Medico-Legal Institute of Madhya Pradesh, says it is too early to say anything. "We are analysing the available medical and scientific evidence. At this point, ruling out suicide is not fair. We are looking into every aspect. We have sent the available material for analysis. We have to wait for the reports before we can say anything conclusive about the case."
Such statements by medical experts are very disheartening for Shehla's family. They allege that the forensic experts are trying to give a different colour to Shehla's death. It is to be expected, they say, given that the police did not take any action in the last year despite Shehla's constant reminders to them about her receiving threatening calls. She had also written to the director-general of police drawing attention towards police inaction on her complaints. The dgp had, in fact, issued written instructions, yet no action was taken again. Shehla's family has lost all faith in the system. If they couldn't save her life, they could at least spare her in death.