Reign Gods
Chairman Yellapragada Sudershan Rao ignores then member-secretary Gopinath Ravindran's recommendation of 18 historians for new council, the HRD ministry approves an entirely new list of names
Of the 18 council members, five are accommodated in the editorial board and 13 in the advisory committee of the journal Indian Historical Review. Historically, IHR advisory committee members are not members of council to retain objectivity and independence
Most advisory committee members are RSS ideologues, not historians and few have credible publications
The new chairman has been authorised to constitute committees at his own discretion
While the former council had restricted the powers of the chairman in giving discretionary research grants, there is now a move to restore those powers
Council members with no research experience now constitute the research projects committee of the ICHR
***
The way things are going, ICHR might soon have to start calling itself the Indian Council of Historic Blunders. First, in a case of mistaken identity evocative of Evelyn Waugh's acclaimed 20th century novel Scoop, one V.V. Haridas was notified in the Gazette of India as a new member of the Indian Council of His­to­rical Research, tagged as a "professor of history in Calicut". When the gentleman, perhaps a little tentatively, called ICHR to say how honoured he was for the privilege, realisation daw­ned that he wasn't the Haridas who had been recommended by the ministry. V.V. has a bonafide PhD in history but teaches at Mangalore Uni­versity. And the one act­ually meant to be part of the council was a P.T. Haridas, a man who has no PhD. Later, the ICHR website got the name right, but listed him merely as "member". Now, had such a list said "Irfan Habib, member", no one would have had any doubt. But P.T. was an unknown, and much media speculation resulted—who he? "He is, in fact, part of the BJP family," chuckles an outgoing member of the council. In the end, ICHR updated its list with the CV, and it turned out he was indeed a former head of a history department at a Calicut college. But the fact that he was not a PhD was an irksome detail—and there actually was a brief deliberation over whether Mrs Haridas (who has a PhD) sho­uld be made council member instead. At any rate, the full academic bios of the 18 new members in the upd­ated ICHR list hardly set the Indus on fire.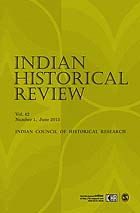 "I am not familiar with the work of any of these people," says Romila Thapar, the grand doyenne of Indian history and professor emeritus of the Jawaharlal Nehru University in New Delhi, when presented with the list of the new council members who have filled the editorial board and advisory committee of the Indian Historical Review. "Maybe I am ignorant," she goes on to say. "Barring Dilip Chakra­varthy, I haven't read a single book by any of them."
The HRD ministry's choice of Prof Yellapragada Sudershan Rao—a saff­­ron netvangelist with dodgy views on caste—itself had evoked much consterna­tion when he was appointed ICHR chair­man in July 2014; his choice of council members now has left even the secretarial staff at ICHR stumped. Some of the members do not even have a degree in his­tory—M.D. Srinivas is a theoretical physicist based in Chennai, Purabi Roy is a professor in international relations, Michel Danino has an engineering degree from France, where he was born.
With the term of the old council to end in September, then member-secretary Gopinath Ravindran had forwar­ded a list of 18 historians to Rao. However, not one of them finally made it to the council; instead this whole new list of names, many of them never heard before, was nominated by the HRD ministry.
Initially, ICHR paid Sage to publish IHR. So much has its circulation improved in 10 yrs that now Sage pays royalty.
It is the Indian Historical Review, among the few Indian journals which are a part of the prestigious Thomson Reuters list, that is bearing the brunt of these shenanigans. Five of the new ICHR team have been made members of the journal's editorial board; the remaining 13 have taken over its advisory committee. Histori­cally, comm­ittee members have been distinct from council members, to enable objective and independent opinion. The previous 24-member com­mittee comprised illust­rious historians like of Romila Thapar, Mushirul Hasan, Irfan Habib, at least 10 reputed academics from foreign universities and others from across the country, the aim being to have rigorous peer review and enable the members to commission pro­mising historians to write on various subjects of interest. Now, says Delhi University professor and former council member B.P. Sahu, "the Review is almost an inhouse journal of the council. With all its members on the editorial board, it is no longer accountable to anyone."
And this is the journal which ICHR initially paid Sage to publish but whose circulation improved so much over the last decade that now Sage pays ICHR a royalty! "It took us 10 years to build the journal's credibility. But it'll take no time to spread disrepute with the changes that are taking place," Sahu rues.
Only four of the 13 committee members are well-known. Epigraphist Sachidananda Sahai is best known for the restoration of the Angkor Wat Temple. The other three, however, are known more for the controversies they have attracted. Meenakshi Jain drew attention during NDA-I for her controversial NCERT textbook, which was to replace Thapar's. Michel Danino has written against the established Indo-Aryan migration theory. He also has a book on the Saraswati river, and is in favour of redating the Vedas. Purabi Roy too is known for her controversial works on Netaji Subhas Chandra Bose. Most of the other members, even when history professors, belong to different subsidiary orga­nisations of the RSS like the Bharatheeya Vichara Kendram in Thiru­vanan­tha­pu­ram; Narayan Rao and Ishwar Saran Vishwakarma were office bearers of the Sangh-backed Akhila Bharatiya Itihas Sankalan Yojana.


Graphic By Prashant Chaudhary
Rao's chairmanship has triggered a spate of resignations, including Rav­in­dran's, the only member who was not nominated by the government. "This council has given the chairman blanket authority to appoint members to all committees," says Ravindran. He was also irked by Rao's decision to sack all members of the advisory committee.
Having worked with Rao for eight months, members of the previous council say his decisions are geared to please the HRD minister and earn favour with Sangh ideologues. Besides taking over appointments, the ministry, with eager assistance from chairman Rao, is now planning a series of changes to ensure that the government has complete control over the "manufacture of history".
"I'm not familiar with the works of any of these people. Maybe I'm ignorant. I haven't read a single book by any of them, bar one."
Just before the new government came into power, the research and funding rules were amended to curtail the discretionary grants sanctioned by the chairman to Rs 2 lakh. However, there is a proposal to revise these rules. "They want to undo the written exam for reputed fellowships by the council so that any kind of research can be funded," says Sahu. "A team with nearly no research experience now heads the Research Projects Committee."
For instance, funds are likely to be sanctioned for a proposal by the Sanskrit department to rewrite Indian history strictly according to Sanskrit textual sources, and another on 'Science and Technology of Ancient India'. "They may also ban the 'Early Years of Republic' project, which coincides with the years the RSS was banned," says Ravindran.
Attempts are also under way to change the Memorandum of Asso­ciation, which reiterates the need to discourage "a blind acceptance of superstition, obscurantism and revivalism". One can only guess at the direction such revision will take, coming from a chairman who belie­ves he has an accurate fix on the historical dating of the Ramayana and Maha­bharata.
Those in ICHR also say that the chairman fancies himself as "a petty chieftain" who expects several perks when on work in Delhi. "Even as four to five rooms are reserved for the ICHR at the India International Centre, Rao prefers staying in a four-bedroom house, with the council having to bear payments for a cook, rent, etc," says an office-bea­rer. "When the council opposed this, saying the money could be better spent on research, Rao began staying in Hotel Samrat. To justify his stay, he would also put up some other members of the council at the hotel." Genuine, evidence-based resea­rch may of course become history.