The 'small man from a small country' (Nepal's total population can be compared to Haryana's, but it three times bigger in area). That's how Binod Chaudhary, the industrialist from Nepal who first met Nare­ndra Modi at a con­v­e­ntion in Ahmedabad in 2011, likes to describe himself. Modi was chief minister of Gujarat and Cha­udhary had not yet been declared the first dollar billionaire from a country where many millions live in poverty. The chemistry bet­ween the two was powerful enough for the Gujarat CM to seek the industrialist's help in reuniting the then 25-year-old Jeet Bahadur—who Modi had brought up and groomed since he was 11—with his family in Nepal.
The only clue given to him, Chaudhary claimed, was that Jeet had six toes on one foot. And possibly the name of the district the Nepali boy had left in search of work with his elder brother Dasrath, who then worked in Delhi. It took the largest business house in Nepal, the Chaudhary Group, two days to trace the family and arrange a reunion a few mon­ths later. Jeet flew back home this week with the Indian prime minister, affording both Modi and Chaudhary the pleasures of a successful 'godson diplomacy' that the media gushed about.
The episode allowed everyone to see Modi's softer side, Chaudhary tells Outl­ook. The prime minister won over commoners and hardboiled politicians alike by talking about Nepal's contributions to India. He duly admitted that the Buddha was indeed born in Nepal, not India as some Indian historians insist, and acknowledged Nepal's sovereign right over its natural resources and water. "He sent out a signal to all Jeet Bahadurs and unsurprisingly it looks like a turning point in Indo-Nepal relations," he adds.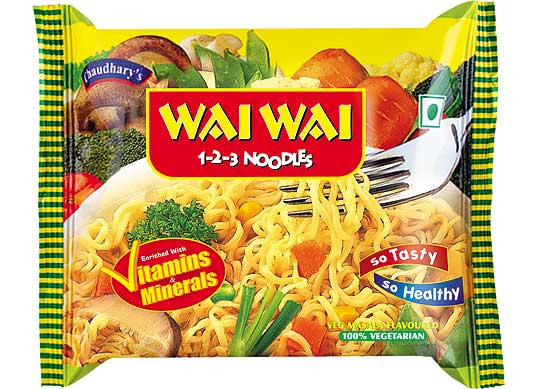 Wai Wai noodle, vehicle of his success
Chaudhary's grandfather left Shekha­wati in Rajasthan at 18 to make his fortune in Nepal, subsequently opening a garm­ent shop. Chaudhary's father div­ersified into importing cloth from Japan and biscuit-making. When he was 18, 'Chaudhary was forced to drop out of college and plunge into business following his father's sudden heart-ailment which also forced his
father to take a complete back-seat in business. It is thus possible that Jeet's story touched a chord in the 'Noodle King'—who heads 80 com­­panies, has operations in 20 countries and yet runs a remarkably lean org­­anisation of just around 8,000 people.
Chaudhary's own story is fascinating eno­ugh. When he was 16, in 1971, he vis­ited Bombay for the first time. His father had a flourishing business in Nepal and owned the country's first dep­­­a­rtmental stores. Chaudhary still likes to talk of how intimidated he felt bef­ore the Taj Hotel. His local guardian tea­sed him by saying that if he tried to enter it, he would probably receive a slap. Forty years later, Chaudhary is not only a frequent and valued guest at the Taj, he owns shares in two joint venture companies that run it along with IHCL. His group now runs the Hil­ton Double Tree hotel in New York and several others across continents. The media-savvy businessman, however, relishes telling interviewers that he still likes to stand outside the Taj, at the exact spot where he stood as a teenager, and look at the iconic hotel for a few moments before he steps in.
Most of the prominent businessmen and industrialists in Nepal are of Indian origin and, like the Ambanis here, larg­ely unloved. Most have also faced acc­u­sations of using natural resources as their own property and evading taxes. While his group has had its share of controversies, Chaudhary was in 2008 nomina­ted as an MP in the constituent assembly by, ironically, the Com­munist Party of Nepal (UML). But then a majo­rity of lawmakers were from one communist party or the other and Cha­­­­­u­­dhary, who smiles often and cha­rms easily, was not the oddball people suspected he would be. He speaks of his contribution in per­suading lawmakers to look at larger econo­mic issues while drafting the Constitution.
But Chaudhary's heart, and much of his worldly success, lies in noodles, or specifically, in the ready-to-eat Wai Wai noo­dles which enjoy two per cent of the world market. He has five noodle-making plants in India and plans to expand to the UAE, China and Latin America.
Jeet Bahadur's reunion with his family in Nepal got both Modi and Chaudhari some welcome, gushing publicity.

Here is how it all began. In the '80s, the Royal Nepal Airlines and Thai Int­ern­at­ional Airways started reciprocal flights between Bangkok and Kathmandu. Cha­u­dhary noticed that people often retu­rned from their Bangkok trip with loads of Thai noodles. His flour mills and biscuit plants had surplus flour, which he felt could be used for making noodles. The real smart move was his buying the Thai trademark 'Wai Wai' ('Quick-Quick' in Thai). There was no looking back. Wai Wai can be eaten raw as snacks or can be heated in water and turned into a soup with flavours and garnishing. It won over teens in both Nepal and India's Northeast, where Chaudhary has set up five plants and where Wai Wai enjoys a 60 per cent marketshare.
In Japan and South Korea, per capita consumption of noodles ann­ually is 70 packs, explains Cha­udhary. In Thailand and Nepal the figures are 50 and 30 packs respectively, while in India it is just four. Chaudhary would like that to go up to 20. Proud of the quality of his noodles, he says that word-of-mouth publicity, not advertising and mar­­keting, have contributed to his success.
While his noodles are now said to be available in 50 varieties and fla­v­ours, Cha­udhary himself admits to have tasted only one. That is because he is a vegetarian. The only non-vegetarian in the fam­ily is one of his three sons, all of whom are involved in his expanding empire. Chaudhary himself travels betw­een Singapore, where his company Cin­n­ovation is based, Dubai and Kathmandu.
Unlike most billionaires in the subcontinent, Chaudhary has penned an auto­bio­graphy in Nepali, which is being tra­­­­­­n­slated into English. He has written ext­ensively, even can­didly, about his ties with royalty, other billionaires and politicians. As he's relatively young at 59, an expanded edition is anti­­ci­pated.
His decision to marry, at 22, the daughter of a 'family friend' who was still in school and barely 16 at the time outraged his family, he recalls. His father Lunkaran Das opposed what he felt was an impulsive decision. But a stubborn Chaudhary flew to Delhi, and arranged for the girl to reach there for the runaway wedding at the Maurya Sheraton. But it wasn't to be an act of defiance, as the entire family turned up to bless the couple.
Not surprisingly, Chaudhary's role models are J.R.D. Tata and Dhirubhai Ambani. But the humble Chaudhary knows that while he is the richest man in Nepal, it is also because he is a Nepali that he gets to sit on the high table with the Ambanis, Cyrus Mistry and other billionaires. As scope for expansion is limited in a small, impoverished country, Cha­udhary was smart enough to look beyond Nepal to make his mark.
Nothing, it would seem, is too small for Chaudhary. He has a keen eye and a per­fect nose for profitable enterprises—from a food park in Ajmer to a 'corporate park' in Ahmedabad, 'Zinc' brand hotels in Rwanda and Kenya to real estate in Dubai, and banks and telecom services in Nepal. The result is Nepal's first multinational company, born of one man's business acumen.
---
Corrected online on August 12, 2014.