Just a week ago, Tamil cine idol Kamalahaasan was stopped in his tracks for trying something rather radical in the film business. His attempt to release his multi-lingual film, Viswaroopam, on the direct-to-home (DTH) platform—a day ahead of its release in cinemas—met with strong protests from theatre owners, who feared it would affect business. The star was forced to postpone the release with the assurance that the film would be available on DTH a week after its opening.
But around the same time, a special screening of Matru ki Bijlee ka Mandola was organised in the capital with star Pankaj Kapur present. The venue wasn't a multiplex but something quite like it. It was at Fortiplex, a plush, 36-seater lounge theatre within the swanky Fortis hospital complex in Gurgaon. "It offers positive distraction to the families and caregivers of patients. It's an effort to make them as less stressed as possible," says Dr Dilpreet Brar, regional director of Fortis Memorial Research Institute. The non-commercial, unticketed viewing room is open for use by patients, doctors, nurses and other employees.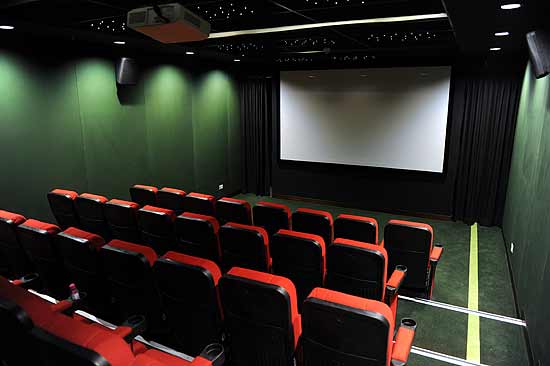 So a first day, first show can happen at your own home. In fact, it's already happening at a few elite ones....

Kamalahaasan's abortive experiment and FMRI's unique R&R offer may seem disparate but both point towards cinema-viewing of the future—how films, brand new ones at that, could now be accessible to the viewer in alternative spaces, beyond the conventional theatres. The key, of course, is digitisation. With new films being digitally downloaded rather than prints being physically transported, you can, theoretically, download them anywhere, provided you have the necessary equipment and the licence to screen. So a first day, first show can happen at your own home. In fact, it's already happening in a few elite ones.
ClubX (an initiative of UFO Moviez India Ltd that facilitates movie content delivery to over 3,500 cinemas) is a recently soft-launched exclusive service which delivers Hindi movies to select members. It's in the home theatres of top industrialists, stars and cricketers, even some leading politicians. It's at a Delhi farmhouse for the recreation of the top management of a south India-based company. It's being used by the president of a leading auto company in Delhi.
Far-flung townships of leading companies and cinemas in cantonment areas are the next frontiers it aims to capture. "You can watch theatre quality movies at your own convenience without stepping out for pre-scheduled shows. If need be, one even has an option of pausing the film and continuing with it later," says Sanjay Mehta, of Bobby Films, Delhi.
Of course, all this comes at a substantial cost, Rs 6-7 lakh in the first year, which includes a one-time membership fee and charges for installing equipment and hardware, a membership fee and a content advance. Screening charges are based on gradation of films—from blockbusters to smaller efforts. The earlier you screen the film, the higher the charges. UFO's regional office in Delhi arranges the licence from the rights holder/distributor. In short, cinema reaches your doorstep as soon as it is made, and legally too. And there are no final frontiers here. Today it's confined to select living rooms, tomorrow it could become available on a mobile or a tablet near you.