The Hope Bearer
The Congress fielded Raj Babbar (above) against SP chief Mulayam Singh Yadav's daughter-in-law Dimple Yadav. Babbar's victory—by 85,000 votes—has been a major embarrassment for the SP
Many in the Congress interpret the victory as a sign of the party's revival in Uttar Pradesh
The Congress was way ahead of the SP in five assembly segments of the Firozabad Lok Sabha seat
Muslim voters, whom Mulayam counted on, did not vote SP
***
Samajwadi Party (SP) chief Mulayam Singh Yadav was a worried man as the results of the byelections to 11 assembly constituencies and one Lok Sabha seat in Uttar Pradesh came in on November 10. His party had drawn a blank in the very state where it was born, its core political constituency. Since its formation 20 years ago, this surely represented the lowest ebb in the SP's history. Political observers in Lucknow are citing the last bypolls, three months back, in which the SP failed to win a single seat out of the four that went to the polls, as an indication of its reduction to a marginal player.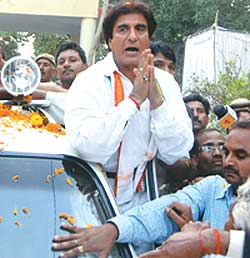 In contrast, this assembly byelection could be said to have pitched Mayawati's Bahujan Samaj Party (BSP) to a higher level of reckoning in the state: it won nine of the 11 seats, a sign that the electorate is still with her. And for the Congress—which had shown signs of coming out of its two-decade-long, near-total eclipse in its former stronghold during the Lok Sabha polls in May—there was one more ego-booster. Mulayam was hurt most by the fact that his daughter-in-law, Dimple Yadav, lost the Firozabad Lok Sabha seat to star rebel Raj Babbar. An SP stalwart for years, Babbar had quit amid much rancour in 2006 owing to differences with Mulayam's confidant, Amar Singh. Fighting under the Congress flag now, he won by over 85,000 votes—an accretion of some three lakh votes over the paltry 6,000-odd the party had scored in May.
Firozabad was a prestigious seat, virtually home territory, for the SP's first family. Vacated by Dimple's husband Akhilesh, who opted to retain the Kannauj LS seat, the party pumped in all resources to retain Firozabad within the family. Akhilesh roped in Sanjay Dutt, Jaya Prada and Jaya Bachchan to counter Babbar's own, albeit limited, star appeal, and of Salman Khan and Govinda, who campaigned for him. All this did not help. And Amar Singh's idea of using the services of SP's newfound friend, Kalyan Singh, a BJP rebel, in the campaign made matters worse for Dimple. For Babbar now had to do little to tilt Muslim support in his favour.
The Samajwadi Party has taken its worst drubbing ever, its most most painful downfall caused by Raj Babbar.
According to SP insiders, Mulayam had been quite hopeful of making up for the August losses in November. But he had failed to see the writing on the wall— that the party he had built from the grassroots was fast losing ground, even in his own home turf of Etawah, which the SP lost to the BSP by a margin of 32,827 votes. Neighbouring Bhartana—held till recently by Mulayam himself, who vacated it after getting elected to the Lok Sabha in the May general elections—was lost by 15,000 votes, again to the BSP. Defections by the SP's old mlas in Puwayan (Shahjahanpur district) and Isauli (Sultanpur district) should have alerted him. But he remained complacent—an attitude most observers credit to advisors like Amar Singh. As it turned out, the SP fared miserably in those two seats, losing by 31,576 and 49,377 votes respectively. In both constituencies, the party trailed at third position.
Ironically, while Mulayam was always writing off the Congress, it stood at No. 2, after the BSP, in both Puwayan and Isauli. The Congress also made it to the second position in yet another constituency—Hainsar Bazaar (Sant Kabir Nagar district) in the backward eastern UP region. The Congress's worst performances came in Padrauna and Jhansi, where Union ministers R.P.N. Singh and Pradeep Jain had been put in charge.
The Congress nevertheless gained significantly, in terms of the votes it polled, in the five assembly segments constituting the Firozabad Lok Sabha seat. Some read this as a sign of a slow but steady march towards revival in this politically crucial state. It is in Firozabad that Congressmen say the Rahul Gandhi effect was visible. His entry into Babbar's campaign created an impression that, once elected, Babbar would be able to push Firozabad's case for grant of special central schemes. In May, the constituency voted for Akhilesh as the SP was seen as an indispensable partner of a potential Congress-led coalition at the Centre. People also perceived Yadav Junior as a possible minister in the new government. But perceptions have now changed dramatically.
And what of the BJP? Its downslide continued as it drew a blank. Worst of all, it lost Lucknow (West), a constituency that party veteran Lalji Tandon had held for almost two decades. The byelection was necessitated by Tandon's election to the Lucknow Lok Sabha seat, vacated by former prime minister Atal Behari Vajpayee. While internal politics in the BJP thwarted Tandon's desperate bid to get his son Gopaljee a ticket, the party's nominee, Amit Puri, lost the seat to Congress veteran Shyam Kishore Shukla. Another BJP bastion was thus breached, to the joy of the Congress activists.
In the final analysis, it is now clear that in the changing contours of Uttar Pradesh politics, both the Congress and the BSP will be in contention for the slot of No. 1 party. But for the Congress to unsettle Mayawati, there's a long way to go. As for Mulayam, he only had this to say after the results: "This has not dampened our spirits. We are Samajwadis who believe in a struggle." Regaining lost ground will indeed be a struggle for him and the SP.