"Meet Kajal Aggarwal, a famous south Indian actress but a girl from Mumbai." That's how Telugu heroine Kajal says she is introduced to people in the Hindi film industry. Life in a sense has come full circle for this 26-year-old. She acted in Kyon...! Ho Gaya Na in 2004 as Aishwarya Rai's friend and disappeared thereafter. Now, she's stepping back into Mumbai after 17 films in Telugu and Tamil, which include monster hits like Magadheera. Back in Bollywood, Kajal is playing the lead opposite Ajay Devgan in Singham (remake of a Tamil film by the same name) that releases this month. "Language isn't an issue," says Kajal of her south innings. "I learn the meaning, write my lines in English and mug them up. I've done a lot of theatre, that helps. Now that I'm comfortable with Telugu, I intend to dub for myself. Yes, there have been instances where the director has said I could 'speak in Hindi' but I refuse. If my co-star is speaking in Telugu, I can do the same." (In cases where stars do resort to mouthing Hindi, the lip sync conundrum is masked by long shots and other gimmicks.)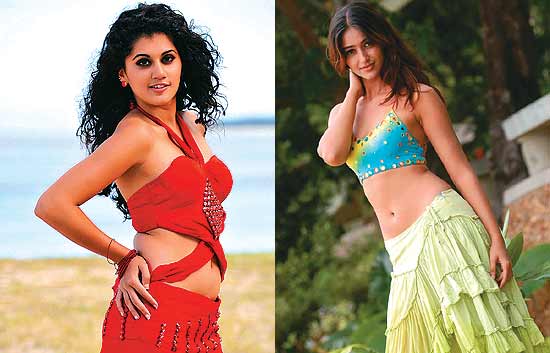 Taapsee and Ileana
Kajal is one among many in what seems like an assembly line of girls from Mumbai and Delhi scrolling up the Telugu film credit lines. Many others like Shreya Saran, Tamannah, Ileana, Taapsee and Charmee have accumulated enough frequent flier points on Hyderabad-Mumbai-Delhi flights to last them a lifetime. Indeed, Vijayashanti in the '90s was the last true-blue Telugu ammayi—and before her Jayaprada—who made it really big in Tollywood. (Of course, if the demand is for a typical south Indian face, then there's always the actresses from Kerala, Karnataka or Tamil Nadu to fall back on—Anushka, Asin, Trisha, Nayanthara, Priyamani, Nithya Menon, Vimala, the list goes on). As true-blue Telugu biddas of another time will tell you with a heavy heart, for the last decade-and-a-half the queen bees of the silver screen have all been "imports".
Yamini Atmavilas of the faculty of gender studies at the Administrative Staff College of India, Hyderabad, raises an interesting analogy—even though Vijayashanti was one of India's highest paid actresses (known as Lady Amitabh), her success did not spawn an assembly line of wannabe actresses. Producer Suresh Babu has an answer for this. "That's because our dna is still conservative," he says. "In Andhra, it is still not considered an honourable profession. A daughter who wants to act is branded a rebel. Scouting for fresh faces, I have asked so many young girls if they want to give films a shot and their reaction invariably is, 'My dad will kick me.' And when I talk to their parents, they ask me, 'Will you put your daughter in movies?'"
Fortunately for Babu, his daughter had no interest in films, so the question didn't arise. However, he says film families themselves adopt double standards and cites the example of his nephew and niece, Sumanth and Supriya. "When Sumanth decided to act in films, the consensus in the family was 'Yes, why not?' But when Supriya decided to follow suit, the reaction was, 'Does she really have to act?'," he says.

Sorry, Folks Local belle Bindu Madhavi
Bindu Madhavi, who made her debut in '08 in the delectable Avakai Biriyani, is one of the few Telugu girls who upped and made it to the 70mm screen. But nothing short of a rebellion got Bindu, who hails from Guntur, into the arclights. "My dad is in government service. He didn't speak to me for eight months. My mother too was upset," she says warily, adding that one reason why Andhra girls are unable to break into films is because "the modelling circuit, a usual stepping stone, is virtually non-existent here".
Still, Telugu fans don't seem to be missing the homegrown variety, having given the imports a big thumbs-up. Which is not to say that problems of communication are no setback on the sets. Telugu superstar Nagarjuna admits if he is working with an actress who speaks her lines in a different language, he makes sure he knows her lines too, just to get his expressions right. "It's not just the girls, even our villains are imported now. But I don't think the industry can be blamed because finally the audience has taken a liking to them," he says.
Filmmakers are candid enough to admit that it's a male-dominated industry driven mainly by heroes. In nine out of 10 films, the heroine is at best just a glamorous cog to prance around in five songs and a few love scenes. The consensus among producers is that the "imports" do justice to the parts, and are less fussy about showing skin "when the script demands it" (which is often).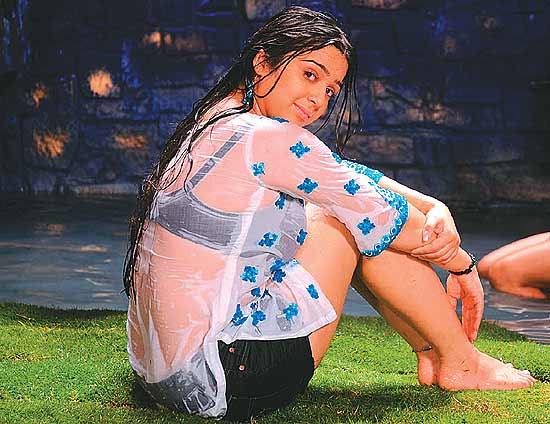 Charmee
To be fair, some of the outsiders, sensitive to criticism, do work hard on embracing the local culture. "As a south Mumbai girl dropped into Madanapalle for the shoot of my first film Lakshmi Kalyanam, it was the first time I was seeing a village. The director used to tell me to walk in a more feminine manner. Now I know all the latkas and jhatkas of an Andhra village belle." Well, at least how they are portrayed in films. Similarly, Nithya Menon from Bangalore made it a point to learn Telugu during the making of Ala Modalaindi, her first film and even dubbed herself. The film went on to be the year's biggest hit. "If I just focus on mugging my lines, it's going to affect my acting," Nithya says. "When you know the language, understand the people and the culture, it helps you to emote better. Otherwise, it's just too detached."
But it isn't easy. Ala Modalaindi director Nandini Reddy says it's goodbye to last-minute dialogue changes if you have actors who can't follow the spiel. "I tend to improvise a lot while shooting. With actors who don't know Telugu, you cannot. But having said that, I will not cast an actress just because she knows Telugu. I will see if she fits into the script, how she looks and emotes. The package she brings to the table is most important." There have been instances when "non-Telugu" actresses unable to get even basic diction right have been asked to mouth 1-2-3-4-5-6 with the dubbing artiste salvaging the lip sync later.
Once the imports have a few hits under their belt in the south, it's time to pad up again for a second innings in Bollywood. And Kajal isn't the first one. Predecessors include illustrious names like Preity Zinta, Priyanka Chopra, Katrina Kaif, Divya Bharati. Tollywood resurrected Katrina's career after it had tanked with Boom. In 2003, Suresh Babu, desperately on the lookout for a fair, tall girl for a princess's role in Malliswari opposite brother Venkatesh, paid Katrina an astronomical, unheard of Rs 65 lakh. After the film's success, Malliswari became Katrina's calling card into Bollywood.
It's then down to the other big question: does the average fan care about the domicile status of a lead actress? Maybe we should be asking the question avid film buff Nagalakshmi Chelluri is, "When our Vyjanthimala, Hema Malini, Rekha and Sridevi have dominated the Hindi film industry for years, should we really complain?" Maybe not.