It took two years of research, writing and peer review before three Canadian academics came up with their scathing paper, 'Les cotes tenebreux de Mere Teresa' (The Dark Side of Mother Teresa), which has triggered a fresh appraisal of the lady known as the Saint of the Gutters. The study—authored by Professors Serge Larivee and Genevieve Chenard of the University of Montreal along with Carole Senechal of the University of Ott­awa—was published in the March edition of the academic journal, Studies in Religion/Sciences Religieuses. In a telephonic interview with Anirudh Bhattacharyya, one of the authors—Genevieve Chenard, a professor at the University of Montreal's Department of Psycho Education—discusses the findings:
Where did the idea for this particular study originate? After all, Mother Teresa has been dead for over 15 years.
It was in an ethics class. We were reading for special work. We were discussing altruism and Mother Teresa came up because she was an example. So, we started working on this.
In your research, you argue that Mother Teresa was "anything but a saint". However, till 1969, her work had received virtually no publicity. What changed?
We think it started with a movie shoot (which became the documentary Something Beautiful For God), led by Mr (Malcolm) Muggeridge. He went to Calcutta to see Mother Teresa and her work there. He wanted to film in the house of the dying and then there was little light there. So, the cameraman, Mr (Ken) McMillan, he used a new kind of Kodak film. When they saw the film, the shots were bright and when Mr Muggeridge saw it, he claimed it was a miracle. This is why she became popular in the media after that time.
So, based on your research, your contention is that she was a media creation?
We found 287 books and articles on Mother Teresa (of which) 153—a little more than 50 per cent—were hagiography. We think Mother Teresa was doing what she thought was good. We are not claiming she was pretending. I think people like her because it made them feel better. I think that's why the media focused on her work.
Did her work actually merit this larger-than-life aura?
I don't think that was real. I think the media helped with everything; it may have done more for her work than what was real. Without that journalistic work, we may not have had this.
You have also criticised what you describe as her dogmatic Catholic values....
She won the Nobel Prize for Peace. When she got that, she said abortion was the worst thing against peace. I don't understand how abortion in the case of a woman who was raped could work against peace. There are many other contradictions. Like she was against divorce, but in the case of Lady Diana she agreed with the divorce. These are questions that should have been asked before she got the Nobel.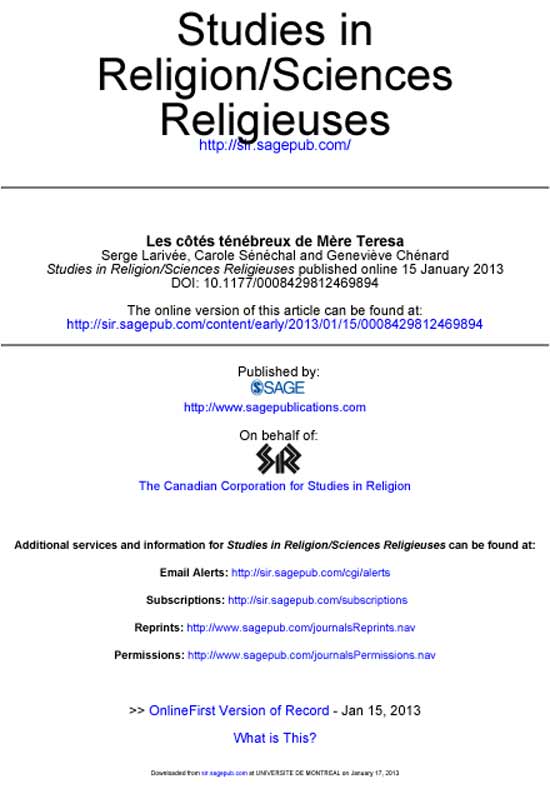 You've also questioned some of her financial dealings.
She took money, for example, from Haiti, from 'Baby Doc' Duvalier. She took the money to help the poorest of the poor around the world. But the money she got at that time was already stolen from a very poor population. Those things, it seems to us, are like contradictions, because you don't steal from someone to give to another.
You also believe that the beatification process was hurried through by the Vatican.
I cannot speak for the Vatican. John Paul II wanted to make a lot of saints or people who were beatified. Mother Teresa was just one of them. What we know is that they went through the process faster for her than for many others. What we know is that they never questioned the contradictions. Maybe it was to regain popularity or because the Catholic Church needed a figure to be proud of. Obviously, she was already considered a saint during her lifetime. It was kind of logical for them to propose her for sainthood once she was dead.
You also question the treatment at centres run by the Missionaries of Charity in Calcutta....
There was a lack of medication and ways to treat people. Many doctors went there and saw that conditions were very poor. A lot of pills, medications were missing, people were living in a poor condition. They didn't really treat the sick people. She was just having them over there, because, for her, suffering makes you feel like Jesus was feeling on the cross. So suffering was a good thing in her thoughts. That's what she was offering to people, being very near to Jesus by suffering and dying this way. They had a lot of money. She could have built the most technologically modern hospital of India at that time. But suffering was a good thing for her.
So there was underutilisation of funds?
What we learned is that there was about $5 million in all the accounts. She raised almost $100 million before 1980. What happened is that around 5 to 7 per cent went to the charity for medicines, things like that. The other money went to build some houses for the missionaries. Just five per cent went to the cause.
Do you believe she deserved the Nobel or the other accolades she won, like India's Bharat Ratna?
Good question. I don't think she deserved the Nobel Prize at that time. I think for giving the Nobel, there should have been much more research into what she did. I don't understand why this was a prize for peace. We really think she inspired a lot of people to do good for others. We just think a lot of questions should be asked before she is declared a saint. If you were to tell me she would be made a saint because she gave a lot to the Church and the Catholic religion, that's probably true. She did a lot for the Catholic Church. We're just saying that making her a saint because she treated sick people is maybe not as real as it seems.
Would you say the net effect of her life is positive?
I suppose it is. But before that, we must evaluate the effect of all those charity missions around the world. The intention is good but we don't know anything about the effect. Everybody in the world can help someone, but maybe the effect after that is negative.
What feedback have you received on this work?
It's balanced, many positive and many negative. But what is interesting is the positive feedback talks a lot about the article and what it contains. The negative does not attack the article at all. It just attacks the authors, ad hominem attacks—that we should read the Bible, exorcise ourselves.
Your research was based on published documentation. Did you do field work in Calcutta at all?
No. But I'd like to go to Calcutta.
How long did the research take you?
Just the research and writing the article took more than a year. But it was very long because we had to send the text to many people for peer review and then we had to correct the text. It took two years to complete the article.