When the powerful Patidars of Gujarat demanded reserva­tion, they didn't only resort to bombast and violence. They expressed a rage powerful enough to crack open, briefly, the so-called Gujarat model of development. Seen from Patidar eyes, there is no Gujarat model at all. Their mascot Hardik Patel calls it an excuse to neglect job-intensive small industries and impoverished farmers. Isn't it ironic? Patidars—which means 'land owners' in Gujarati—weren't just at the vanguard of the Gujarat model. By sheer dominance, they benefited directly from what critics repeatedly warned would be the steady hollowing out of Gujarat's economy.
From 2004 to '14, 60,000 small industries in Gujarat shut shop, pushing people into contractual work in organised manufacturing. The prospect of taking up such insecure jobs now confronts the Pat­els—and they don't relish it. In a way, India has the same problem; with 93 per cent of jobs 'informal', it is work without medical, pension or other benefits—a kind of modern-day forced labour.
Within India, Gujarat is worst off—96 per cent new jobs there are informal. "Despite its wealth, in 2011-12, the average daily wage of male casual workers in rural Gujarat was Rs 116, far below the Indian average of Rs 149," says Jayan Jose Thomas of IIT Delhi. "The Patels may be feeling the impact of textile industry closures and slowdown in the diamond business," he says.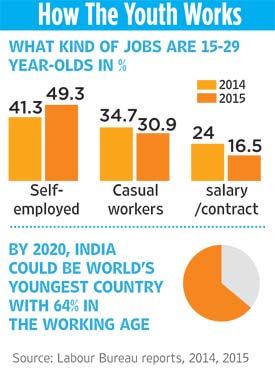 For two decades, Gujarat favoured big industry, raising its share of industry between 2004 and 2010, but lowering its contribution to employment. nsso surveys show the state contributed 10 per cent to new factories and 9 per cent to job creation in India in 2012. "There is growing unemployment among the educated across India. More youngsters are seeking jobs that aren't there," says economist Indira Hirway. "In Gujarat, growth raised aspirations. When groups like Patels find jobs unavailable, they feel even more left out."
So left out that they're demanding reservation in government despite the well-known official 'freeze' on appointments. In any case, government jobs are barely nine per cent of India's workforce.
"It's because Patels are so powerful that Hardik is so full of hot air," says Alpesh Thakor, president of the Gujarat Thakor Sena, a group of Gujarat's obcs, who feel threatened by the Patel agitation. Both groups are victims of the state's declining agriculture and small business—but to very different degrees.
"In the Patels' demand for reservation, there is no recognition of the reality of historical or present-day conditions of historically deprived castes. Instead, there is a covert reassertion of caste hie­rarchy, which sees reservation as a prize to be handed down from the top," says writer Amrita Shah. "A patently regressive argument is being made to seem noteworthy through scale and violence."
Patels dominate Gujarat's politics and economy. An older survey finds 70 per cent owned 6 acres of land or more, a direct conflict with a key Mandal criteria that the community must "mainly depend on manual labour for their livelihood". Today, Patels own educational institutions, dominate the lucrative diamond trade, own land.
K.P. Kannan, chairman of the Laurie Baker Centre for Habitat Stu­­dies, predicts a crisis. "The Patels' demand may not have logic but India's employment situation is so stark that many others will latch on to it. Even scrapping reservation would not help. There are just too many job-seekers," he says. "I can see that we will pay a heavy price for being so obsessed with growth."
The Patel demand reservation on economic criteria, unmindful of the widespread caste conflicts it will unleash, warns social scientist Ghanshyam Shah. "The Bania, Brahmin, Patidar communities would consolidate, taking us back to pre-Mandal days. Poor Dalits and poor Brahmins are not the same—I am completely against economic basis for reservation." It's not just employment people seek solely, but dignified, secure jobs—like governments supposedly provide.