Twelve-year-old Padmanabh Gaikwad from Karad in Satara district of Maharashtra is swotting for his seventh grade exams, quite oblivious of his burgeoning fandom. A mellifluous rendering of the Vishal Bhardwaj-Gulzar song Sapna re sapna for the forthcoming Bollywood film, Ek Thi Daayan, has catapulted Padmanabh to fame. Nor is he aware of the Facebook page dedicated to him. But his mother, Geeta Gaikwad, can't suppress her excitement. "Jab se bolna seekha hai, tab se gaa raha hai," she says, lovingly underscoring his obvious, undoubted talent. Padmanabh's first brush with recognition, however, happened in 2010 when he won hearts as a participant in Zee Sa Re Ga Maa Little Champs on Zee Marathi. Soon life began changing. A singing opportunity quickly followed in the Marathi film Tukaram, where he also played the child Tukaram. Now, the days are crammed full. Padmanabh travels every weekend to Mumbai to train under singer Suresh Wadkar, and will be a part of his guru's new album. Shall Padmanabh's voice ride the national airwaves prominently, as to be bracketed with Shreya Ghoshal and Sunidhi Chauhan (see box)?
Meanwhile, Chandigarh girl Preetpal still can't get over her heady success in the UTV Bindass TV show Big Switch, which aims to drum into spoilt rich brats the importance of money, relationships and human values. An MBA student in DAV college, Preetpal says she just likes to "chill". A chance audition took her to a jungle camp in Shimla, and later Dharamshala, for three months with just the basic necessities in a backpack. Their task was that of labourers—build roads, paint bridges. "It was a total flip of the luxurious life we are used to," she says with honesty. "Everybody wants to be famous. It's a good feeling to be acknowledged and acclaimed." Her parents have made much of her, but life has changed significantly with that one tryst with reality TV. "It has toughened me, taught me how to survive and I am also more aware of the people around me who live on just 300-400 bucks a day," says Preetpal, winner of the title of 'India's Toughest Raeeszade'.
Once out of the box, isn't one meant to be out of viewers' minds? And money and fame might not buy one everything.

Padmanabh and Preetpal are examples of what TV has been conferring on some of its nameless consumers—name, fame, and much more. This medium of mass entertainment is bent on changing some lives, and changing them irreversibly. Take Prince dance group from Berhampur, Orissa. The 20-strong group of construction lab­ourers, two of them polio-afflicted, won Rs 50 lakh and a Maruti Ritz in India's Got Talent (Colors). Their bewitching performances, be it as Krishnavtars or with the Indian tricolour, prompted the Orissa government to announce a prize of Rs 1 crore, and four acres on which to build a dance academy. Now they have their own website and a diary spilling over with appointments.
At times, gains from the telly have been more than material—girl next door Dimpy Ganguly bagged a husband in Pramod Mahajan's son, Rahul, in a show called Rahul Dulhania Le Jaayega on the now defunct Imagine.

Big Switch Season 4 winners Sukhvir, Preetpal, Navpreet
Such stories have their roots in the reach, clout and powers of seduction of Indian television. "Every household has a set. It has immense connect, the thoughts and ideas of the audiences are emerging from it," says Shalini Sethi of utv Bindass. Now the common man has a chance to have a stake in it too. "It is about giving them a platform and power," says Shalini. Thus, kbc empo­wered its first physically-challenged Rs 50 lakh winner, Shatabdi Awasthi, in unforeseen ways in Sawai Madhopur. "I don't need to go anywhere, don't need to liaise with any government department over any issue. One phone call is enough," she says.
The first woman to win Rs 5 crore on KBC, Sunmeet Kaur Sawhney of Mumbai, is matter-of-fact about her success. "My actor husband has always been a celeb.... But Sikhs never really get excited about things. We continue to be normal," she says. Life goes on. But invites are pouring in for attending functions in Pune, Delhi, Varanasi, while the family is researching on the right flat to invest the amount in. "Opportunities have opened up," Sunmeet admits.
"If I hadn't participated I would have remained limited within my circumstances. Now I have created history, become a part of history," says Sushil Kumar, kbc's first Rs 5 crore winner. Sushil, who used to travel 60 km daily for a job that fetched Rs 6000 would have continued to dream of a house and car. Now he has a home in Motihari, and a personal library—his "ultimate dream". "Through these shows, TV seems to have taken over the job of employment exchange, and ministry of HRD and family welfare," says a tongue-in-cheek Vineet Kumar, author of Mandi Mein Media.
As programming formats have evo­lved and audiences get wooed in manifold ways, the various modes of wangling fame from TV have turned innovative. You could have been lifted for being a loyal star fan, in a show like Lift Kara De (Sony) or hoisted on an equally lofty perch for hating a star in Love To Hate You (Star World). Or stepped lighter on the pedestal if you lost weight, courtesy Biggest Loser Jeetega (Sahara One). But fame has also radiated from TV for wrong reasons—for cheating (in Emotional Atyachaar on UTV Bindaas), or for betraying trust and washing dirty linen in public (in Sach Ka Saamna in Star Plus). "Things that were till yesterday considered bad, a waste of time and counterproductive are all being pitched on TV as means to create an identity, earn money and become celebrities," says Vineet.
But isn't onscreen success ephemeral? Once out of the box, aren't you also meant to be out of viewers' minds? How many remember Prajakta Shukre and Rahul Vaidya, darlings of the first Indian Idol? And money and fame may not buy you everything. Shatabdi still struggles for the right treatment abroad for her paraplegic condition, something she wanted to spend her KBC prize money on. Success's unsavoury visage is well-known. Ashutosh Kaushik, winner of MTV Roadies 5 and Big Boss 2 soon found himself courting infamy after a drunken brawl outside a Mumbai cafe. However, Manisha Sharma of Colors thinks success could lead to better things. "Many participants have picked up various kinds of vocation. A sand artiste in India's Got Talent was picked up by filmmaker Sanjay Leela Bhansali," she says. The first Indian Idol winner, Abhijeet Sawant, says it "sets you in the right direction" in a cutthroat entertainment industry where you may not have a Godfather.
Cultural analyst Sudheesh Pachauri feels it's about encashing success in small ways. "It can only make you the cynosure in weddings, Sai Sandhyas and jaagrans," he says. He says these shows provide an illusion of a level playing field. "They are like government schools in which anyone can get admission," he says. The bigger pie, the world of films for instance, is still out of reach, he feels. "Cinema success is for the special, TV is for surplus talent. You can copy Amitabh Bachchan but you can't become him, you can't get his kind of success." But for millions of aspiring viewers leading humdrum lives, smaller telly dreams are the first steps on a stairway ending in stardust.
---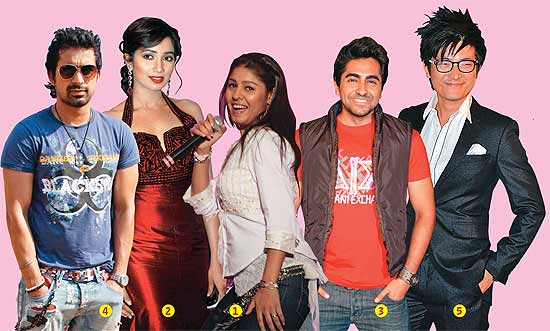 Photographs: Fotocorp (From Outlook 22 April 2013)
From Small Screen To Big Fame
Sunidhi Chauhan
In 1996, at the age of 13, she participated in the DD music show Meri Aawaz Suno. She won the competition and the top prize of recording an album, Aira Ghaira Nathu Khaira, with HMV. Though nothing happened for a while, her eyes were set on a career in music. The
breakthrough came three years later, with Ruki ruki thi zindagi, in Mast. Then on she zoomed on to become one of the top playback singers in Bollywood.
Shreya Ghoshal
She won the children's special episode of the Sa Re Ga Ma (now Sa Re Ga Ma Pa) on Zee TV. Kalyanji, who also judged the competition, convinced her parents to move to Mumbai from Bahrampur. Ghoshal caught the attention of director Sanjay Leela Bhansali when she participated in Sa Re Ga Ma Pa for a second time, this time as an adult. He gave her the breakthrough in Devdas. Will now be the judge on Indian Idol Kids' Special.
Ayushman Khurana
The winner of MTV Roadies Season 2 to the hero of Vicky Donor and Nautanki Saala, with veejaying, deejaying and anchoring thrown in between.
Rannvijay Singh
A finalist in the first season of MTV Roadies, Rannvijay was roped in by MTV India as a host. Now he is the host of the tenth season of the show, MTV Roadies X : Battle for Glory and also acted in Bollywood films Action Replay and London Dreams.
Meiyang Chang
A qualified dentist, Chang was placed 5th in Indian Idol 3 on Sony. He bagged a contract with Sony Music India, recorded an album Tu To Na Aayi and went on be a part of live performances across the globe. Chang returned to anchor Indian Idol 4, has been a sports presenter with IPL, hosted India's Got Talent on Colours, won Jhalak Dikhla Ja 4 on Sony and starred in the Yashraj movie Badmaash Company. Also done Orbit chewing gum and Kurkure ads.