There is something about the Malayalam magazine Vanitha you cannot ignore. At 40, she has managed to retain her charming freshness, like kaatrinilae varum geetam (a song that comes wafting on a breeze). Her strikingly galmorous looks and her easygoing style, brimming with advice (and film gossip) make her the quintessential confidante. Her demeanour and syntax suggest she is not confined by the rigidity of formulaic formats. Yet, she is the highest selling magazine in India across all genres—the figures (ABC 2014: 6.71 lakh circulation; IRS 2013: 21 lakh readership) say it all. And it may not be surprising to hear that a third of her readers are men: some frankly admit their love for Vanitha, while others surreptitiously enjoy her in cosy solitude.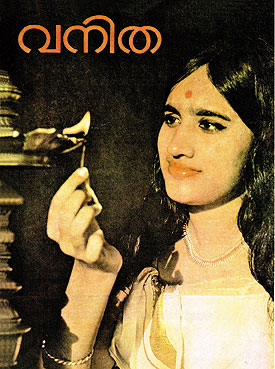 Not just for women Good-looking covers and visuals, cookery, beauty and household tips, trend stories. Result: success!


Vanitha does not need to use titillating images to woo the Malayali reader. The only hot stuff you will find on its pages is the silky smoothness of the red chilli or the glazed rump of a stuffed chicken. The centrespread is religiously occupied by the exactitudes and methodologies of the magical world of cooking, all under the simple declaration, Pachakam (cookery). And that has not changed since the day she was born.
Vanitha was launched in 1975, and Annamma Mathew, popularly known as Mrs K.M. Mathew, took charge at age 53 as the chief editor. It was a natural choice, for she was a well-known columnist by then, writing for the Malayala Manorama newspaper since 1953, before her husband K.M. Mathew took over the reins as managing editor in 1954 and subsequently became chief editor in 1973. Those days there were no separate pages earmarked for entertainment, and her first column 'Pachaka Vidhi', featuring recipes for doughnuts and the Goan prawn curry, appeared alongside reports on Nehru and Churchill in the Saturday newspaper. Annamma had picked up cooking skills from her father, Dr George Philip, a medical practitioner who worked in the Madras Presidency. It is said that he applied his precise medical skills to his culinary end­eavours: he would hang up the chicken to prevent rigor mortis setting in and hardening the meat. In the same precise manner that she had learnt, she tested every recipe many times over before publishing them. (By the time of her death in 2003, she had tried, tested and catalogued 950 recipes, which found their way into over 20 cookery books.)
Annamma, who grew up in Tamil Nadu, could read and write Tamil and English impeccably and it was only later that she learnt to write Malayalam. Like her Tamil neighbours, she too learnt classical music while growing up and her favourite was one sung by M.S. Subbulakshmi—Kaatrinilae varum geetam. Besides music and cooking, she liked to collect knick-knacks on her travels for bridal makeup which she did for a small fee of Rs 25. The money she earned thus was set apart for the Kasturba Social Welfare Centre, which she had founded. All her varied interests established themselves on the pages of Vanitha. Even today it is pachakam that is most popular among the readers.


Science In The Kitchen Annamma Mathew, founder editor, was an expert cook, and it showed on the pages
Unlike the Hollywood film The Devil Wears Prada, in which the editor of the fashion magazine Runway, Miranda Priestly (played by Meryl Streep), Annamma was endearingly known as Annammakochamma and ran the office like she would run her home. She led a disciplined life: rising at 4:30 am, she'd have a bath, don a crisp cotton sari and matching glass bangles and then sing her favourite classical songs or play the violin. She would then stride briskly all the way from Kanjikuzhi (in Kottayam) to the church at Devalokam and be back before she left for office. After she arrived at the office, the edit meetings would start at 11 am and as ideas flowed she would generously ply the journalists with goodies like halwa, murruku, cakes and other sweetmeats. She would pray for them every day. When Xavier, the Vanitha photographer passed away, she was devastated and was by the side of his body for hours, till the family intervened and had to gently whisk her away.
When the first issue of Vanitha was being prepared, Annamma made a call to the principal of the nearby B.C.M. College asking her to send the prettiest girls over for the cover shoot. From a dozen photographs, the cover was chosen. Already the small town of Kottayam, which prides itself as the land of letters, latex and lakes, was agog with excitement about the launch of a new Malayalam magazine for women. Annamma's marketing strategy was to invite small groups of friends for tea to tell them about the magazine while M.M. Publications, a sister concern of Malayala Manorama that publishes Vanitha, was holding seminars across the state to publicise the launch. It had on its first pages poetry, tips on how to use powder, how to use shampoo, a parenting feature, a gynaecology feature, beauty tips, personality interviews, a feature on leading actor Prem Nazir's many heroines, a cartoon page, astrology and a romantic serial story. This was a peculiar but enticing mix that sold 50,000 copies instantly. In 1987, it became a fortnightly selling 2.4 lakh copies. In the last four decades, Vanitha has chronicled the social changes of Kerala meticulously.


Even Spread Features on popular subjects in an easy style, a fashion section made Vanitha widely read
Vanitha remains decidedly apolitical, featuring only the personal lives of political leaders. One look at the fashion pages down the ages will reveal not only how Kerala society has changed but how Vanitha too has perfected its pages over the decades. For ins­tance, the poetry pages are few and far between now. Says Harsha Mathew, assistant editor and director of Malayala Manorama, who is in charge of M.M. Publications, "We keep on evolving and adapting. When we launched Vanitha, we were largely catering to women who were homemakers, but now our women consumers are empowered. They are assertive in the decision-making process."
Interestingly, right from its inception, Vanitha has had male editors in charge: K.P.K. Pisharody, Manarcad Mathew and now M. Madhu Chandran, perhaps making it the only women's magazine in the country to have male editors. How do men understand the feminine and sell it to men and women? "That's easy," says Madhu Chandran, "it evolves out of practice. And every idea is discussed threadbare with the team and the nuances understood before we print. Our social stories about avoiding posting nude pictures of oneself on social media or the recent one on heavy school bags made a huge impact." Anand, a long-time fan, says: "My family often teases me over reading Vanitha, but it gives me an idea of the changing perceptions. They come out with some very good social stories too. Besides it is an effortless read. It does not pretend to be an intellectual magazine."
---
V. Sajeev George, chief general manager, M.M. Publications, says that Vanitha is a market leader because it is reader-foc­used. "Our priority is reader connect. We do a lot of market research, hold seminars, events and contests to gather information on changing readership patterns. Even if we do a marketing feature, we clearly differentiate between the editorial and the advertorial. And to ensure credibility, we test the products that we write about. Likewise, we have loyal advertisers who have been with us for decades." During the festive peri­od, Vanitha comes out with double and triple issues. Last Onam's triple issue, priced at Rs 30, had a print run of 8.5 lakh—the highest that Vanitha has sold till date. As if that is not big enough, its popular sections Pach­akam (cookery), Veedu (house) and Arogyam (health) are now being brought out as standalone monthlies, each selling more than a lakh copies. The competition is far behind. For it would call for an extremely brilliant idea to steal Vanitha's—and Annamma's—thunder!
---
By Minu Ittiyipe in Kottayam