She is a caped superwoman, kicking some serious ass, but her style is Pakistani. Burka Avenger, a black nail-polished cartoon superhero clad in a burqa, who fights evil—yes, especially those ranged against female empowerment and education—by means of airborne martial arts, and uses books and pens as weapons, has hit television screens. She's a heroine who is "lean, mean, covered from her head to her toes, with her eyes visible so she can give you the look, And lay the smack down on all these dirty killers and crooks", says the accompanying theme song by pop singer Aaron Haroon Rashid, whose brainchild the animation series is.
'Jiya' is a kind, albeit ordinary schoolteacher by day, but as darkness falls she dons a black burqa and takes on the village baddies who frown at female education with her bagful of tomes and acrobatic tricks. Fighting her is Talib­an­­esque villain Baba Bandook and cor­­rupt mayor Vadero-Pajero. Helping her are her adorable students Ashu, Immu, their best friend Mooli and his cute goat Gohu. Inspired by Malala Yous­ufzai, as girls' education in confl­ict-ridden, conservative nations beco­mes a global cause celebre, it seems Burka Avenger has imitated life. Or has it?
"Although I greatly admire Malala, the answer is, surprisingly for many, no! It was in 2010 that I decided I wanted to produce and direct a movie in Pakistan. I shortlisted some ideas with local themes and one of them was about a burqa-clad woman who protects a girls' school from extremists trying to shut it down. Stories about girls' schools being shut down by the Taliban were in the news and I was disturbed by them," Haroon tells Outlook.
Next year, Haroon worked with a game development team and developed the Burka Avenger iPhone game, where Jiya throws books, pens and schoolbags as weapons to protect the school against the attackers. "Around September 2011, I created a three-minute animation along with team-members that had a back story to the Burka Avenger game. That is when it hit me that we could do a whole animated TV series. I assembled the animation team in early 2012 and we had the first episode (girls' education/school shutdowns) ready by May 2012. When Malala was attacked by the Taliban in October 2012, our whole team was stunned. This seemed to be a case of life imitating art. For me this reinforced the importance of addressing this issue," he explains.
By February 2013, 13 episodes were ready and Haroon entered into a con­tract with Geo TV to launch the series.
After its premiere, the first Pakistani animation superhero is a talking point—it has mostly won hearts, but also generated controversy and debate, especially on the social media. The point of contention was the Burka Avenger's eponymous garb during the action—the all-covering costume, a symbol of oppression and segregation of women for many modern Pakistanis. Many women were horrified that girls were being asked to infer that the burqa emancipated you to fight for your rights. Some even feared that it might become fashionable.
Diplomats plunged right into the discourse. "A dupatta could have done the job," opined the stylish, dupa­tta-clad, former Pakistani ambassador to the US, Sherry Rehman, on Twitter. "Why not Dupatta Dhamaka, which is more in keeping with who we are?" tweeted New York Times writer Huma Yusuf. "Is it right to take the burqa and make it look 'cool' for children, to brainwash girls into thinking that a burqa gives you power instead of taking it away from you?" asked novelist and commentator Bina Shah on her blog.
However, Ema Anis from the Express Tribune, whose mother wears the burqa, thought otherwise. "Condem­ning (the dress of) Burka Avenger does not make anyone cool and liberal. I highly doubt that any girl will feel compelled to wear a burqa after watching a cartoon character that wears one. Point is, she's fighting all the bad men—the Vadero-Pajeros. Appreciate that," wrote Anis.
Haroon agrees, and shrugs aside accusations that the burqa is a sign of suppression. "It certainly is, in parts of the world but not here in Pakistan. Women are not compelled to wear the burqa or abaya or headscarf as they are in Afghanistan, Saudi Arabia and Iran. Some women do choose to wear the burqa or hijab out of choice in Pakistan. Jiya is a schoolteacher who does not wear the burqa in her daily life. She only wears it to hide her identity, like every superhero does with his/her costume, not because she is oppressed," Haroon explains.
But once the series reaches international screens, does it hope to send a message to the West, where burqas and the Taliban are equally popular bogeys? "Absolutely! Some of the steps, like banning hijabs in schools, just smacks of discrimination. Everyone should have a right to dress as they choose whether it be as a punk rocker, in a mini skirt or a hijab," responds Haroon.
Interestingly, in Pakistan, the black burqa is seen more in Kar­achi, where Urdu-speaking migrants from India have traditionally worn it. In Khyber Pakh­tunkhwa they wear the more voluminous ones in white, with Afg­han women wearing them in light blue. Many others wear the chador, a variant.
In recent times, Islamabad's streets resounded to the agitation of the 'Burqa Brigade'—groups of baton-wielding women students from the Lal Masjid dressed in black burqas who were given the sobriquet 'chicks with sticks'. They were opposing Gen Musharraf's security apparatus when he sent commandos to flush out militants hiding in the mosque in July 2007.
Though he acknowledges the discomfort about the Avenger's attire in some quarters, Haroon is also fatigued by it all. Instead, he points out how "each episode addresses relevant social issues in Pakistan, such as female education, child labour, discrimination, protecting the environment, but is presented as entertainment—full of action, comedy, adventure and fun". The only thing that Haroon is not giving away is whether Jiya will hang up her burqa at the end of the series.
***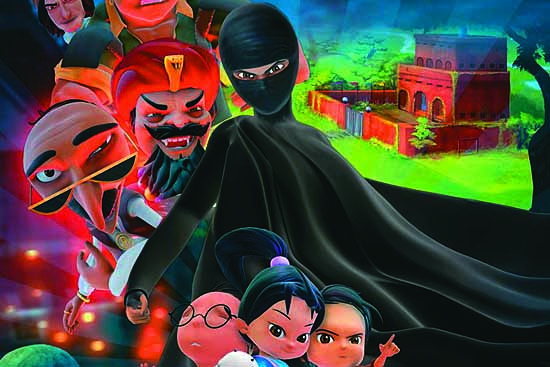 Theme song By Haroon And Adil Omer
Camouflage, shadows and darkness
No guns, but got ammo regardless.
A backpack so she's coming prepared
To leave the opposition in submission, running in fear.
Yeah—superhero got 'em kicking and screaming,
In hysterics, these clerics had
envisioned a demon,
A spirit so quick to deliver a beating
To the enemies of peace, love, logic and reason.
Yeah—hit 'em with a logical reason,
Kill extremism, corruption and just stop it from breathing.
The way it was, she'll be taking it back
So tune in for the story of the lady
in black.

Don't mess with the lady in black,
The lady in black, the lady in black,
Don't mess with the lady in black,
When she's on the attack.

Lean, mean, covered from her head
to her toes
In a one-piece, slick invisibility cloak,
She got her eyes visible so she can give you the look
And lay the smack down on all these dirty killers and crooks
Like a panther going in for the attack and the win.
The lethal weapon in her hands is a book and a pen
The silent ninja, vigilante in the dark of the night
Would never roll over, 'cause she has to stand up and fight
Her fists banging harder than the drums in the song
Reminisce about the time before the guns and the bombs
The way it was, she'll be taking it back,
so stay tuned for the story of the lady in black.
---
By Mariana Baabar in Rawalpindi