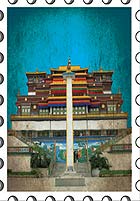 Two worlds
Gangtok is a heady cocktail, part remote Himalayan hideout, part New India. On a clear morning, the Kanchenjunga peak lies straight ahead for me, as it does for most residents. But what wakes me up to this wondrous sight is loud Bollywood music. Every morning, Sikkim's smartly turned out policewomen or its many football enthusiasts limber up to Bollywood's latest at the swish stadium next to my hotel. Bollywood music plays in the zippy Nanos plying as taxis, it pours out from a Ferris-wheel overlooking a gorgeous sunset. Then there are the pagoda-shaped bus stops and ubiquitous pictures of the last Chogyal (the former king) and his glamorous American wife. They suggest a deep nostalgia for the Buddhist kingdom Sikkim was. To sum up this dual identity, Gangtok is the only place I've seen where a plastic handbag for a shop has the tagline 'Live the Indian Life'.
---
Yen for work
Gangtok old-timers have a complaint not heard too often in India. They say the central government spends too much money on the state, making the locals lazy. The Centre should cut spending so people rediscover the work ethic, they say. That's hardly likely to happen, given that Sikkim connects India with the northeastern states and borders China, Nepal and Bhutan. The Centre is building Sikkim's first railway line and airport. Low or no income tax and tax rebates for industry have transformed once sleepy Gangtok into a college town and pharma and tourist hub. The much advertised campus of Sikkim Manipal University forms the entrance to town. Students from there and other colleges (apart from the ubiquitous Bengali tourists) fill up Gangtok's M.G. Road, probably the only main street in India exclusively for pedestrians. They keep the funkily named coffee shops—with names like 'Oven in the Mountains'—and Bhutanese rock concerts going.
---
Colonial cut
Gangtok's Raj Bhavan is among the most sprawling and gorgeous in the country. It's a heritage structure made 150 years ago, when Claude White, the British resident, set up shop in the royal kingdom of Sikkim. Traditionally, the palace of the Chogyal occupied the highest hill in town, while his kazi had a slightly lower hill. Local legend has it that when White came to town, he scoped out a higher hill to build a colonial home with fabulous gardens to show his place in local politics. The Chogyal tried to match this with spectacular New Year celebrations at his palace and an adjoining monastery. Satyajit Ray's documentary on Sikkim shows elaborate festivities, complete with Buddhist dances, military parades and a feast for anyone who cared to join. After Sikkim's accession to India in 1975, the resident's 200-acre home became the Raj Bhavan, while the king spent some time under house arrest and died in 1982. Now, the palace, still owned by the family, stays locked for visitors and locals alike and has a desolate, unkempt air. The Raj Bhavan, on the other hand, got a spiffy makeover after an earthquake in 2005. It is now presided over by Srinivas Patil, a former Maharashtra IAS officer and politician. He has apparently charmed the Sikkimese with his handlebar moustaches and pheta (Maharashtrian headgear).
---
Art for art
Walking around Gangtok yields the unique pleasure of encountering the most beautiful graffiti I have seen. Steps leading to an overbridge are painted with orchids (that grow in abundance in Sikkim), another wall has its celebrated rhododendrons. A long wall has a Buddha in repose. Another wall has Gangtok's ropeway teetering above the city. Finally, M.G. Road ends with the head of a Buddha. At the end, we discover the entrance of Oviya, Sikkim's first art gallery, where the graffiti artists have displayed their work. The young artists say they are a collective of mostly amateurs who come together to paint and were encouraged by the government to paint their city. A query for prices causes a flurry of phone calls to the artists and frantic calculations. Clearly, no one asked before.
---
Drink a bomb
Sikkim provides interesting adventures for drinkers. The local liquors, called tsongba and chang, are brewed in bamboo containers and sipped with bamboo straws. But what took the cake was a big red dynamite ball, the likes of which I'd only seen in Tom and Jerry cartoons. A ball took pride of place in the bar of our lovingly restored heritage hotel. The bartender cracks it open to reveal a bottle of Sikkim's own brandy—the Sikkim Fireball. The prize-winning brandy can cure anything if consumed with hot water and honey, he tells us. A ball of dynamite could cure things in interesting ways, I am sure.
---
Last Week...
I discovered how different Nathu La is from Wagah. Three hours from Gangtok, it's quiet, wondrous—and there's none of the orchestrated machismo of the Punjab border town.
---
A former Outlook correspondent in Mumbai, Saumya Roy is now a microfinance banker; E-mail your diarist: roy.saumya [AT] gmail [DOT] com