Is the media guilty of trivialising serious issues of livelihood and price rise? The subject certainly does not make for eye-popping news. It is also not considered suitable for debate by Indian news channels; after any price hike, they have spokespersons of various parties shout at each other for a few days, and quickly move on to more sensational news.
The proliferation of TV news has also led to many politicians being created in the studios and not really linked to constituencies or mass politics. They're urbane, vocal, articulate and can debate issues, but in the confines of a studio. They belong to a breed which is really not linked to any form of mass agitation. They would rather reach the people through television.
Besides, public rallies and hartals don't really make for great TV viewing unless violence breaks out or a neta faints, as BJP president Nitin Gadkari did recently. The media, therefore, plays no role in transmitting such news about spontaneous people's protests across the country. Kisan movements and peasants' concerns are rarely covered unless linked to a high-profile SEZ acquisition. News about the poor and their possible increased malnourishment in the era of rising prices is practically invisible.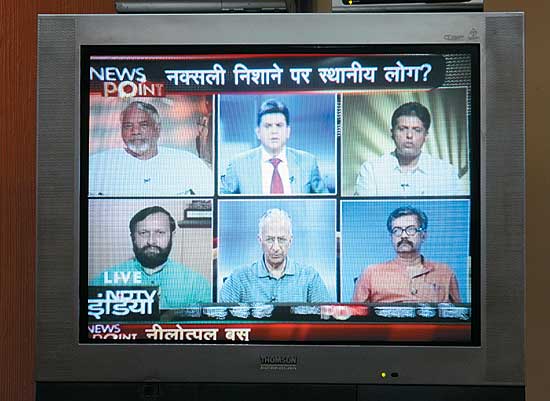 Creatures of the studio Netas on TV
Politicians too are attracted to a medium like television. They prefer to give an interview to a news channel than in the print media. And this TV craze is not limited to national-level leaders. The growth of language channels in the last 10 years, several owned by political parties, has seen entire campaigns on an issue being run on the small screen. A prime example of this was the emotive pitch that was raised to push Jaganmohan Reddy as the successor to the post of Andhra Pradesh chief minister after his father Y.S.R. Reddy died in a helicopter crash. It was the Sakshi channel, owned by Jagan, which campaigned for his cause. It is another matter that he never got to sit on the CM's chair.
The price rise too has been debated anddissected. It may have enlightened and entertained audiences. But it's made no difference to the distressed.