Saurabh Bhandekar, a resident of Shivaji Park, the holiest shrine in cricket's Mecca, Mumbai, would walk by rows of nets where hundreds of children, dreamy eyes set on the colossus that is Sachin Tendulkar, would go through their daily exertions. Three years ago, he was intrigued by two people, one of them a foreigner, playing a rugby-like sport. Today, Saurabh too plays footy, or Australian Rules Football, and does his bit in promoting the sport. As we speak, around 40 children are getting muddied in the push and heckle of tackles and scrums. There is more going on at Shivaji Park. In the pale sunlight, around five one evening, a corner is given over to gymnastics training, while at the other end, five teams practise soccer. The centre still holds—cricket nets and boys in all-whites are inseparable from the park—but the background is dappled with a rush of coloured football jerseys.
"I was hooked once I started with footy. And our numbers have only grown," says Saurabh, who went to Aus­tralia to participate in a tournament. Those numbers are singularly fortunate in being trained by Aussie footy professional Rhan Harris and his brother Lincoln, the two who brought the game to Mumbai. Footy, Lincoln tells Outlook, was devised in Australia for keeping cricketers in shape but has become just as popular as cricket over time. "Once you play a contact sport, it is very hard to like cricket. Here, every single player is doing something, whereas in cricket, action is limited to the bowler and the batsman. The excitement is unmatched," says Lincoln, as Rhan watches over dusty bodies making a dash for the ball. The thrill is palpable.
Has cricket—which for decades had a stranglehold over sporting loyalty in India, giving the masses a parallel religion—lost some of its grip over its ability to rouse followers to a fevered pitch?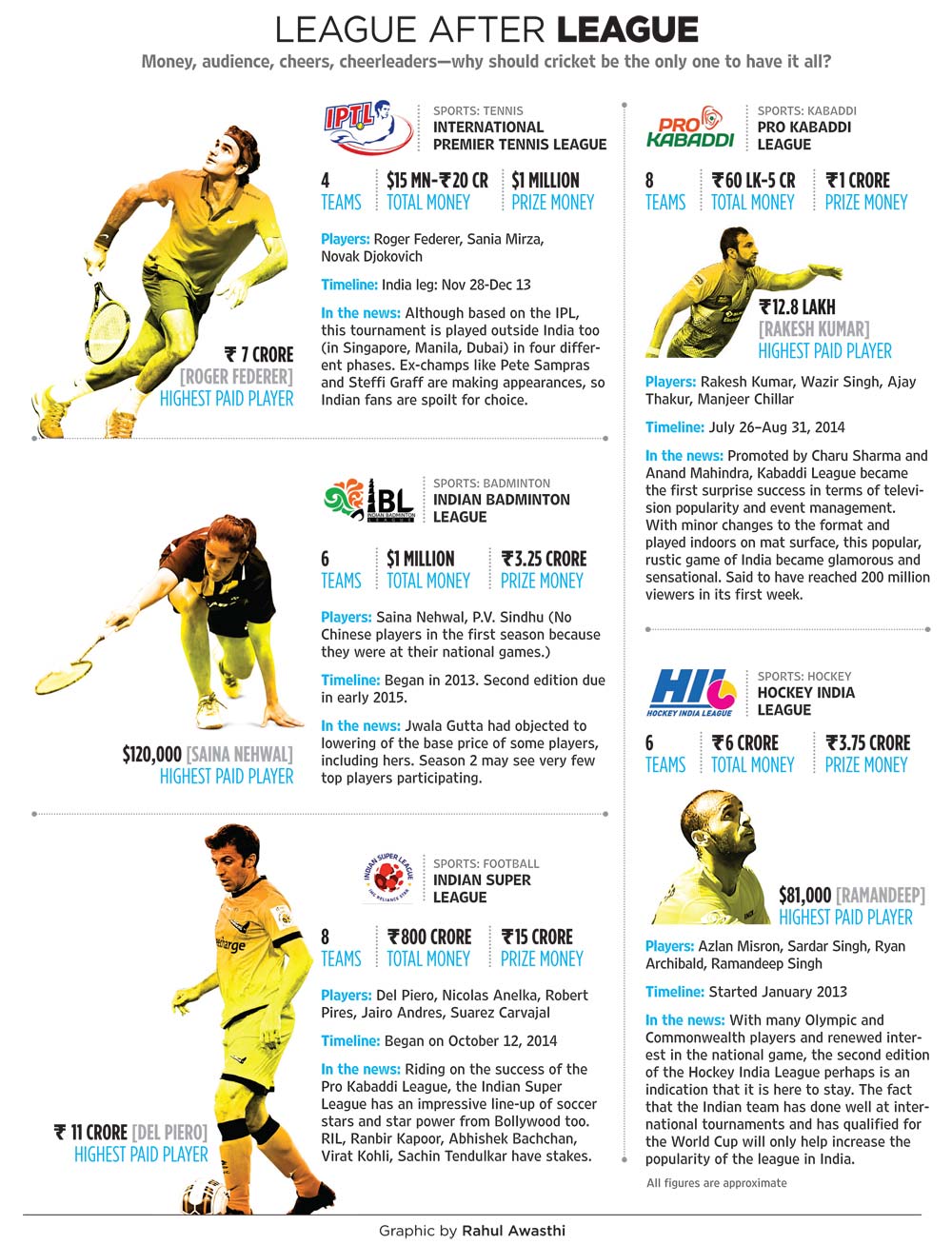 There are indications of that. Three months ago, the West Indies pul­­­led out of a tour of India mid-way. What may have caused a furore a decade ago found mention only in the sports pages. Even as India blanked Sri Lanka out 5-0 in the hastily set up ODI series, it is just a blur in fans' over-bowled minds. It holds true for even those who track every ball on Cric­info in offices, on roads, in trains and at homes. Although some Indian Premier Lea­gue team-owners have reported pro­fits and said they have broken even, the tournament, marred by the betting and spot-fixing scandal, has seen a steady drop in TV viewership. There are certainly a few bleary-eyed diehards girding their loins before dawn for the ongoing Test series Down Under, but for the first two days, they were served with three sledgehammer centuries by the Aussies, though, admittedly, gloriously recompensed by Kohli's crisply-timed ton on a fine Australian day. Nobody, moreover, can deny the creeping frisson of the forthcoming World Cup early next year.
"In Brazil, US, Japan, people play many sports—athletics, swimming, basketball. I hope that will be the case in India as well"


Zico Brazilian football great
But the slow ingress of other sports can't be denied. The Pro Kabaddi League was a surprise hit, and players are training for Season 2. Soccer fans are running along with the Indian Super League as it enters its last leg (finals are on December 20). And, justifiably, there were cheering crowds waiting for Roger Federer, Novak Djokovic and Ana Ivanovic in Delhi for the tennis league matches. Cricket rules, but other contenders are rearing their heads. "It is too early, too premature, to say if others will replace or compete with the IPL. But it won't be cricket alone anymore, there will be other sports too. The general pent-up desire for football is immense," says Gaurav Modwel, CEO, of ISL's FC Pune City. "While cricket has been the mainstay, we are witnessing a trend of non-cricket sports becoming popular, like soccer, badminton and kabbadi," says Ranjivjit Singh, chief mar­keting officer, Samsung India. (see box).
A burgeoning interest in many sports is important for India to grow as a serious sporting nation, says former cricketer Aakash Chopra. "Cricket's currency is not lost. But unless we play multiple sports, we won't ever be a sporting nat­ion," he says. Agrees soccer legend Zico, now coach of FC Goa: "We don't really need to compare between cricket and football. India has over a billion people. I would like to see all sports getting attention—volleyball, basketball, swimming, athletics.... In Brazil, US, Japan, people play many sports, I hope that will be the case in India as well."
Predictably, some commentators say the rude knock at cricket's door has got to do more with the unfolding IPL scandal. "Many fans don't take the IPL seriously as they feel it's easy to fix games," says cricket writer Dwarkanath Sanzgiri. "However, the model has helped kabaddi. The league was packaged very well, it looked attractive, glamorous and fun. Those who do not know anything about kabaddi also watched. I consider it to be the first positive fruit of the IPL."

Go kabbadi Jaipur Pink Panthers players try to pin down a U Mumba player
Siddharth Monga of ESPN Cricinfo says the IPL, in many ways, is an unreal market. "It will correct itself as we go along but it will never be as popular as the administrators want us to believe," he says. But he is not sure how much football, badminton, kabaddi, and the recent Asian Games, have detracted from cricket consumption. For example, there was no dip in ESPN Cricinfo page viewings of India's tour of England—about 250 million from India—which coincided with the India Hockey league and Pro Kabaddi League.
"It is good that so many are watching Kabbadi. It helps that players make some money, so that we can continue to play the game."


Wazir Singh Captain, Puneri Paltan
That other sports and their respective tournaments aren't lacking big-name glamour and participation certainly helps to draw attention. Bollywood stars like Ranbir Kapoor, John Abra­ham, Sal­man Khan and Abhishek Bac­hchan and top cricketers such as Sac­hin Tendulkar, Sourav Ganguly and Virat Kohli are put­ting their money in soccer and kabaddi. "The good news is that low-cost structures are becoming financially viable," says sports marketer Atul Pande. He says even a small percentage of fans for other sports is good enough, as in sheer numbers they will be big enough to be attractive to sponsors. "The internet and mob­ile make delivery of products easier, so monetisation should be easier for other sports," he says.
But is the exercise of propping up other games just a TV-driven and spo­nsor-fuelled phenomenon? Is it only shiny packaging and smart hard-sell? Or are more sportsmen, boys and girls, taking to, say, kabaddi, on the ground? Do parents feel their children can make a car­eer out of badminton or soccer? "I think there has been an improvement in the quality of other sports," says Ramesh Kumar, head of ESPN Digital Media. "But Indian adoption of them will dec­ide long-­term sustainability. It will be a tough challenge if India doesn't do well at these games internationally." Quality has gone up even during a season, says spo­rts marketing professional Indraneel Das Blah. "At the Mumbai City Football Club, the quality of soccer has improved significantly in three months. Sports like kabaddi or tennis have never had hard marketing, but now, when int­e­rnational players are being brought to India, there's a marked difference," he says.
Even if that sounds too optimistic, kab­addi players are delighted with the progress. Wazir Singh, captain of the Puneri Paltan, says the game is in fashion now. "It is good that so many people are wat­ching. It only helps that players make some money so that we can continue to play. Our first priority remains playing for the country, but these leagues create awareness about the sport." From Har­yana, Wazir is in Pune for training for season 2, which he hopes will outdo the inaugural season. Abhishek Bachchan, whose kabaddi team Pink Panthers (Jai­pur) won the trophy this year, said at the IIM World Management Conference: "To take kabaddi to international forum, the next step will be to set up academies. Once this comes through, then there will be international interest."

From Barca to Brazil Youngsters polish their ball-skills at Shivaji Park, Mumbai. (Photograph by Amit Haralkar)
That is exactly what IPL bosses said about T20 cricket eight years ago. Visits to local clubs and training centres show that youngsters increasingly are votaries of this shortest form, classical cricket is not their concern. "It is hard to sustain youngsters' interest in long-form cricket, as all want to play T20 games. Tests are tough proposition, and require long-term commitment. So, the quality of cricket is a serious problem and I wonder if Mumbai will produce any greats anymore," says a crestfallen Anil Sawant, a Shivaji Park coach. He may be right: Jammu and Kashmir beat 40-times champions Mumbai in the ongoing Ranji Trophy tournament this week.
"While cricket has been the mainstay, we are seeing a trend of other sports becoming popular, like soccer, badminton and kabbadi."


Ranjivjit Singh Chief marketing officer, Samsung India
However, at Ramakant Acharekar Sir's nets, now run by his daughter Kalpana, enrolments haven't gone down. "We get as many children as before," says a trainer, as children below 12 practice at the nets. But the icons are missing. Those who idolised Sachin or Sourav are grown up and the younger lot hasn't found new stars. As Sanzgiri points out: "It is a transition period right now for Indian cricket. Although promising, Chetesh­war failed against top-class swing in England, and so did Kohli." It's also difficult to speculate if youths, for want of cricketing icons, would instead idolise a Sardar Singh, K. Srikanth, Sania Mirza or Mary Kom and gravitate towards hockey, badminton, tennis or boxing.
A shrinking talent pool isn't cricket's only challenge. Out of ten cricketing nations, Bangladesh, Zimbabwe, Sri Lanka, Pakistan and West Indies are in a mess at home with their boards. Of the remaining five teams, India, Australia and England have formed a cozy club, says Monga. "How long can you watch the same three teams play? We are headed towards a time where only these three countries will have the means to support Test cricket. At a time when cricket is facing competition from other sports that demand less attention and lesser devotion, administrators are chasing fans away."
***
The Metal We Brought Home
Hockey Indian Men's Hockey team won gold at the Asian Games, qualifying for the Rio Olympics
Boxing Olympic medallist and a subject of a Bollywood movie Mary Kom was on top form with an Asiad gold
Kabaddi Indian men and women's teams won the Kabaddi World Cup and gold at the Asian Games

---

Wrestling Olympic bronze medallist Yogeshwar Dutt won gold at the Asian Games ending India's 28-year wait
Badminton P.V. Sindhu won the World Championship at Macau after winning Bronze at the Commonwealth and Asian Games
Tennis Sania Mirza and Saketh Myneni won the mixed doubles gold at the Asian Games
***
February 14, 2015 may change all that. Cricket fanatics will troop back religiously to stadiums and settle in front of their TV sets once the World Cup fever catches on. "Cricket is not losing its popularity, though there may be a dip in interest. The sense of identification is still very strong with the sport. IPL and good Test matches still draw substantial crowds," affirms sportswriter Suresh Menon.
However, sports hitherto 'marginalised' by cricket have made a start; a cer­tain momentum has gathered. But they can win their diehard legions of support only if they throw up bona fide greats—icons like Bjorn Borg—so that there are Stefan Edbergs to follow.
---
By Prachi Pinglay-Plumber in Mumbai