Ireland, plucky and pugnacious, chased down England's 327 on Wednesday, making two strong points in the process. One, it shamed the ICC and the supporters of its decision to keep associate teams out of the next World Cup; two, it showed that on the flat tracks of the subcontinent, no total is too large and bowlers must operate with intelligence, innovation and guile. That's something spinners can relate to.
South Africa and the West Indies, two teams that never had much depth or belief in spin, have opened bowling with spinners in the World Cup. Pakistan and Sri Lanka played a thriller in which spinners played a central role, led by Shahid Afridi and Muttiah Muralitharan. The leading wicket-taker after 15 matches is a spinner—Afridi; the most economical bowler (with at least 15 overs) is also a spinner—Ajantha Mendis.
Powerplays, bigger bats with broader edges and flatter pitches—you'd think that the spinners would come to a gory end. The first match did suggest an imminent massacre: India's spinners bowled 25 of 50 overs, Bangladesh's 26 of 50; together, they gave away 321 runs in 51 overs, taking just three wickets.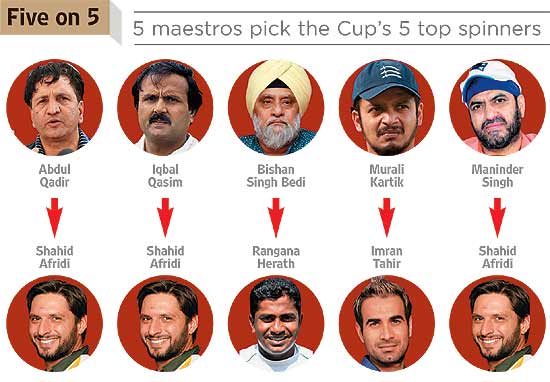 Afridi, however, struck a blow for spinners when he knocked five Kenyan batsmen out at Hambantota; the next day, Pakistan-born Imran Tahir, making his debut for South Africa, took out four West Indians in New Delhi. Afridi outdid himself at Colombo last Saturday—chasing Pakistan's 277, Sri Lanka raced to 76 by the 15th over before off-spinner Mohammed Hafeez got the first wicket with a flighted ball. Then Afridi got into the act, striking four times, using guile, change of pace, spin, flight and angle.
Afridi's batting isn't particularly cerebral; his bowling is highly so. This prompts Abdul Qadir, the great Pakistani leg-spinner, to tell Outlook, "He's going to prove himself as a world-class bowler in the World Cup, primarily because he can bowl in many different ways. He can bowl leg-spin, googly, off-breaks, and fast deliveries, the bouncer too!" Qadir says Afridi's main weapon is his change of pace: "He does it so well that I'm not surprised that many batsmen fail to pick it." Iqbal Qasim, former Pakistan left-arm spinner, agrees. "He has dip, turn and bounce—all attributes that make him a deadly wicket-taker, especially on Indian pitches. And he is not predictable."
Afridi and Tahir may well have bowled in tandem today—if Tahir, touring with Pakistan's U-19 team in '98, had not fallen in love with a South African woman (he married her eight years later). Tahir's is a rare story, of a journeyman cricketer who has played serious cricket in three countries and whose dream of playing for his adopted country has come true. In January, when he was named in the one-day squad against India—though he did not play finally—captain Graeme Smith said that to have an attacking spinner like Tahir was "something I have dreamt of throughout my captaincy".
An attacking spinner is what Bishan Singh Bedi, former Indian captain, also loves. "I like watching Tahir," Bedi told Outlook. "I think he bowled superbly. He was attacking, looking for wickets, not trying to defend. This is what you want from your bowlers. He got four wickets, slowing down the West Indians. Flat bowling couldn't have achieved that."
Murali Kartik, who's known Tahir for years, says he's not really surprised by his success. "He's a dear friend of mine, the nicest bloke, and we regularly interact with one another," Kartik says. "One look at his record, in every format in different countries over the years, and you realise that he's no rookie. His brilliant debut was no flash in the pan."
Our experts pick several spinners they like—Suleiman Benn of West Indies, Ray Price of Zimbabwe, Balaji Rao of Canada, Shakib Al Hasan of Bangladesh. One rookie who's impressed all is Pieter Seelaar of the Netherlands—he picked up four wickets in two matches, including 3/45 as the West Indies piled up 330 in Delhi. "I think he's done a very good job so far," Kartik says. "I know he came up against Kieron Pollard and went for a few runs. But overall, he bowled really well."
The seniormost spinner in world cricket, Muttiah Muralitharan, could bow out of international cricket on a high. Signs of it came during the batting powerplay Pakistan took against Sri Lanka—the off-spinner strangled them, giving away five runs in two overs and removing Umar Akmal. He finished with one for 35 off 10 overs. Says Qasim, "Muralitharan is one of the all-time best spin bowlers, and I think he'll be picking up lots of wickets because of his ability to spin the bowl by a great margin."
Graeme Swann of England is the top-ranked spinner in the world, with good reason; but his hasn't been a happy World Cup. He did pick up two wickets against the Netherlands, but against India he came up against Sachin Tendulkar, who hit him for three sixers. "I don't think he bowled very badly," says Maninder Singh, former Indian spinner. "His mindset was about taking wickets, he didn't try to bowl flat at any stage. I do think he was psychologically fearful that the Indians were going to attack him."
This happened to the Indians too, as Andrew Strauss eclipsed Tendulkar's century. Whatever illusions there were about India's invincibility before the tournament started, they were shattered as England—not even a top contender in most form guides—chased India's 338 with ease and calm. "The way we bowled in the last two matches, I don't think the expectations are what they were before the tournament started," Maninder says. "Indian bowlers have given away 621 runs in two matches. When you struggle to defend 338 runs, you're in trouble."

Bedi believes that the weakness M.S. Dhoni talks about—bad fielding and average bowling—can be offset only if the batsmen overachieve in every game. "Batting can make you win, but they need to score 70 runs extra to provide a cushion to our poor bowling and fielding," he says. "Otherwise we're going to struggle to stay in the competition."
Which brings us to what's wrong with the Indian bowling attack. There's the exceptional Zaheer, of course—and pretty much no one else. India's premier off-spinner, Harbhajan Singh, has 248 wickets from 219 ODIs; but he rarely takes over two wickets. In the last four years, he's taken three or more wickets just six times—in a total of 69 matches. "Harbhajan, I think, might be under too much pressure, of expectations of people," says Maninder. "Pressure is always there, but you have to handle it."
Maninder would like to see R. Ashwin, the Tamil Nadu off-spinner, in the team. "I think for India, it's very important to get him into the team," Maninder says. "He's a wicket-taking bowler, he's not scared to experiment, and he's got all the variations. He's not scared to bowl during the powerplays and slog overs. I've been very impressed by him."
The third spinner, Piyush Chawla, has a technical problem, says Bedi. "If you're a wrist spinner, you should be able to turn the ball on any surface," Bedi says. "Piyush has got to be side-on to get some purchase from the wicket. Bowling front-on, he's struggling, and he's also bowling far too flat." Bedi adds, comfortingly, that the subcontinental wickets will offer something anyway to the spinners—the pitches will gradually wear out, the odd ball may keep low or turn sharply. But over the next month, those who exploit it won't be all Indian.
---
By Rohit Mahajan in New Delhi and Amir Mir in Lahore