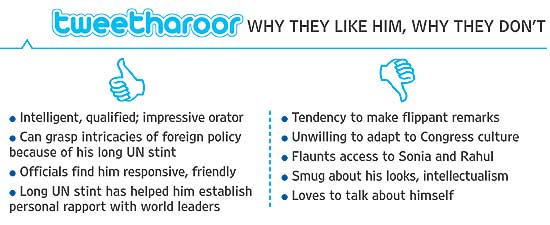 Shashi Tharoor's propensity to speak out of turn, his irreverent remarks so typical of Kooler Talk, the college humour magazine he edited as a student at St Stephen's, have been the staple of even the Indian diaspora gossip circuit. It was no surprise then that at an interactive session with schoolchildren in Jeddah in Saudi Arabia this March, a 16-year-old girl got up to ask the suave, glib minister of state for external affairs this question: why did Tharoor seem perennially in trouble? Admired for his riposte, Tharoor was for once stumped, but recovered quickly to mount his defence: never in his 29 years of working at the United Nations were his remarks taken out of context. "I'm not totally blameless, though," he acknowledged. "The early casualty in situations like these is off-the-cuff remarks.... I have no option but to be silent now."

SOS? With Sonia Gandhi at the presidential iftaar party in 2009
Days later, in a reversal of what has till now been the norm—for a change, he hadn't tweeted, wasn't staying in a five-star hotel and hadn't been giving gratuitous lectures on the etymology of words—Tharoor found a controversy leap out at him from nowhere. At its nub was the question: did Tharoor earn pecuniary benefits in assisting the Rendezvous Sports World (RSW) consortium take the Indian Premier League to Kochi? For several days after the RSW stole the franchise bid from corporate biggies like the Adani Group and Videocon, Tharoor had been insisting that he only assisted the RSW in banding together, and that he had no financial stakes in the consortium.
"The only thing common between my case and that of Tharoor's is that the same media which crucified me is now out to get him."
Challenging Tharoor's version, however, was IPL commissioner Lalit Modi's tweet disclosing the stakes held by various members of the RSW consortium and damning Tharoor by saying he had asked for the information not to be revealed. One look at the stakeholders' names would tell one why. Featured on Modi's list was the Dubai-based Sunanda Pushkar, a lady the minister had been seen chaperoning at parties and social events in Delhi. In fact, the couple had attended UPA minister Jitin Prasada's wedding a few months ago, to the consternation of conservative Congressmen. Modi's charge gathered weight courtesy persistent reports that Tharoor's marriage with second wife Christa Giles was on the rocks, and that he had decided to separate from her to wed Sunanda.
Tharoor, seasoned debater that he is—starting again from his college days—mounted his defence, saying that he had never asked Modi to desist from disclosing Sunanda's name, that he and Sunanda were two individuals and she had been granted 'sweat' (not 'free') equity for her expertise in event management. He wasn't therefore exploiting his office to hold benami stakes and gaining pecuniary benefits. As one RSW stakeholder told Outlook, "Why single out Sunanda? We are all Tharoor's friends." By implication, if no objections are raised about Tharoor's association with other RSW men, why should his relationship with Sunanda be an issue?
---
The Man's Seven Sins
1. For days, stayed at a five-star hotel in Delhi while his allotted house was going through renovatio
His Defence He was picking the tab, not the government. He tweeted, "Alwys frugal w taxpyr rupees."
The Problem Bad advertisement for the Congress-led government which had announced an
austerity drive
2. After shifting out of hotel, asked if he had travelled cattle-class to Kerala, he tweeted, "Absolutely in cattle class, out of solidarity with all our holy cows."
His Defence It was a joke; 'holy cows' referred to sacrosanct issues, not to those who had introduced austerity measures.
The Problem A politico is supposed to lie low after a reprimand, not go around wisecracking. Seen as taunting those travelling economy class.
3. "Gandhiji said 'Work is Worship'," he tweeted another time, "& we enjoy holiday on his birthday. He wld hv wanted us to work harder today."
His Defence "In Vietnam, Ho Chi Minh's birthday is a working day; citizens are expected to put in extra effort at work to honour him."
The Problem None really. Just that Congressmen hate junior ministers lecturing them on work ethic.
4. Tweeted his disagreement with government policy prohibiting foreign nationals from coming to India two months after their last visit.
His Defence "Issue is not security vs (versus) tourism, but whether visa restrictions protect our security. 26/11 killers had no visas," he tweeted. "... R (Are) we going 2 (to) allow terrorists 2 (to) make us less welcoming?"
The Problem Everything. You can't be a minister in the government and air your differences with the same in the public arena.
5. In his concluding remarks at a Bhiku Parekh lecture, he said: "I think his (Parekh's) is a very clear summary" of the manner in which both (Gandhi and Pandit Nehru) gave India the negative reputation of conducting foreign policy as a sort of moralistic running commentary on other people's behaviour."
His Defence He was only summarising Parekh's lecture, and lashed at the media for irresponsible reporting.
The Problem Nehru and Gandhi are the holy cows of the Congress. As a Congress minister, he should have known better than to criticise them even if summarising a public lecture.
6. On PM's official trip to Saudi Arabia, offered this great gem, "We feel that Saudi Arabia, of course, has a long and close relationship with Pakistan but that makes Saudi Arabia all the more a valuable interlocutor for us."
His Defence Interlocutor means one with whom you have a conversation, he argued, it doesn't mean a mediator.
The Problem "middleman" is indeed another meaning of interlocutor. But in this case at least the man can be given the benefit of the doubt.
7. Stitched together the Rendezvous Sports World, which successfully bid for the Kochi franchise in the Indian Premier League.
His Defence Don't have stakes, only facilitated the purchase.
The Problem Partner Sunanda Pushkar was given free equity, something revealed only when ownership was made public. That makes Tharoor guilty of political impropriety and financial irregularity.
---
The answer is simple: New Delhi isn't New York and Congressmen prefer deals and dalliances to remain backstage. Given this moral culture, Tharoor could be said to be guilty of political impropriety. Anyway, as many pointed out, Tharoor as a minister at the Centre should have been circumspect about associating with IPL, in which big money, sleaze and corporate wars are necessary ingredients. As former diplomat K.C. Singh points out, "At best, Tharoor betrays poor judgement by letting his private and public life get entangled; at worst, his actions attract the Prevention of Corruption Act. Either way, his retention in the government will be costly."
"At best, Tharoor betrays poor judgement in letting his private and public life mix; at worst, his actions attract the Prevention of Corruption Act."
Though regarded as a babe in the woods of Indian politics, Tharoor and his friends in the RSW did expand the controversy to portray themselves as victims. And so the wires bristled with the news of how Modi tried to bribe the Kochi franchisee into backing out and leaving the field open for a corporate giant; that their refusal was followed by threats from two powerful UPA ministers, that Gujarat CM Narendra Modi was smarting at his failure to bring the IPL to Ahmedabad. Modi's revelations on Twitter about Tharoor, therefore, were plain and simple retribution. Whether or not this argument is true is early to tell, but Tharoor's hectic rearguard action—meetings with sundry ministers—had an immediate fallback: income-tax sleuths 'searched' the IPL headquarters and Modi's personal office, seized his laptop, hard disk and franchisee documents and asked him some tough questions. The Tharoor vs Modi battle could well turn out to be a politicos vs corporates one, an ersatz war between the Congress and the BJP. But journalist Swapan Dasgupta, who was Tharoor's contemporary at St Stephen's, insists, "It may be very difficult for him to get out of this one." That may be because the IPL controversy has come after months of Tharoor tweeting and talking and embarrassing his party (see infographic). However, the political twist to the battle saw Sonia Gandhi grant audience to Tharoor and hear his explanation. In the party, though, there's a strong view that the flamboyant minister shouldn't be granted special privileges.

No secrets With Sunanda Pushkar at a book launch
And special privileges Tharoor has had aplenty—a political greenhorn, the party fielded him from the safe seat of Thiruvananthapuram, made him a minister of state, and condoned a series of indiscreet remarks. But Tharoor seems to have consistently blown this opportunity, unwilling to adapt to the Congress culture of respecting hierarchy and maintaining a profile in accordance with his status of a junior minister.

This persona of his is in contrast to that of his Stephen's days. His buddies remember him as "extremely talented", a keen participant in debates, quizzes and dramatics—and definitely not a "dissenting voice" on the campus. His one failing perhaps was the innate desire to be popular. As journalist Paranjoy Guha Thakurta recalls, "He was willing to back his intelligence with hard work, but there was a penchant in him to be popular." Also an element of certitude. His successful campaign to become the college president had as its slogan: Shashi Tharoor, jitega zaroor.
From Stephen's, Tharoor won a scholarship to the Fletcher School of Law and Diplomacy at Tufts University, Massachusetts, where he completed a PhD at 22—a Fletcher record not broken yet. He worked in the UN for three decades, before resigning from his position under Kofi Annan and unsuccessfully contesting for the post of the UN secretary general in 2006.
It was at the UN that there was the first whiff of Tharoor granting favour to a woman he was courting, like Sunanda now. When he was in a relationship with Christa Gile, a Canadian colleague whom he married in May 2007, there were whispers of nepotism in the UN headquarters at New York: he had moved her with him to the department of public information, when he was appointed by Kofi Annan to head it. No rules had been broken because technically they were not married, but he installed her right next to him on the 10th floor. It was a forlorn Christa who was spotted in Delhi a few weeks back, as she reportedly came to settle her separation from Tharoor. Before Christa, Tharoor had been married to Tilottama Mukherjee, whom he had met in his university days and with whom he had two children. Billed as the proverbial 'lady-killer', he was known to be intimate with several women, including the wife of an Indian diplomat, whose marriage finally broke down.
"Even if the allegations levelled against Tharoor are incorrect, it's clear that there are manywho are out to get him."
Post the UN election, he worked as the president of a firm promoting foreign investment, Afras Ventures in Dubai. In 2009, he returned to contest the election from Thiruvananthapuram—a seat he was granted by Sonia and Rahul, despite strong opposition from the Congress state unit. He won and was inducted as minister of state. But Tharoor forgot some basic rules of the Congress or ignored them altogether, cardinal among them being that an MoS is expected to play second fiddle to the cabinet minister, not overshadow him. Confident of his exposure to the world of diplomacy, he grabbed more headlines than his senior, S.M. Krishna—and not always to his credit.
Says a senior Indian ambassador, "Those (in the Congress) who blame him for talking to the media are never there themselves to make comments or give their views. It's yet another example that the ones who mostly flourish in our system are those who either rarely speak or do nothing." Agrees former foreign minister K. Natwar Singh, "Tharoor forgot that India moves at its own speed and not at the UN's."
Yet, irrespective of Tharoor's innocence, many see him as a liability for the government and the Congress. Says former foreign secretary Kanwal Sibal, "Even if the allegations levelled against Tharoor are incorrect, it's clear that there are many who are out to get him." Ultimately, Tharoor's survival will depend on how big the IPL's can of worms turns out to be—and whether he has been targeted in a politico-corporate potboiler.
---
By Pranay Sharma with Smruti Koppikar and John Mary in Thiruvananthapuram