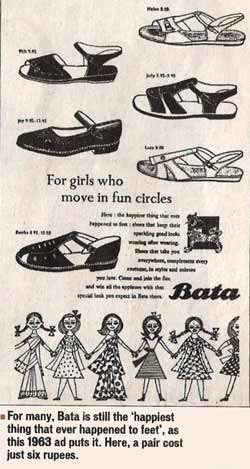 One hundred and one years ago, in 1911, Bata Shoe Company turned 17. Established in Ziln in modern-day Czech Republic in 1894, it was a privately owned venture belonging to a large cobbler family whose business started booming when it received large orders for military footwear for the Austro-Hungarian army during WW-I.
At 17, it perhaps had little idea that one day it would set foot in India in such a big way as to be as Indian as, say, daal roti. Bata first opened shop in India in 1931, and soon came to finally become part of the fabric of Indian life, largely through an unrivalled chain of retail stores covering every corner of India. As a customer in a Bata showroom in Calcutta before the Durga Puja tells you, "It's impossible to think of life without Bata!"
Bata's biggest factory complex is near Calcutta, by the Hooghly in a town called Batanagar. Bata's founder, Thomas Bata, wanted townships with schools and hospitals set up around his factories. That was how Batanagar—once housing Asia's largest shoe factory—grew around units first set up in 1934. Says 60-year-old M.J.Z. Mowla, a Bata employee for 37 years: "Bata imparts meticulous training and are conscientious employers—reflected in the fact that Bata was my first and last job."
With its headquarters in Lausanne, a retail presence in over 70 countries and production facilities in 27, Bata is a globally respected brand, which was affected by both World Wars—including Nazi occupation and imprisonment of an owner—and has sold over 14 billion pairs of shoes.