In the prevailing ambience of acrimony and suspicion among countries in South Asia, there's likely to be a piece of news, slated to be announced during Prime Minister Manmohan Singh's visit to Dhaka on September 6, that would count as a ringing endorsement for a humanitarian approach to foreign relations and establishing good neighbourly relations. Finally, after 64 years of dithering, about 55,000 people living in 111 Indian enclaves in Bangladesh and 51 Bangladeshi enclaves in India, spread over a band of 100 km, will be recognised as citizens of a nation-state and enjoy the attendant benefits. Till now, they had been "non-citizens"—making them ineligible to benefits like health, education and police, that a state apparatus normally provides—and had to break the law regularly to survive.
To begin with, enclaves (or 'exclaves') are defined as territories belonging to one country but lying in a neighbouring country. There are many interesting stories about how the 162 India-Bangladeshi enclaves came to be formed. One legend has it that these enclaves or villages were used as wagers in a series of chessboard games between the maharaja of Cooch Behar, India, and the subedar of Rangpur, now in Bangladesh. The subedar's loss, say, provided the maharaja ownership of a village embedded in the former's turf. Another legend says the enclaves emerged during the war between Cooch Behar and the Mughals in the 18th century, perhaps as a consequence of the vanguards making inroads into the enemy's territory and establishing pockets of control.
Inclusion of the CMs of five Indian states in the PM's delegation shows India's regional approach towards Bangladesh.
Then came the Partition with its confusion and many horrors, before India and Pakistan realised that the cartographer hadn't taken cognisance of this legacy from the past, thus providing them possession of territory that was technically not theirs. The solution of exchanging enclaves eluded them, strained and hostile as their relationship was. The birth of Bangladesh provided hope, and the Indira-Mujib Agreement of 1974, in fact, laid the groundwork for demarcating the unidentified part of their border—about 6.5 km of the 4015 km—as well as resolving the enclave issue. The efforts, however, proved abortive.
The idea of exchanging enclaves received a fresh impetus after the Awami League swept into power in December 2008 and Sheikh Hasina became prime minister. A joint survey of the enclaves was conducted this year, and their total population was said to be not more than 55,000. Most of the Bangladeshi enclaves in India are located in Cooch Behar district of West Bengal; the Indian enclaves in Bangladesh are in the erstwhile Rangpur division and adjoining areas.
Diplomatic sources say the formula worked out envisages enclaves merging with the territory in which they are located. "Imagine the enclaves as several tiny circles inside India and Bangladeshi maps. We are now trying to erase these circles so that they merge with the adjoining territory," a Bangladeshi diplomat explains. So a Bangladeshi enclave will become India's, and vice versa.
But will the people in the enclaves have the right to choose the country to which they wish to belong? MEA officials say several engagements with the enclave people convinced them that they don't wish to be relocated and would rather stay where they are. However, the Indira-Mujib Agreement has provisions asking each country to accept those who wish to choose their citizenship, Indian or Bangladeshi. Diptiman Sengupta of the Bharat-Bangladesh Enclave Exchange Committee told Outlook, "If the exchange happens, it will be the best solution. We support any decision that resolves the issue without adding to the misery of the people living in the enclaves."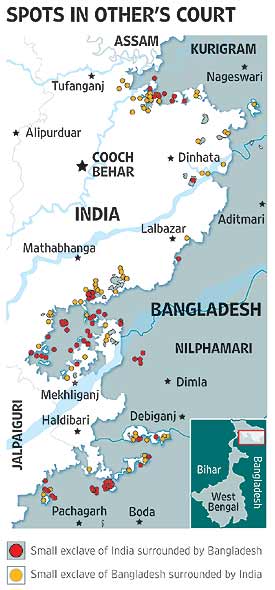 Apart from the exchange of enclaves, a clutch of agreements are likely to be signed between Manmohan and Hasina. These include providing Bangladeshi textiles and goods freer and wider access to the Indian market; sharing of the water of the Teesta and Feni rivers; Indian investments in Bangladesh; and transit facilities allowing India access to not only Chittagong port but also to routes enabling it to reach its Northeastern states more easily than before. The 6.5 km portion of the border between the two sides which had so far remained unresolved will also be demarcated. Also on the cards are facilitating routes through India for transit and exchange of goods involving Bhutan, Nepal and Bangladesh. The inclusion of chief ministers belonging to all five Indian states bordering Bangladesh—West Bengal, Assam, Mizoram, Meghalaya and Tripura—in the prime minister's delegation to Dhaka underlines the new region-specific approach India has adopted to build relations with Bangladesh.
Former foreign secretary Kanwal Sibal says, "The PM's visit is an ideal opportunity to consolidate our relationship with Bangladesh. If India, Nepal, Bhutan and Bangladesh can work this out to improve their trade and economic cooperation, it will have a positive impact on the SAARC, of which all four are members."
MEA officials say attempts are being made to revive traditional routes, both water and land, that were disrupted after Partition. If revived, these routes will not only pave the way for better regional trade and economic cooperation, but also allow India to connect to Southeast Asia—an area of immense importance to New Delhi both in terms of trade, investment and sharing knowledge and technology.
The Indian PM's visit will come 11 years after his predecessor, Atal Behari Vajpayee, had journeyed there. The importance accorded to the visit can be gleaned from another fact—this is the third country in South Asia, after Bhutan and Afghanistan, which Manmohan has chosen to visit, sticking to his view that a bilateral visit to a neighbour ought to be undertaken only if there are concrete results to show to the people. No doubt, Sheikh Hasina's visit last year amply demonstrated her desire to improve relations, underscored further through her government's decision to arrest and hand over to New Delhi Indian militant leaders hiding there. The former Bangladeshi PM and bnp leader, Begum Khaleda, will also call on Manmohan while he is in Dhaka, indicating that attempts at building strong links with India is under way in Bangladesh.
There's much optimism about Manmohan's visit, and it's hoped in official circles that New Delhi's generosity will not only marginalise anti-Indian elements in Bangladesh, but can also be showcased as a model for other South Asian countries to emulate. Its theme: those who don't imperil India's security can hope for its assistance in their economic growth.