They say it's at the Lord's feet in Udupi that the astounding gastronomic diversity of the region began. We, though, didn't go seeking blessings at the Krishna temple. We went hunting for 'button idlis' floating in a bowl of rasam at Mitra Samaj, the popular eatery on Ratha Beedhi (Chariot Street) which winds around the shrine. The previous evening the eatery had been closed, the lunar eclipse keeping even the staff under a shroud. But the street and the vicinity still saw a lot of activity. Till late in the night, 'rice-bellied' temple tourists could be heard taking a dip, even swimming, in the pond behind the eatery, just like the breakfast idlis were doing in the soup bowl the next day morning.
The aroma of freshly ground rasam powder tickled our senses awake to the morning bloom. The glistening dash of ghee on the rasam danced with the thin rays of sunlight streaming through the window. "The idlis here are soft, like a flower petal, try them," came some unsolicited advice from a rice-belly. We did try the regular idlis, but didn't care for the masala dosa the man was relishing. The deep-fried goli baje (maida fritters) so early in the day was also a no-go area. We ended quickly with a trademark filter coffee to catch up with Diana.

Chew the fat Pandi curry, a Kodava pork and pepper delicacy
In this temple town with its eight Madhva maths that preach Dvaita philosophy, who or what is Diana? Well, it's a restaurant, over fifty years old and a local institution. It was the allure created by a blend of onion and chillies in a potato filling that made us choose Diana over Mitra Samaj for our masala dosa. Onions and garlic are banned in the temple precincts and is a strict no-no in Madhva Brahmin cuisine as well. In fact, for an outsider, the Madhva cuisine would come across as a society of exclusion. Besides onion and garlic, their traditional cuisine keeps out tomatoes, carrots, beans, radish, papaya, cabbage, beetroot, cauliflower, brinjal, gherkins, drumsticks and even basale, the local spinach. But despite such a long list of banned items, they have managed to tickle the pan-Indian palate with their ingenuity. For instance, their tambuli varieties (vegetables ground in coconut and blended with curd) are divine. People asked us to wait till afternoon for the community meal at the temple, but then we had marked Mangalore, around 60 km down the coast, for lunch.
If we had started our 'foodie drive' from Mangalore, our breakfast would certainly have been at one of the Goud Saraswat Brahmin (GSB) eateries. This Konkani-speaking community migrated out of Goa around the 16th century to settle at various points along the western coast to escape the persecution of the Portuguese. And their contribution to entrepreneurship and local cuisine through the famous surnames of Shenoys, Pais, Mallyas is enormous. Perhaps, Taj Mahal or Sri Rama restaurants in Kodialbail would have initiated us into the morning with tuppa dosa (ghee dosa) and coconut chutney, we thought. The tuppa dosa is a particular delight for, unlike a regular dosa, it has little or no perforations on its surface. If you are averse to the dripping ghee, then the spiced pooris (rotti baji), with ground chillies and cumin seeds added to the wheat dough, should make your morning. If you are a light eater, then you should stick to their outstanding kadle bajil (spiced poha served with chickpea curry).
"The idlis here are soft, like a flower petal, try them," came some unsolicited advice from a 'rice-belly'.
By this time fried fish was playing on our mind, so we stopped at the "most recommended" Narayananna's restaurant in Bunder for lunch. It takes us over 45 minutes to get a table in this over-70-year-old shack. Being close to the docks, the fish served here is, naturally, straight from the sea. "We never refrigerate fish, we buy the stock fresh every morning," says Shyam Sundar, who runs the place named after his eponymous father. The air in the place is filled with a thick waft of fish being fried in coconut oil. The fish is shallow-fried after it is rolled over a secret masala. An interesting element let out to us is that the fish is not marinated in the masala; it is dipped and thrown in the frying pan. We tried out the catch of the day, anjal (seer), bangada (mackerel) and manji (pomfret). The curry they served with boiled rice had sardines, known as bootayi in Tulu.
So is the curry served at Narayananna's your typical Mangalore fish curry? The Tulu-speaking Bunts, the Byari-speaking (a Malayalam creole) sect of Muslims and the Konkani-speaking Roman Catholics and gsbs—who collectively present the idea of the Dakshina Kannada district—will surely loudly disagree. As Sevrine Pereira, a Roman Catholic homemaker, says, "Different communities use a different permutation combination of the basic spices like red chillies, cumin, coriander, pepper and fenugreek. Plus, there's the onion, garlic, ginger, tamarind and the indispensable coconut. We use potatoes in our chicken curry and our fish curry gets its pungency from a dash of vinegar. For our pork curry, we make a special spice mix called bafat powder."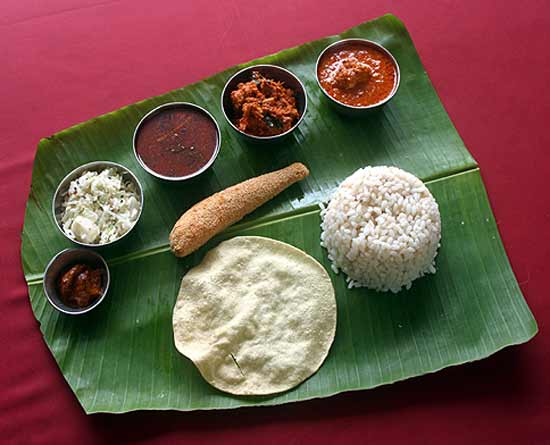 The Bunt community, who claim copyright over 'pulimunchi' fish and chicken curry as much as they do over Aishwarya Rai and Shilpa Shetty, feel that their preparation is a bit more "manly". And typically, pulimunchi wouldn't contain coconut (which offers the silky smooth femininity to what is popularly known as Mangalore curry), being basically made up of tamarind, chillies, coriander, cumin, onion and garlic. However, their dry curries like chicken and mutton 'sukka' have a generous smatter of coarsely ground coconut. The accompaniments that go with these curries also vary. Besides the staple boiled rice, kori rotti, neer dosa, semedaddya (thin freshly pressed rice noodles), sanna (thin idlis whose batter is fermented with toddy) and pundi (steamed rice balls) are popular.
Gopalkrishna Bhat, a graphic designer and foodie, says it would be unfair on us to leave Mangalore without tasting the Byari Muslim cuisine with its distinct saunf touch. So, he guides us to Bombay Lucky Restaurant, further up Narayananna's in the Bunder area itself. Owner Suleiman Haji is not a Byari himself, but there is nobody more familiar with their cuisine than him. He instantly recommends "patri (thin rice rotis) and erchi (meat) curry". Later, we plead with him but he wouldn't let us go without a couple of spoons of neychor (ghee rice) and the colourful kushka (biriyani rice).
He named two places which had pandi curry on the menu. One was closed, the other turned out to be a dark, dingy bar.
We begin our onward journey to Madikeri via Puttur and Sullia. The distance is just around 125 km, but narrow bad roads and the uphill Sampaje ghat section means the journey takes us 4-5 hours. We make three stops at three different bends when we developed a hunch that a serendipitous moment awaited us. The first at Mangalapadavu yielded 'bonda sharbath', a drink made of tender coconut pulp and water. The second stop at Vittla offered exquisite khus khus juice with basil seeds. After all the masala that had gone into our tummies, this was a soothening agent. The third stop was at the very cusp of the pepper country to check out an eatery called Jayalakshmi in Kallugundi. It sat pretty by a stream and served fish and chicken meals cooked on firewood. Jayalakshmi is also important because it serves as a last post for the red chilli. The dominance of the red masala somewhat ends here to make way for a shining black mix. Pepper and coffee country is about 25 km from this point.
We drove up to Madikeri at around 6.30 pm. Having moved from the coast to a hill station, the chill in the weather comes as a sudden jolt. A winter feeling is back. An evening mist slowly begins to fill up the gorges on either side. We thought we would shop for some homemade wine before we settled down for a 'pandi curry' dinner. Now we thought the local Kodava pork and pepper delicacy would be ubiquitous in Madikeri. Apparently not. We went to four places only to be turned away. At the fifth, the man at the counter whispered, "We don't serve pandi curry anymore because we'll lose our Muslim clientele. There's a sizable population that has moved in from neighbouring Kerala to work in the estates." However, he named two restaurants where it was on the menu. One was closed and the other turned out to be a dark, dingy bar. So, we decided to drive to a homestay close by. In about 45 minutes, we had spread before us pandi curry, pork pepper fry, coconut gravy and a small stack of 'akki rottis' (rice rotis). We asked Ananda, the owner, if the pandi curry derives all its distinctness from the pepper? He shook his head in disagreement and placed before us a local magic spice, the kachampuli. It took the place of the tamarind used in the earlier curries we had tasted.
Post-dinner, Ananda served coffee which turned out to be a downer. It was brewed directly and not filtered. We snootily promise ourselves a refined mug in Mysore, only a three-hour drive away, and got back into our car.
---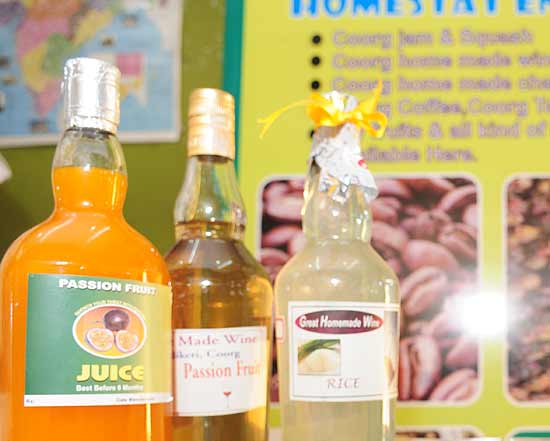 The Passion Fiend
At a shop near the Madikeri post office we picked up rice and betel leaf wine. The owner then brought out a 1L bottle with an orange liquid. It was a local specialty, "mohabbat ka phal ka ras". So was this some kind of aphrodisiac? No such luck, it was just a literal translation for 'passion fruit juice'.