Take a small glass, fill it up with shredded onions to the brim, then take a bite-sized ulte tawe ka parantha, which sits perfec­tly atop the rim of the goblet and put a melt-in-your-mouth galauti kabab over it. Familiar dish served with a simple twist that makes you look at it with new, admiring eyes and immediately reach out to put it in your mouth. Or take a specially des­igned wooden tray stacked with a variety of pap­ads on the four sides and several small bowls of innumerable colourful chutneys and relishes in the middle. Inviting enough for you to make a meal of it.
Indian food, which has tasted good and satiated a diversity of palates the world over, is now also trying to look spiffy. "You don't just eat with your mouth but with your eyes too. It's all about a dish looking good, smelling great before putting it in your mouth," says Deepankar Arora, chef and owner of Noida's Indian and pan-Asian restaurant Tawak. So gone are the days when the only visual relief in the middle of slapdash bowls of dal, chicken and rice used to be the intricately carved flowers of carrots and radish (which would anyhow be left on the plate, not eaten). The art of plating is getting pride of place not just in fancy, fine-dining restaurants but even in smaller, neighbourhood joints. What's more, courses on presentation of food, almost non-existent a few years ago, are becoming integral to training in Indian catering and culinary schools.
Iconic chef Manish Mehrotra, who has given Indian food an international twist with his much-celebrated Delhi restaurant Indian Accent, may well be the pioneer in modernising the presentation of Indian cuisine. He, however, feels that the art of plating is not something new to India. "The placement of food in terms of the components, colours, textures, garnishing was important if we go back in the Indian culinary history," he says. It's still important when it comes to certain traditional meals. Like the Onam sadya in which every dish has a specific assigned spot on the banana leaf to add layers to the experience of eating. Similarly, in a Gujarati thali, the colours of the dishes in the various katoris come toge­ther to make an appetising statement.

Bed Of... Rose chikki, Ram laddoo, Fatafat and aam papad@Indian Accent. (Photograph by Namrata Joshi)
Why then doesn't Indian food measure up on the international aesthetic yardstick? Blame the butter chicken. "Somewhere the Punjab-centric butter chicken culture bec­ame all about serving dishes in handi and kadhai with garnishing of chopped coriander and ginger and a dollop of butter. It bec­ame all about brown, red, green curries with a layer of oil on the top," says Mehrotra. "Nobody would even bother with cleaning up the splashes of oil outside the bowl," says chef Rahul Dua of Cafe Lota. Something which became a not-so-exemplary norm.
Chef Saransh Goila thinks that while the starters—chaat, kababs—can be plated beautifully, the wholesome Indian mains like rice, rotis and curries are equally difficult to plate. However, many restaurants have followed in Indian Accent footsteps in the past few years. Jiggs Kalra's Masala Library in Mumbai calls itself Indian Cuisine Version 2.0. There is Farzi Cafe in Delhi, Pink Poppadum in Bangalore and Bombay Canteen in Mumbai, all pushing the presentation envelope. It has percola­ted to even relatively smaller establishments like Cafe Lota, which believes in making a statement with simplicity and minimalism. Like serving chicken in an edible katori (small bowl) made with appa­lam (papad). Tawak, a neighbourhood restaurant in the forgotten suburb of Noida, serves Thai puchkas as amuse bou­che (mouth amuser, appetiser) to a visibly amu­sed clientele with a largely traditional palate. But even amongst these predominantly conventional customers, the innovatively served galautis, the soft yule log-like rolled paneer and chocolate lassi served in milk bottles have become hit. No wonder even a humble street food delicacy like vada pav is being served with a difference in places like Social and JamJar. All to make that crucial good first impression, what Goila calls "food as entertainment". "The whole idea is to make food more theatrical," he says.

Chef Manish Mehrotra, pioneer of Indian food plating: "The placement of food in terms of the components, colours, textures, garnishing was important if we go back in Indian culinary history."
"There is much more to food presentation than dhania garnishing," says foodie filmmaker Suparn Verma. There is a reason why things are changing now. Exposure to international cuisine among segments of the Indian population (however small) is raising expectation amongst them for Indian food with a vue du monde. The demand is also driven a lot by the Western cookery shows like Masterchef Autralia on TV. No wonder fusion and molecular gastronomy (that is, technically and scientifically innovative cooking) have become buzzwords. Weird experiments aside, these techniques have helped Indian cuisine extricate itself from the frequently unlovely butter chicken-dal makhani routine. "It helped in the progression of cuisines and helped regional cuisine to come up. Otherwise we'd have been known only as curry country," says Mehrotra.
The concept of courses—starters, mains, desserts—is also leading to an experiment with presentation. For Mehrotra, the progression of the courses is as important: what to eat first, how to get ready for the mains and then for the dessert. "The idea is to make the guests have the dishes the way they are meant to be eaten," he says. So they have a sorbet of fresh pomegranate and churan kulfi served in a cute little pressure cooker, a palate cleanser that is offered between the appetiser and the mains. A small charpoy laden with churan golis, aam papad and rose chikki comes just before you dip into the dessert.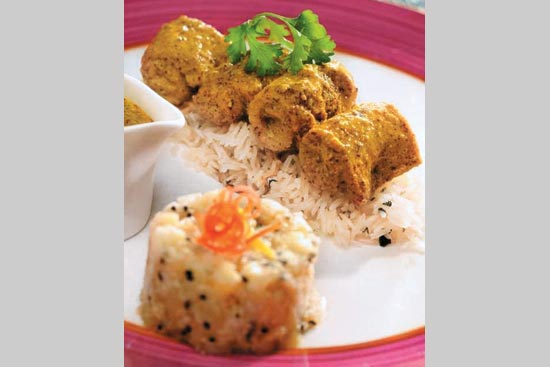 Posto Colonial Kasundi fish paupiette with ghee rice, posto potato
The social media has its own role to play in this churn. "Food porn has become widespread," says Arora. So clicking and uploading attractive food pictures on Instagram and websites like Zomato has raised expectation for good-looking food.
But it's not as easy as it may seem. Plating has its own thumb-rules that need to be followed strictly. Right from the choice of cutlery to where and how to place all the components, how to stack up the ingredients and how to use the sauces. The elements in the plate need to be in harmony not just visually, the latter must also complement the tastes and flavours. The shape and colour of plate is of significance. A round dish is never served in a round plate and a dark dish never on a black plate. Lota is experimenting with serving dishes on the conventional stainless steel plates. The DIY experience is also catching on to involve the diners in the creativity of the eating experience and make them participate in a dish.
---
However, every interesting, new trend also has a flipside. "Plating means an esc­alation in costs. It needs a bigger kitchens and highly skilled staff," says Arora. Even as food presentation is gaining ground, plating is also getting overdone and needlessly complicated. Instead of being a value-enh­ancing element, it can in fact overpower and overwhelm the consumer. "People get confused as to how to eat from a pretty plate, how to break the presentation," says Delhi-based pastry chef Kishi Arora. Indraneel Majumdar of Bangalore believes that Indians are largely resistant to plating because they want value for money and want to share a dish rather than have individual, defined portions. "If someone ord­ers a pan-fried Malabari fish for Rs 320, then he would want the whole 180 grams of it, not half a pretty portion," says Majumdar.
Playing with presentation can get tricky at times. At times authenticity of flavour can also get lost in the fancy plating. "You can't compromise with the dish and interfere with it," says Mehrotra. "At times ing­redients that don't go well with a dish get thrown together on a plate. That's when fusion becomes confusion. The challenge is to bring the ingredients together as a dish," says Goila. For Kishi, plating is necessarily just half of the real thing. According to her, the basic logic is pretty straight and simple: the food that tastes divine but looks bad would still work but a good-looking plate that tastes bad is the culinary debacle that knows no redemption. As Goila puts it: "Ultimately all that matters is taste."