The Gentle Giant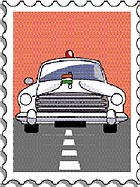 If you wish to see our prime minister at the height of his powers, watch him conduct himself at global fora. Rubbing shoulders with Obama, Medvedev, Sarkozy, Brown, Merkel, he appears supremely confident and at ease, principally because the subject under discussion—usually international finance and business—is right up his street. He probably knows more about economics than all the G-8 leaders put together. Moreover, he brings to the table the perspective of developing nations. No wonder, he is treated and heard like a savant who combines within his persona both theoretical and practical wisdom. It can be argued that since Dr Manmohan Singh heads a potential superpower, his authority and stature come from the country he represents. Happily, that is just half the story. Mayawati, if she were to become PM, would also be invited to the corridors of power, but I doubt if she would command the same respect.
Another factor which works for Manmohan Singh is his temperament. It is a cliche, but he truly speaks softly and carries a big stick—which he seldom uses. When the prime minister has a one-to-one with world leaders, he is his characteristic self: there is no grandstanding or flamboyance or rhetoric. Just serious points made seriously and quietly. What is considered a drawback in our rowdy domestic politics is an asset in structured international summits.
I think it was President Obama who said that after meeting the Indian prime minister he felt "calm". Something the US president would not say after meeting Silvio Berlusconi! There is an aspect about Dr Singh which leads, temporarily at least, to global cooling in hot global conferences. Our prime minister may be a bit out of his league standing next to Angela Merkel, but the lack of commensurate economic clout is more than made up by his personal and professional credentials.
---
Terra Infirma
As one of the original candle-lighters at Wagah, I despair over the future relationship between India and Pakistan. Our friends across the LoC seem determined not to disturb the Punjab terrorist groups, especially Hafiz Saeed and gang. These are the groups which have consistently targeted India. Maulana Saeed is a no-go area since he knows too much. The footsoldiers can be readily exchanged but the head of the Lashkar is a hero in Pakistan (like A.Q. Khan) for his successful forays against the old enemy. New Delhi has zeroed in on Saeed because as long as he is loose, the mastermind of 26/11 is loose. Thus, there is a stalemate unlikely to be broken by diplomatic niceties. Jehadis like Hafiz Saeed and Maulana Azhar are privy to too many secrets which lead right up to Islamabad's civil and military establishment. That is their insurance.
Incidentally, there is something comical about India's reluctance to provide "credible evidence". The truth is we don't have it. Since the crime was planned, weaponised, financed and fine-tuned in Pakistan, how can India provide credible evidence? What we can offer is useful leads. The evidence is lying in the country from where the attack was launched. So, how do we move forward in this acrimonious to-and-fro?
---
Welcome Cut-off
I have a humble cottage in Mussoorie which serves as a haven. You can see Dehradun on one side and Mussoorie on the other. It is not situated in upmarket Landour but in downmarket Jharipani. Yet, there is no greater pleasure than sitting out surrounded by a gentle mist, drinking Kingfisher beer and reading a book. There are no screaming newspapers, no TV set to announce breaking news. To be, in a sense, cut off is wonderful therapy.
One evening is reserved for Mussoorie's twin landmarks, Ruskin Bond and researcher-photographer Ganesh Saili. My wife and I have a meal with the Sailis and catch up on the local gossip, which by a sleepy hill station's standards is quite steamy. Ruskin is the only writer I know who is totally devoid of envy and ego. He is kind, generous, non-complaining and a fund of limericks composed by him.
Sunday afternoon, we catch the Shatabdi from Dehradun. I buy the latest copies of India Today and Outlook, which I have not seen, and head for Delhi. We arrive close to midnight and guess who is waiting for us? Editor. Excited out of his skin and angry for having been left behind. I wish I could take him, but the one time I did, he created havoc in the car, escaped into the fields and terrorised the peasants. And made our Mussoorie neighbours plead with us to spare them the pleasure of his company.
---
Yours, Truly Mistaken
I have been bombarded with phone calls and e-mails gleefully pointing out what an ignoramus I am—something my correspondents always suspected. The Dorothy Parker poem which I quoted in my last Diary is not a limerick, stupid; it is a ditty. A limerick is... Now that I have been publicly chastised, I shall be more careful. That's not a promise, if you get my drift!