Mapping Out Sugar Decontrol
Government plan
End current system of monthly quota of sugar release by mills
Entrust states with responsibility to procure "levy sugar" for PDS
Free farmers from selling cane only to designated mills
Ease export/import restrictions
Pitfalls
With no government control, mills can manipulate market price
Need a clear buffer stock policy, else government intervention will be limited
Farmers, cane output will remain vulnerable without clearer price policy
Potential Impact
Mills will benefit, particularly those investing in new technologies
Unless there is surplus, retail prices to be influenced by global trends
A clear Exim tariff policy will free mills, consumers from political whims
Without removing inter-crop price distortions, no change in production trends likely
***
In a bittersweet irony, at a time when vegetable prices are soaring high, sugar is the only major food item that has seen a downward trend. Prices have slipped from over Rs 40/kg in January to below Rs 35/kg in most cities. The trigger has been the sweet tidings that production in the 2010-11 'sugar year' (October-September) may well be a bumper 25 million tonnes, a sharp jump from the estimated 18 million tonnes produced last year.
As oft seen during the cyclical peaks in the crop, the sugar industry has not missed the opportunity to press for liberalisation of the sector from government controls, something that seems to have found favour with Union agriculture and food minister Sharad Pawar. He knows it's a politically sensitive issue, and hastens to say that it is "only a proposal as yet". The policymakers hope to have the draft proposal "of whether to free the market curbs" soon.
"It is a major issue and will need cabinet approval," Pawar says. The draft proposal will be taken up for consultations with the Planning Commission, the finance ministry and other related ministries before moving it for cabinet approval sometime in August/September. "Basically, why keep control? Apart from restructuring the minimum support price (MSP) for ensuring fair and remunerative price (FRP) for farmers, we are looking at doing away with the release mechanism (for sale of sugar) and other restrictions," Pawar told Outlook.
"Get rid of levy sugar and monthly release order. Replace them with a tax and a system of buffer stocks."
Besides freeing the mills from the present government-regulated quota system (which specifies how much sugar industry can sell in one month), Pawar elaborated that the issue of levy sugar (stocks supplied by mills below market rate for the public distribution system) is also being looked into. "We are considering providing money to states to buy levy sugar," the minister revealed.
Various attempts at decontrol over the last few decades saw the quantum of levy sugar dip from 40 per cent to 10 per cent in 2002. Owing to low production this year, the share of levy sugar has currently risen to 20 per cent to meet the 2.8 million tonnes requirement of the PDS. Similarly, the phased decontrol opened up futures trading in sugar in domestic exchanges till the stock shortfall and price volatility led to its suspension from May 2009 till September 2010.
The industry push for decontrol has seen several expert panels since the mid-1960s recommend measures to ease restrictions. But the last attempt at decontrol in the late 1970s saw retail prices shoot up and led to a rollback. Subsequently, in 2004 and again in 2005-06, two expert committees had recommended decontrol of the sugar sector. Not much came of it.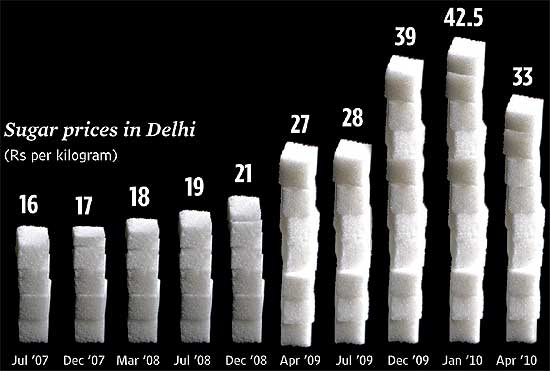 Calling the curbs "spoilers of the whole sugar economy", Vinay Kumar, managing director of the National Federation of Cooperative Sugar Factories (NFCSF), seeks to know "why the industry should give subsidy for the PDS". Perceiving government receptiveness to reforms, the sugar industry is not just seeking lifting of domestic sale restrictions but also those on exports and imports. Vivek Saraogi, president, Indian Sugar Mills Association (ISMA) and managing director of Balrampur Chini, contends, "Free flow will bring benefit for all.... It will encourage global inflow of investments...it will temper cyclical spells in production and will help farmers and consumers too."
The farmer lobby is not so sure given the past experience with the mills, which during a good production year not only take advantage of the glut to pay as low as they can despite the MSP, but also withhold payments. Also, barring a few mills, despite assurances to share profits from additional byproducts like ethanol and bagasse-based power generation, the farmers are shortchanged.
As Prof Sudhir Panwar of Kisan Jagriti Manch, who largely grows sugarcane on his 40-acre family holding, points out, "No industry will share its profits with farmers, so expecting deregulation to help them is unrealistic." A clear instance is this year when sugar mills reaped huge profits as sugar prices soared above Rs 40/kg but have failed to clear arrears in dues to farmers amounting to Rs 350 crore in Uttar Pradesh alone.
Krishan Bir Chaudhary, president of the Bharatiya Krishak Samaj, wonders if "the decontrol will only be for the industry or the farmers also. Will farmers be allowed to sell their cane to any mill anywhere?" As per current rules framed by the courts in the tug of war between the Centre, states and the mills, farmers have to sell to designated mills within 15 km of the harvest. This prevents them from getting competitive prices.
While favouring decontrol, many experts argue for first putting in place safeguards not only for protecting farmers but also consumer interests as part of the national food security measures. "Get rid of levy sugar and the monthly release order and replace them with a tax on sugar that can pay for PDS requirements and for a system of buffer stocks, which will have to be done by paying mills to store the stocks," suggests Planning Commission member Prof Abhijit Sen.
Sen says it is not necessary to have a calibrated sugar release policy, as the buffer stock will help the government control prices. In the absence of such safeguards, there is always the chance of mills resorting to excess exports to take advantage of global prices or hoarding to manipulate prices domestically. "Liberalisation should not result in chaos. Clear-cut tariff rates for exports and imports should be set keeping in mind the domestic demand and supply situation," says T. Haque, who headed a three-member committee that recommended decontrol of the sugar sector in 2005-06.
Clearly, safeguards are needed for a country that is the world's largest consumer of sugar. Currently, global sugar reserves are at a 20-year low and exports look lucrative. As past experience has shown, hoarding and price manipulation of sugar is a reality. And so, sadly, is the sickly-sweet whiff of political play in this sector.