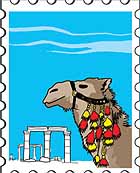 Da Mask
I could not believe I was walking down the 'Street Called Straight' in Damascus. The very one that a Christian god had directed the blind apostle Paul to take saying he would find a man there who would baptise him. In Syria, the past is present in every corner—a 75-year-old storyteller can conjure up the Crusades and the Ottoman Empire as if they are childhood memories.
It was 2007 and I was looking for a tiny shop near the ancient Bab Sharqui Gate to buy a Dam­ask tablecloth. The fabric derives its name from the Syrian capital, a weaving centre of repute from the Middle Ages. I found a lovely, heavy tablecloth in the silk-cotton Damask known as alaja which graces my dining table in Delhi—on special occasions, of course.
In September, I read the very same textile factories are now producing Damask gas masks instead. "If it is a woman, she can put it in her bag; it doesn't take up much space. We consulted doctors on this project. They told us that Damask absorbs smells and diffuses harmful chemicals," the report said.
---
History Lesson in Food
The other end of the Silk Road, Syria has been a trading nation between China, India, Persia and Venice for millennia. The country has had many rulers—the Phoenicians, the Greeks, the Romans, the Byzantines, the Umay­yads, the Abbasids, the Crusaders, the Mamluks, the Mongols and the Ottomans. In 1918, the English and the French created a new map of the Middle East. 'Greater Syria' was divided into Lebanon, Jordan, Pales­tine, Israel and western parts of Iraq.
The exchange of knowledge, religions and produ­cts has certainly benefited the superlative cuisine. I will never forget the Levantine fatta—a mixture of yoghurt, soaked bread, chickpeas, olive oil and lamb chunks—in Beit Jabri, a cafe in Souk Hamidiye. Tucked in a cramped alley, a small door gives way to a massive, airy courtyard, shaded by orange trees where people linger over a glass of arak, a grape-flavo­ured waterpipe, nargileh or tea. The restaurant's offerings—from the mezzeh (starters) to the baba ghanoush (eggplant salad), tabbouleh (wheat, parsley, lemon, oil, tomatoes, dried mint salad), samboosik (pastries), labneh (thick yoghurt), kibbeh (croque­ttes of lamb)—all accompanied by khoobz (flat Arabic bread) could keep me occupied for weeks. I only stopped beca­use I feared I wouldn't fit Beit Jabri's little doorway.
---
Faring Well
Over dinner in New York with friends from the Syrian Women Forum for Peace—who were visiting the US to stress the importance of a negotiated non-violent settlement—I asked after Beit Jabri. They said life continued but the conversations had changed—everyone was talking about how to avert a bombing.
Once a large white billboard, as tall as a three-storey building, featured a photograph of Syria's new, young president, Bashar al Assad, saying "I believe in Syria". Now there is a hole where the poster was. No more does Assad the Second stroll past on his way to dine with Damascus power-brokers by the marble fountain at the famous Naranj restaurant. In June this year, a suicide bomber had blown himself up a few hundred yards away from Naranj and four people were killed.
---
Homs Stretched
Life in Syria revolves around food. Our first act in the town of Homs was to buy Halawet el-Jibn, an Arabic sweet that Homs is famous for. We had read that Homs was the stronghold of the Muslim Brotherhood, a Sunni movement eager to remove the Alawis (Shias) led by Hafez al Assad, the current president's father. In the late '70s, in retaliation to some attacks, Assad had bombed densely populated neighbourhoods, killing more than 10,000 people and jailing thousands more. Today, once again, several neighbourhoods are debris.
---
Shopper's Stop
Syrians like to get to know you before committing to a transaction. Shopping is done over numerous cups of Arabic coffee. A shopkeeper in Palmyra chatted with me about Calcutta, Raj Kapoor, Nargis and Nehru, as we bargained over an old black jacket with the traditional intricate red embroidery. I had to leave the haggling midway so that I could see the Temple of Bel, built in 32 AD, illuminated by the last rays of the setting sun against the desert sands.
But then I discovered that negotiations in Syria stretch over a long period of time. Inshallah (God willing) and bokra (tomorrow) are frequent phrases. There is an art to bargai­ning; you have to know when to stop and not insult the seller. I must have struck the right chord. On my last day in Damascus, I got a call from the shopkeeper in Palmyra. A man had ridden over with my jacket at the last price I had offered.
---
In Aleppo, the world's oldest continuously inhabited city...
I buy the famous Aleppo olive oil soap by the kilo. It is also called 'sabun' here.
---
Ruchira Gupta is the founder of Apne Aap, a grassroots movement to end sex trafficking; E-mail your diarist: ruchira AT apneaap.org