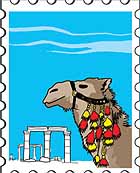 Da Mask
I could not believe I was walking down the 'Street Called Straight' in Damascus. The very one that a Christian god had directed the blind apostle Paul to take saying he would find a man there who would baptise him. In Syria, the past is present in every corner—a 75-year-old storyteller can conjure up the Crusades and the Ottoman Empire as if they are childhood memories.
It was 2007 and I was looking for a tiny shop near the ancient Bab Sharqui Gate to buy a Dam­ask tablecloth. The fabric derives its name from the Syrian capital, a weaving centre of repute from the Middle Ages. I found a lovely, heavy tablecloth in the silk-cotton Damask known as alaja which graces my dining table in Delhi—on special occasions, of course.
In September, I read the very same textile factories are now producing Damask...