The Issues At D6…
Gas production hit. Could fall further to 47 mmscmd by 2013.
Field development work way behind schedule, four wells yet to be drilled
Higher expenditure needed or production will fall further, says RIL
Auditor CAG probing charges of "gold-plating" of field development costs
And Possible Reasons
Non-availability of rigs; unforeseen technical and technological challenges
Venture with BP shows keenness for technology
Need for higher than anticipated capital expenditure. Will affect government returns.
Not producing enough gas, anticipating higher prices; will government raise RIL's price before review in 2013?
***
It's a mystery how the fairytale of India's biggest gas discovery in decades has gone sour in less than two years flat. From promising to more than double India's domestic natural gas production from the deep sea D6 block in the Krishna-Godavari basin, developer Reliance Industries shocked the market—and the government, it seems—by reporting lower production numbers and future estimates from the crown jewel. That this statement from RIL comes a few weeks after it sold 30 per cent stake in a "transformational" deal for 23 blocks has raised eyebrows—and questions.
No one in the government, including the exploration regulator Directorate General of Hydrocarbons (DGH) and the petroleum ministry, has ready answers. "We are still looking into it...no further comments," is all petroleum secretary S. Sundaresan is willing to say. An RIL spokesperson "declined to comment".
"BP is set to invest $7 bn in the Reliance blocks...it does not stand to reason. Prima facie, it's illogical."
Curiously, on March 10, DGH director general S.K. Srivastava had assured the media that Reliance was expected to meet production targets. Within hours, in a long missive, Reliance informed the exploration regulator of the possibility of a further fall in production. Already, from 60 million metric standard cubic metre per day (mmscmd) in mid-2010 it is down to 50-51 mmscmd currently and RIL has warned of a further fall to 47 mmscmd by 2012-13 unless additional capital expenditures are made. It also intimated to the DGH that a few wells in D1-D3 gasfields and MA oilfield in the D6 block "are experiencing water production with an increasing trend, though the quantity of water is not alarming".
When contacted, Srivastava told Outlook, "We are yet to check with them (on the dip in production). We do not know the reason. We will be calling them for a review soon." As per the DGH-approved development plan, RIL is scheduled to complete drilling 22 wells in the D1, D3 gasfields and MA oilfield of D6 block by April. So far, 18 wells have been made operational. Srivastava says that RIL has not yet sought any extension for drilling the additional wells. In his estimation, the planned four wells "should add around 10 mmscmd to total gas production".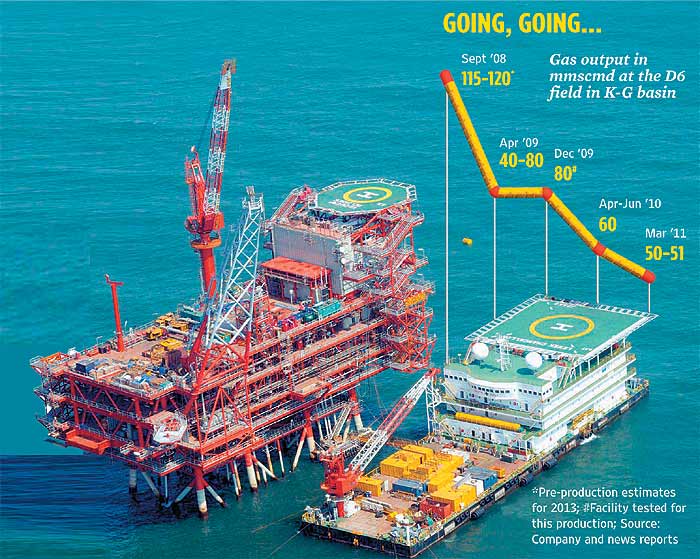 However, RIL's communication to DGH reveals that the company isn't in tune with the regulator's timeframe for the new wells. It favours more time to study "optimum locations" given the complexity of the reservoir. As per the missive, RIL feels work on the additional well cannot be completed "before mid-2014 even if a decision is taken in the first quarter of 2011".

All this is not good news —and far removed from the government's gas supply commitments for 80 mmscmd. On December 23, 2009, RIL had even demonstrated preparedness of its facility to handle 80 mmscmd. But after an encouraging average of 60 mmscmd in the April-June 2010 quarter, things seem to have gone awry, raising several questions. Is it that RIL is planning recovery over a longer time period? Or is it part of a strategy to negotiate a better gas (price) deal? Or are there serious technological issues?
Planning Commission member B.K. Chaturvedi is among those who are perplexed. "Considering the fact that BP is planning to invest over $7 billion in the Reliance blocks, it does not stand to reason. Prime facie it is illogical," he says. "We will be calling them for a review next month as part of the quarterly exercise." Though the market has been quick to react to every bit of good and bad news about RIL's gas foray, market analysts are not willing to fault the company's dealings, barring its "gross underestimation of the situation and the way they got their calculations wrong".
"Market is interpreting it as such but I do not believe that it is pressure tactics or arm-twisting by RIL."
Experts feel all this could be indicative of Reliance's strong-arm tactics. Two pointers: RIL has been periodically making a noise about the high cost of deep-sea exploration and the fact that gas from some of the blocks like Panna-Mukta-Tapti (jointly operated by BP, Reliance and ONGC) is being sold at a higher price than the government-determined $4.2 mmbtu for D6 gas.
The high capital expenditure in D6, which has scaled $5.6 billion, is under the scrutiny of the Comptroller and Auditor General of India following charges of gold-plating of costs levelled by Anil Ambani during his legal tussle with elder brother Mukesh. A higher capital expenditure would mean the government share of profit petroleum would come down proportionately (the production-sharing agreement allows the operating company to first recover its costs; only after that will the government share of profits go up).
Investment advisor S.P. Tulsian admits that though "the market is interpreting pressure tactics" behind RIL's rejoinder to the DGH, he does not share the view. In any case, he discounts the possibility of the government taking the risk of upwardly revising the D6 gas price at this stage "as it will add to the subsidy bill", for fertilisers in particular. Under the government formula, fertiliser and power units have been given preference in the gas allocation from D6 block.
Similarly, market analyst Arun Kejriwal of kris feels, "I think besides the cost, perhaps the company never anticipated the kind of production cuts they would have to make in order to move forward." Among energy experts, however, there is a divide. Veterans in the field point to the anomaly of RIL—and not DGH—highlighting the possibility of a further dip in D6 production. A pertinent question many raise is: was the true nature of the reservoir known, or has it come as a surprise?
Admitting that the regulator knew the area of exploration was complex, former director-general of DGH Dr Avinash Chandra, who has done considerable studies of the east coast, says, "D6 reservoirs are highly complex and heterogeneous. The thicker sand bodies have very high permeability." Experts feel RIL could be resorting to a lesser rate of gas production to reduce the 'water coning' problem in the wells.
As RIL's move to rope in BP indicates, there is definitely a technology issue. Also, in one stroke, the deal helps RIL recover its investment in the D6 block. Hopefully, the government and DGH will clear the air. Or, we could be entering an era of even higher gas prices.
---
By Lola Nayar with Arti Sharma