His name is Mukthipudi Samuel Sundara Raju, M.S.S. Raju in short. But call him Shmuel Yacobi, the way he prefers to be known as. Not as a Madiga Christian but as a Bene Ephraim Jew—one of the many lost tribes of Israel and an Israelite. This fascinating renaissance isn't just about the 65-year-old's Judeo revivalism. There are others, around a hundred families scattered around coastal Andhra Pradesh (based mostly near Guntur), who consider Yacobi their community leader.
Over the past two decades or so, they have been marked indelibly by a newly rejuvenated faith in their religion. From circumcision­—Yacobi underwent one when he was 29—to keeping their meals kosher. From not working during Sabbath on Saturdays—a tough call since many of the adherents are daily- wage labourers—to praying regularly at the local synagogue. They are more at home in Israel's Ramat Gan than in Guntur's Chebrole, and equally at ease using the Hebrew greeting 'Shalom' as the Telugu equivalent 'Vandanalu'.
The community, with its Jewish credentials and claims, is now the focus of a book 'The Jews of Andhra Pradesh—Contesting Caste and Religion in South India', authored by two UK-based scholars Yulia Egorova and Shahid Perwez (published by Oxford Univer­sity Press in May in New York, it will be released in India later this year).
So what explains this Jewish connection amongst a people who have been practising Christians for at least over a century? Ask Yacobi and he will tell you that he always saw elements of Judaism at home, whether it was the celebration of Jewish festivals like Pesach and Sukkot or the use of Hebrew words in prayers. "I was always brought up as a Bene Ephraim. That is what my grandparents and parents told me," he says. "It's only to the outsiders that we were Christians." This inexplicit link was further stre­ng­thened when his father Yacob visited Israel during World War II, a first for any of these people, as a soldier of the Madras Engineers group of the Indian Army. His curiosity aro­u­sed, Yacobi joined the Andhra Christian Theol­ogical College in Hyderabad in 1972 to study Hebrew. "That's when I became serious and started the congregation in 1986," he adds.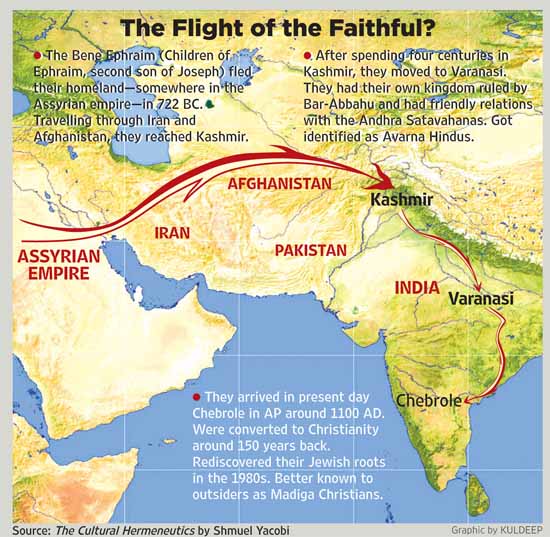 This resurgence, explains Perwez, who's with the University of Bath, has also come "with the desire to escape the Hindu caste system and the growing realisation that Christianity did not benefit them either." He adds that "other than moving them up socially and financially, they also think that in following Judaism they are spiritually supreme because of its belief in one god". According to Perwez, who spent over a year with the Bene Ephraim to study their claims and practices, Shmuel Yacobi may have been influenced by some of the people from the Northeast he met while running Hebrew Open University in Vijayawada in the mid-1980s (it offered theological courses through correspondence). Some of them may have been members of or associated with a similar group, the Bnei Menashe. These Jews from the Northeast were granted recognit­ion by an Israeli rabbi in '05 and many of them have since settled in Israel.
In keeping with orthodox Jewish beliefs, the Vijayawada synagogue has a curtain to keep men, women separate.
While India has had many established Jewish communities, such as the Bene Israelis of Maharashtra or the Cochin Jews, the Bene Ephraim story represents the second example of a community in India (other than the Bnei Men­ashe) claiming to be descendants of one of the 12 lost tribes of Israel, people who were expelled by or fled attackers in what is today West Asia. The Bene Ephraim claim they fled from somewhere in the Assyrian Empire in 722 BC and ended up in Andhra Pradesh in 1100 AD, after intermittent stays in Iran, Kashmir and Varanasi. While there is little to back up that claim, especially the lack of any genetic study to link them to the Israelite tri­bes, Yacobi offers cultural and linguistic similarities to strengthen his arg­­u­ment. "Hebrew and Telugu share similar words like 'aruga', which means table in Hebrew. The word for table in Telugu is 'arugu'." More such 'evidence' can be found in The Cultural Hermeneutics, a book he authored and published in '02.
Despite its contestable claims, the community has begun drawing attention from members of the international Jewry, especially the Shavei Israel, the organisation based in Israel that helped the Bnei Menashe with recognition as Jews and their subsequent return to Israel. "The Bnei Ephraim have had a remarkable if brief history and demonstrate a true passion for Judaism. While their roots remain unclear, Shavei Israel is assisting the community with fulfilling its heartfelt desire to deepen their knowledge of Jewish belief and practice," says its website. Jews from the US, Israel and even Mumbai have travelled to the local villages to mainstream them. It is because of this, and in keeping with orthodox Jewish beliefs, that the second and newer synagogue near Vijayawada has a curtain to separate the men from the women. That said, official recognition is still some distance away. The Israel embassy spokesman in New Delhi, David Golfarb, e-mailed Outlook to say, "We are not aware of any Jewish community in Andhra Pradesh". Little known they may be for the government or Israel but not for terror outfit Lashkar-e-Toiba, who, having figured out that there were Jews in Andhra Pradesh, supposedly hatc­hed a plan to attack them back in 2004. This is from reports in the local newspapers.

Yarmulke days Shmuel Yacobi during a US visit
That they may not be officially recognised as Jews (or as an Israelite, the term he prefers) and, therefore, possibly not be allowed to emigrate to Israel doesn't bother Yacobi. "I am not fighting for it. I just remember and wait, for I know god will take us...he has promised me...not the government of Israel or anybody else," says Yacobi, who has nevertheless been to the Promised Land five times. Others too claim that it is not something that drives their faith. "We will practise our faith wherever god takes us. If required, we will follow it here," says 35-year-old Yehoshuva Korahi. Also known as Ratnagiri Kortepati, he has had to strike a compromise between his faith and material needs. The school in Peddapuram where he works as a computer teacher insists he come to work on Saturdays. "In fact, there is more work on the weekend. It bothers me but there is no other option."
However, Perwez and Egorova point out how Shmuel Yacobi and his brother Sadok (also considered one of their leaders) have gotten around to the idea after their trips to Israel that the smaller their group is, the better their chances are of making an 'aliyah' (the term for a Jew's return to Israel). As a result, those who pray in the new synagogue near Vijayawada are called 'Friends of Bene Ephraim', unlike those in the older synagogue in Chebrole. "This hasn't gone down well with some people, who have started copycat groups such as the Bene Israel and the Bene Abraham. And many other similar groups will emerge if the Bene Ephraim are recognised by Israel," says Perwez. The authors also write about how some of the Bene Ephraim responded by identifying themselves as Christians, something the Yacobis are quick to interrupt and correct. But Shmuel Yacobi, who acknowledges this tension, adds, "I will really have no problems if others are recognised and get to go before me. It would lessen my burden of searching for the children of Ephraim."
The idea now is the smaller their group the better their chance of making an 'aliyah' to the holy land, Israel.
If all goes to plan, Shmuel hopes to finance the aliyah of a handful of his community members using profits from a Telugu comedy film (dubbed in English too) that he is currently finishing. While some might think that like the Bnei Menashe, who have been housed in bits of occupied West Bank, the state of Israel may grant the Bene Ephraim recognition to shore up its Jewish character, Shmuel's immediate goals seem more gastronomic than geostrategic. He's already asked one of his sons, Yehoshua, who lives in Ramat Gan near Tel Aviv and is married to a Ukrainian Jew, to scout for a piece of land so that they can start a South Indian restaurant once they arrive. Tempting the Hasidics with a good kosher Hyderabadi biriyani can never be a bad idea.
Back home in India, marriage does pose a problem for the community who are striving to keep the flock as "pure" as possible by marrying other Jews. The problem is, like the other purity aficionados, the Parsis, there simply aren't many of their kind around. Yet, Shmuel, always diligent and perseverant, managed to rustle up a match for a local Bene Ephraim girl from a Bene Israeli Jew in Mumbai. It didn't work. "I tried several times but her parents were too scared to send her to Mumbai, which is a 24-hour train journey from here," he says. He was wiser not to even attempt an alliance with the more distant Bnei Men­ashe who are three days away by train in Manipur and Mizoram. Meanwhile, they make do with anybody who is willing to be accepted into the fold.
To those who attribute financial mot­ives to the group's switch—an allegation levelled often enough—Shmuel Yacobi says he has so far received only $500, that too from an American to help build the synagogue, and promise of help in setting up a poultry farm from Shavei Israel. All other assistance has been to learn more about Judaism and Hebrew. The add-ons don't matter for him. He could be living in Israel, the US or Ethiopia—a place he himself suggests instead of the politically volatile West Bank—or just in Chebrole. All he clamours for is recognition as an Israelite. "Being a Bene Ephraim, that's all I want to be."